What this Latin Grammy is all about, in a visual key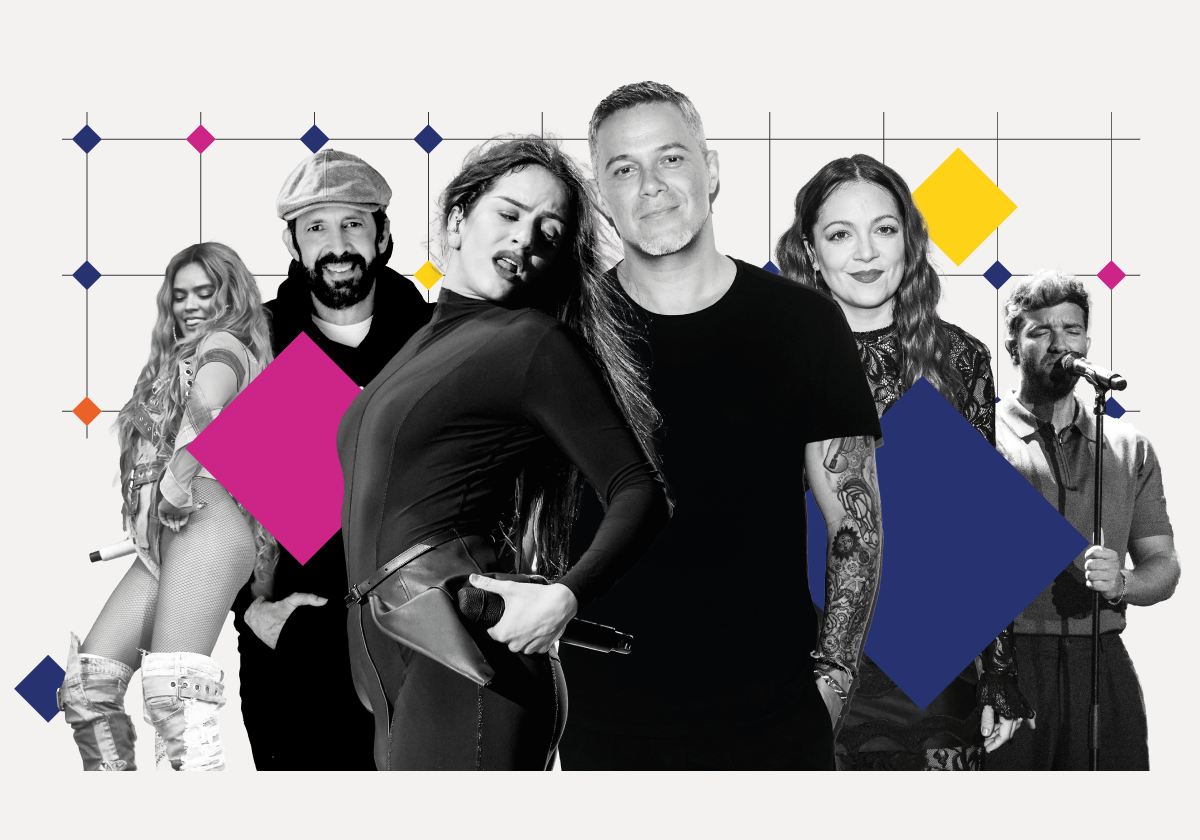 «SEVILLE I'M COMING!» the almighty Rosalía blurted out a few days ago on her account on one of the main social networks. At first glance you might think that they would have something to do with gazpacho or perhaps the April fair but nothing, the dates didn't add up. Her visit is justified by the 24th edition of the Latin Grammys. The confusion is understandable and this is the first time that they have been held outside North American borders, and it has been decided that it will be neither more nor less than in the Andalusian capital. Tonight, somewhat late (to adjust to the schedule of our neighbors on the other side of the Atlantic), the winners of one of the largest non-English speaking music events on the planet will be decided.
Currently more than 50 categories are awarded, but here we focus on the crown jewels. The most desired statuettes by the "crème de la crème" of Latin music.
Best recording 2023
The Holy Grail of awards
The jackpot, the most desired. This year old mastodons of the song like Juan Luis Guerra, Christina Aguilera or Alejandro Sanz face off against young bombshells like Maluma, Karol G or Bizarrap. We'll see which way the balance tips. Rosalía could maintain her streak with 'Desphá', although the competition is fierce. Colombia is the most nominated country, Spain the second.
Best song 2023
The composers award
You may wonder: why is there an award for recording and another for best song? Well, 'recording' is understood as the final product, with all its arrangements, mixing and mastering, while the song award basically refers to the lyrics and chords: the composed idea, but that anyone could play. and sing in your own way. Here we have two patriotic representatives who never fail: Pablo Alborán and the numerous "grammardonado" Alejandro Sanz.
Best album 2023
As Prince said, "records still matter"
This year Rosalía doesn't have a new album, so there is some chance that other people can win for once. This respite could be taken advantage of by one of the six! Colombian albums that are competing for the award, or by the only Spanish one: again Pablo Alborán, with that disturbing and alphanumeric title: 'La cu4rta Hoja'. You have in front of you the new works of Juanes, Karol G, Ricky Martin or Natalia Lafourcade.
Best New Artist 2023
A quarry of unknown names (for now)
The category of breakthrough actor or actress... but more difficult, since here they have cooked and eaten it themselves. Emerging artists, usually very young, are one step away from receiving a very important boost. This year, keep track of Borja—that is, without a last name—the only Spanish author of the ten contenders. He has a published album: 'Rimas del verbo amar'.
Person of the year 2023
Recognition for an entire career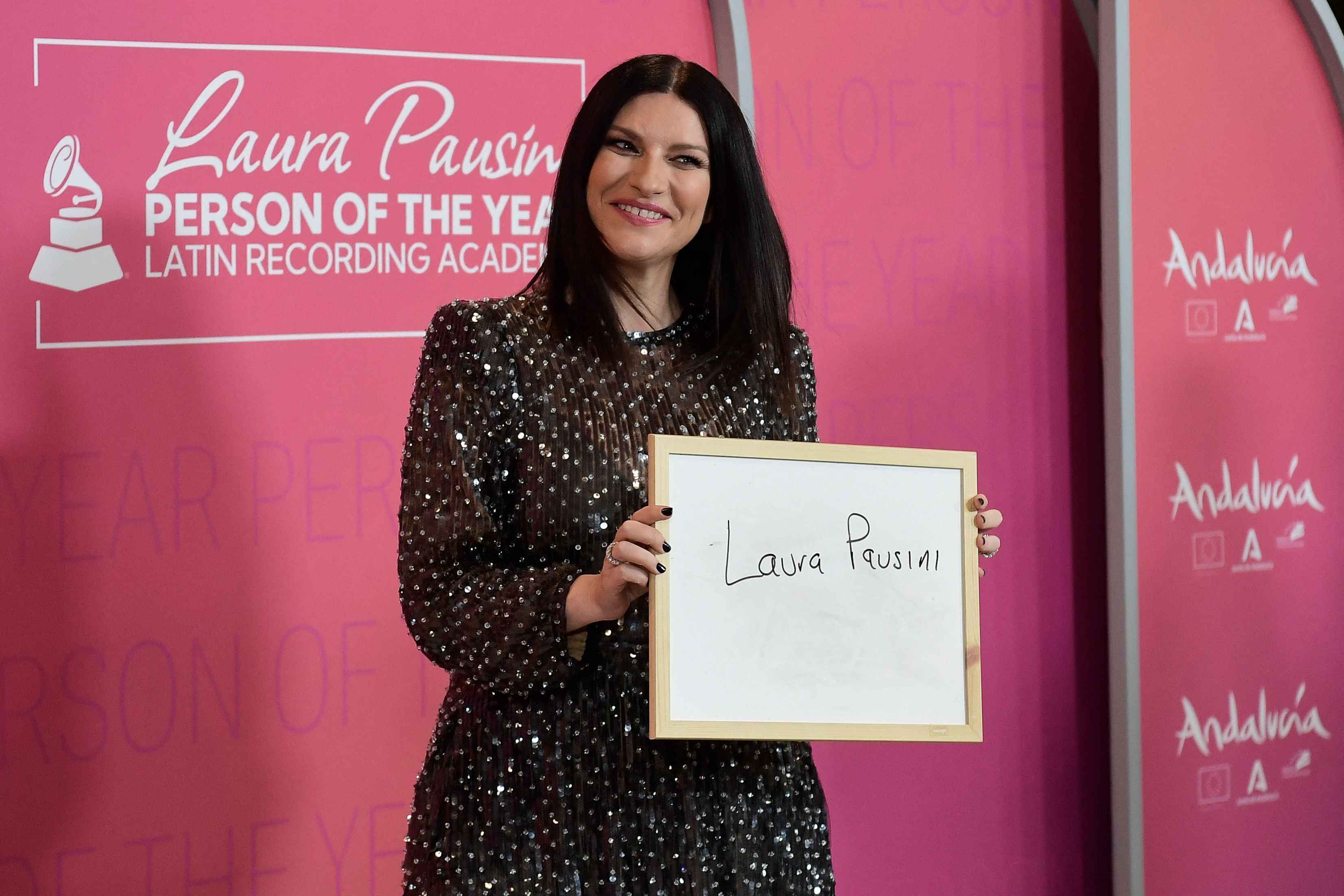 This year there is a surprise. It is the first time that the Academy grants this award, which is not competitive but honorary, to an Italian person. Pausini is not just anyone, she has sold more than 70 million records and has been extremely successful in Spanish-speaking countries. Furthermore, she is immersed in that beautiful work that Raffaella Carrà previously carried out: the Italy-Spain cultural bridge through television, a bridge that now extends to all of America. Antonio Banderas will receive another honorary award, while we are at it: the "special award of the Presidency."
The Latin Grammys over the years
Headquarters
For the first time outside the US
Pausini's thing is nothing: if something will mark the celebration, it is that for the first time in 23 years it will be celebrated outside the United States. And of all the possible cities of the "Latin world", it has been Seville - once known as Puerto de Indias - that has played his cards best. And we're not just talking about the big gala and red carpet on Thursday (the company dinner for paparazzi from all over the world), but the rest of the week other activities will fill the city, which promises to be "another character" in the gala.
The winners of the major leagues
The distribution of the big awards has traditionally forgotten women: if it weren't for Natalia Lafourcade, Shakira and Rosalía, they would barely be represented. The list of best recordings of each year shows us a handful of great hits ('Corazón espinado', 'No es lo misma', 'La Torture', 'Vivir mi vida', 'La Bicicleta', 'Despacito'), while that the albums seem less memorable in general, a symptom—sadly—of a format that is increasingly less relevant to the general public (blessed Rosalía who is giving it a go again). Finally, the best songs are often repeated with the recordings, although sometimes they reward "less hit" songs and more literary or artistic ones, as in the case of Residente and his autobiographical 'René'.
Great races and forgotten names
Looking back on this category teaches a lot: there are so many very good decisions that later became best-selling artists, and there are others who won the award and then were never heard from again (practically). Thus, we can find Juanes, David Bisbal, Calle 13 or, more recently, Karol G, who were once recognized by someone with a very good eye. But other names—we're not going to single out anyone, you can explore the graph—didn't exactly hit the mark. It wasn't mandatory either, because this music thing is very complicated.
An astonishing and overwhelming male majority in a category that is chosen more or less by hand—that is, it would be easier to take care of these types of details. It seems that only Gloria Estefan and Shakira have deserved this honor, in addition to Laura Pausini this year. Be that as it may, reviewing the list is taking a journey through immense colossi of song, each one in its own way responsible for changing, even a little, the history of Latin music.
The most awarded country: Spain or Brazil?
If we add up the awards for all the categories, Brazil is the country with the most awards, followed by Mexico and Colombia (it is possible that the multiple categories of specific regional styles give them a bit of an advantage). Next would be Spain. However, if we only count the three main categories, Spain is the one that has won the most times: we must thank Rosalía, yes, but above all to Alejandro Sanz, who had some golden years where he won everything (and this year he could also win more, you never have enough!).
The most awarded artists
The undisputed Caribbean dominance

JUAN LUIS GUERRA
Dominican Republic
NATALIA LAFOURCADE
Mexico

JUAN LUIS GUERRA
Dominican Republic
NATALIA LAFOURCADE
Mexico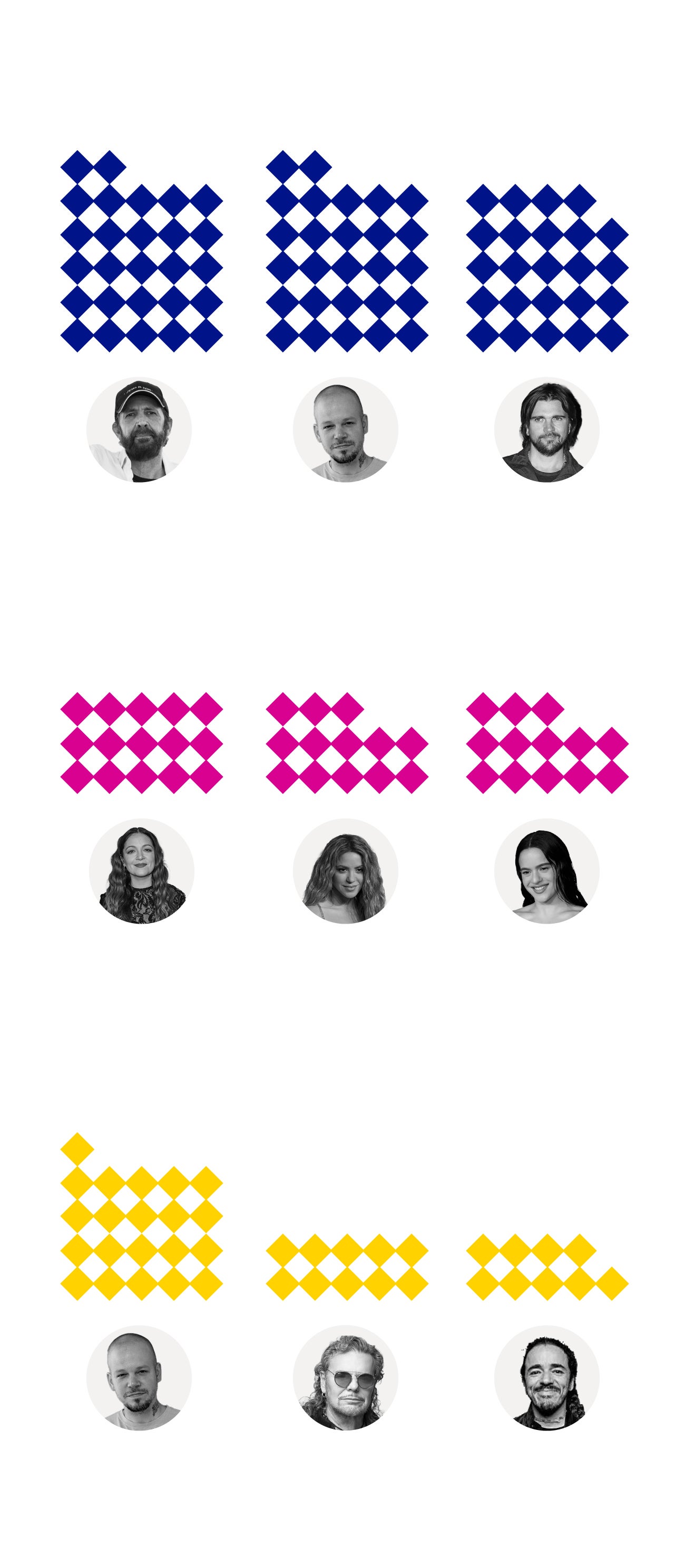 JUAN LUIS GUERRA
Dominican Republic
NATALIA LAFOURCADE
Mexico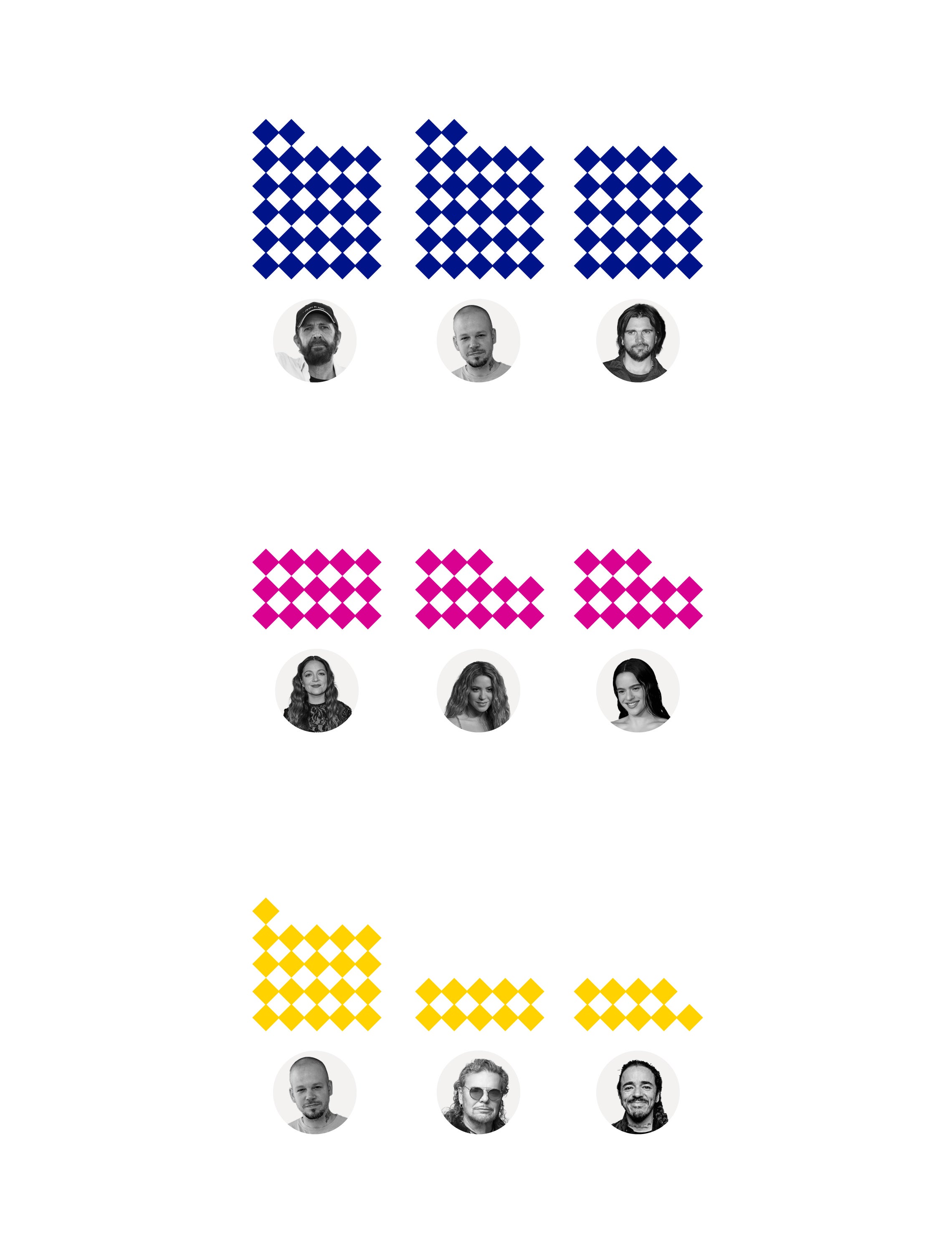 JUAN LUIS GUERRA
Dominican Republic
NATALIA LAFOURCADE
Mexico
The incombustible bilirubin and all its derivatives have managed to keep Juan Luis Guerra at the top of the podium (and like Alejandro Sanz, he can continue adding this year too). But be careful, because Residente, the king of hurtful rhymes but also of calm and beachy verses, is tied with the Dominican expert in 'love bubbles'. It is his former band, Calle 13, that tops the ranking in the groups section. Very different from them, Natalia Lafourcade with the emotion at her root has managed to surpass Shakira herself, who has also been equaled by our Rosalía in just a few years of her career. The Colombian has the option to take the lead this year, with Bizarrap, by Karol G, or alone with her song "Acróstico."
The incomparable Alejandro Sanz...
You will already know by now that Sanz was called Alejandro Magno in his first albums (the real surprise is that his last name is... Sánchez!). Those were different times and the "rebranding" was a success. The scope of the success of the Madrid native is unparalleled within our country, and he already had a few albums that did not compete in the awards because they were not yet held. The "urban" metamorphosis of 'It's not the same' hit him just as much or more than the unbridled emotionality of 'Corazón partío'. At least by the Latin Grammy scale, Sanz managed to get it right many times and become the epicenter of the Spanish musical world.
The most awarded Spanish artists

ENRIQUE IGLESIAS
AND C. TANGANA
PACO DE LUCÍA
AND SHEPHERD GIRL

ENRIQUE IGLESIAS
AND C. TANGANA
PACO DE LUCÍA
AND SHEPHERD GIRL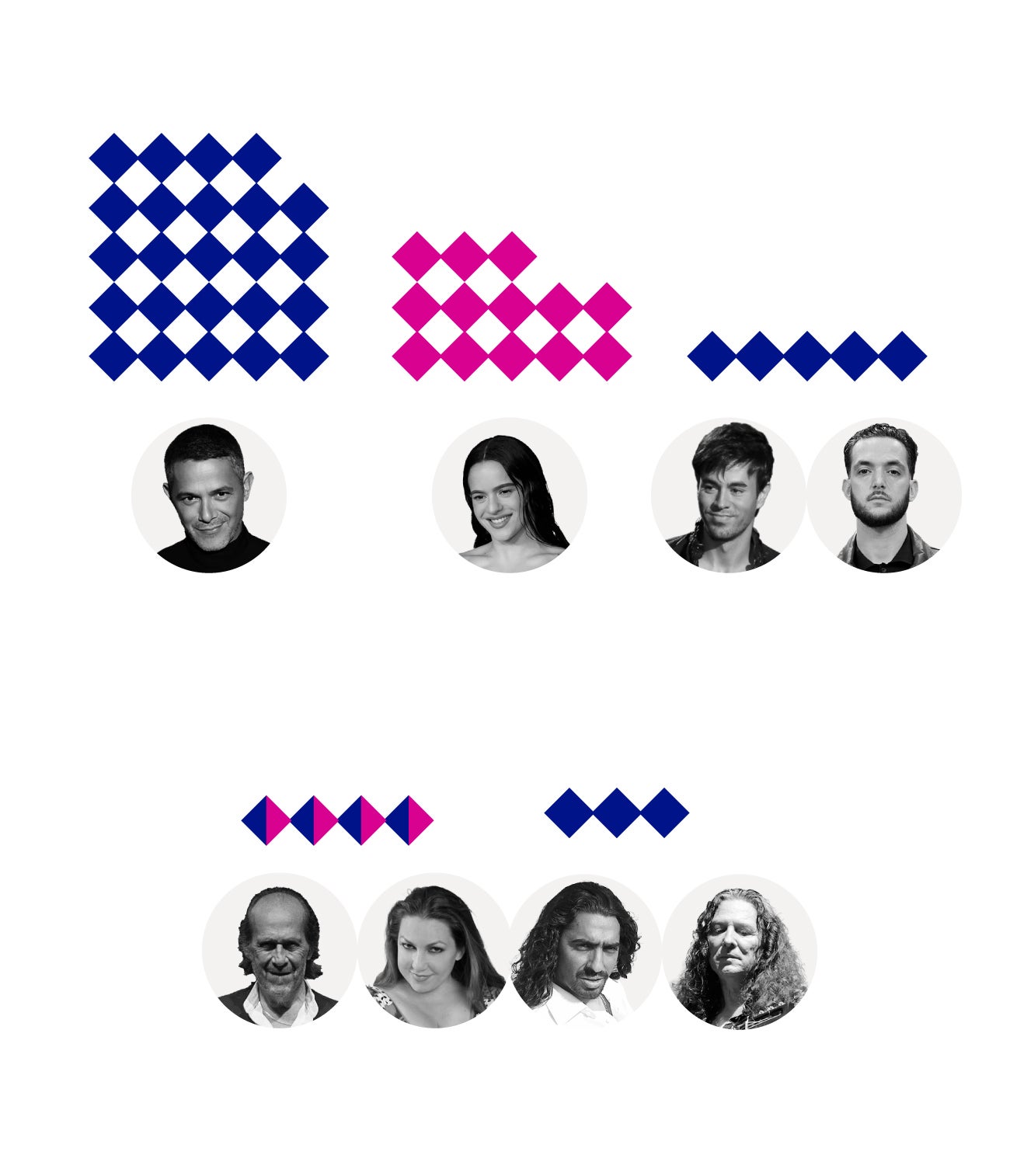 ENRIQUE IGLESIAS
AND C. TANGANA
PACO DE LUCÍA
AND SHEPHERD GIRL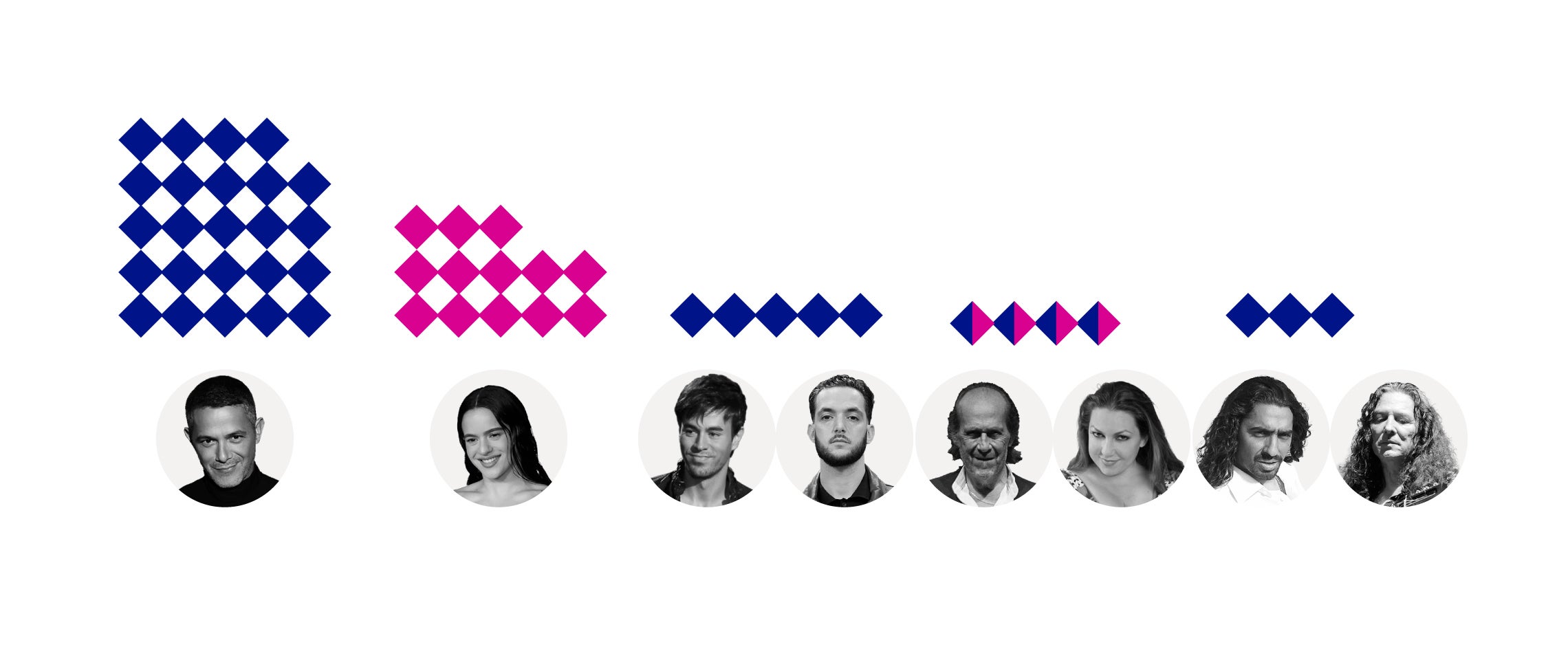 PACO DE LUCÍA
AND SHEPHERD GIRL
ENRIQUE IGLESIAS
AND C. TANGANA
But let the planet Sanz not overshadow us. Because the artist we have mentioned the most, Hurricane Rosalía, is achieving a lot in a very short time. If from 'Malamente' (and his album, 'El mal qué') he claimed the spotlight by mixing styles and with an impressive visual identity, with 'Motomami' he claimed the transformation - it is clear in the lyrics of 'SAOKO' - and once again surprised and be right until your next bet. Quite far away we have C. Tangana and Enrique Iglesias, each with five Grammys (they look like an egg to a chestnut... or maybe not?). And the flamenco part begins: there is a place of honor for Paco de Lucía (best album in 2014) and Niña Pastori, each with four gramophones, followed by Tomatito and Cigala himself, with three.