What has gone up and down in price so far this year?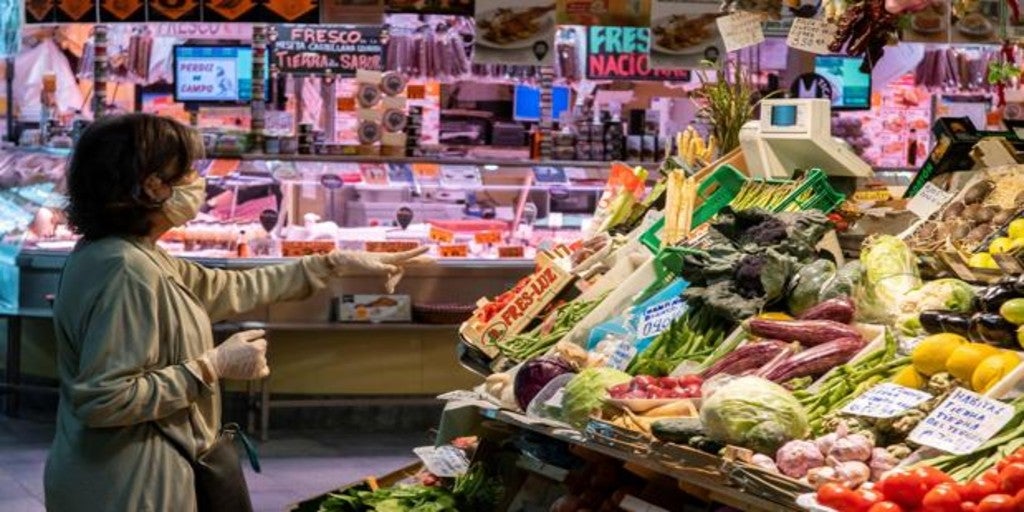 Madrid
Updated:
save

The confinement brought with it a boom in the consumption of food and other goods considered essential. An increase that sometimes brought with it a rise in the prices of some products, although there were also falls. The household shopping basket filled up more than ever. But the state of alarm also led to the halt in sales of non-essential goods, at least physically. This has had consequences for the CPI, which has been chained for four consecutive months with negative annual rates. Yesterday the INE released the final data for July, which closed with -0.6%. In addition, in the seventh month of the year the INE reported that the entire basket of IPC products was already available for purchase by households. In this way, the price estimation methods that were designed to be applied exceptionally during the months of April, May and June have ceased to be used, returning to the usual methods.
Thus, since yesterday it is already possible to know, according to the traditional formula, how the prices of products are evolving in Spain. In so far this year, the general index has fallen by 1.6%. On the one hand, what has fallen the most in price has been liquid fuel, with a decrease of 26.4%. On the other side of the scale are national tourist packages, with a rise of 10.8%. This increase may be due to the increase in demand from national tourism due to the health crisis. By categories, the price increases and decreases go as follows:
–Food and non-alcoholic beverages. Perhaps the most important group during confinement for the reasons explained above. In this case, the biggest price drops were found in fresh or chilled fish, with -5.3%. It is followed by olive oil, with a fall of 3.7%, other meats, with a decrease of 3.3%, and fresh or chilled legumes and vegetables, except potatoes and tubers, which fell 2.6%. Other foods that also fall in price are potatoes, ice cream, sheep and goat meat (beef, pork and poultry do rise slightly) and eggs. On the other hand, flour and confectionery products, which were in high demand during the confinement, experienced a rise of 0.2%. On the other hand, the highest rise was in fresh or chilled fruits, with a rise of 5.2%, followed by breakfast cereals and sugar, with 3.9 and 3.6%, respectively. Non-alcoholic beverages all go up in price. The one with the most cocoa and chocolate powder, with 3.8%. Soft drinks make up 2.3%, tea 2.1%, mineral water 1.8%, juices 1.6% and coffee 1.1%.
–Alcoholic beverages and tobacco. The lockdown caused alcohol consumption at home to rise, while tobacco sales fell during those months. The increase in alcohol consumption is accompanied by a rise in prices. Thus, lager beer grew by 3.3%, while other beers with alcohol did so by 2.8%. Spirits and liqueurs have grown in price by 2.2% so far this year, while wine has grown by 2.1%. Regarding tobacco, cigars and cigarettes rose 1.4% and a slight 0.1%, despite the lower consumption.
-Dresses and shoes. The fashion sector is the one that has lowered prices the most in general so far this year. It must be remembered that the shops had to be closed in confinement, so the accumulation of stocks has caused this drop in prices. Thus, garments for men fell by 17.7%, those for women by 16.5% and those for babies and children by 13.6%. In footwear, those for the smallest fell by 13.3%, those for women by 11.3% and those for men by 9.3%.
-House, water, electricity, gas and other fuels. As mentioned above, liquid fuels drop the most of all products. In addition, gas and electricity also do so, with a decrease of 8.1% and 2.4%. For its part, water supplies remain unchanged, while the rent of the house continues to rise despite the crisis, 0.6%.
-Furniture and household items. In this section, the item with the lowest price is bedding, with -5.5%. It is followed by table and bathroom linen, with -4%, and upholstery and curtains, with -3.3%. Carpets, carpets, kitchens, washing machines, irons and refrigerators also drop in price. What increased their price the most are coffee makers and kettles, with a rise of 1.3%.
-Health. Medical services and pharmaceutical products have a moderate rise of around 1%. Meanwhile, glasses, contact lenses and hearing aids fall in price, with a fall of 1.3 and 1.2%, respectively.
-Transport. The price of gasoline and diesel has been one of the main reasons why prices have generally fallen. In the state of alarm, the influx of cars was very low so prices plummeted. Specifically, diesel is 13.1% cheaper than at the beginning of the year, while gasoline falls 10.2%. Second-hand cars also fell 4.2%, but new ones were up 1%. Motorcycles fell 0.8%, but bicycles rose the same percentage. Regarding the price of transport, national flights grew 3.7%, while international flights plummeted 11.9% due to the closure of borders. The biggest increase was experienced by sea travel, which rose more than 8%. Train tickets rose 0.9%, as did the price of traveling by taxi. Metro tickets also have a significant price increase, 2.4%.
-Communications. The prices of mobile phone services and equipment fell more than 5%. In contrast, postal mail increased its price by 1.4%.
-Leisure and Culture. As with flights, domestic tourist packages increased the price the most, 10.8%, while international packages fell 1.8%. In this category, the fall in prices of sports articles stands out, which did so by 4.7%. Also the price of cinemas, theaters and concert halls, which were closed during the state of alarm and are now returning to half gas, with a fall of 3.8%. Museums, libraries and zoos also drop in price by 1.1%. What increases in price the most are accessories for information processing equipment, which does so by 10.6%. Also noteworthy is the rise in drawing products, which did so by 2.6%.
-Teaching. This section has hardly undergone any modifications so far this year. Only education not defined by level fell by a slight 0.1%.
-Restaurants, cafes and hotels. The price of restaurants and cafeterias grew 1% and that of take away food, which has had a significant growth in consumption, did so by 1.3%. For their part, hotels and hostels, despite the fact that many are doing promotions to attract demand in summer, have risen in price so far this year by 0.7%. In addition, accommodation services in other establishments increase their price by almost 10%.
-Other services. Jewelery and costume jewelery were the products that increased the price the most, with an 8.7% increase. Insurance related to health and housing also stands out, growing by 4.8 and 2.9%, respectively. In addition, funeral services, home health care and hairdressing for men and boys also rose in price. Among the bearish products, there are travel items (-6.5%), baby items (-2.2%) and motor vehicle insurance (-1.3%).