What are the off-peak hours of the new electricity bill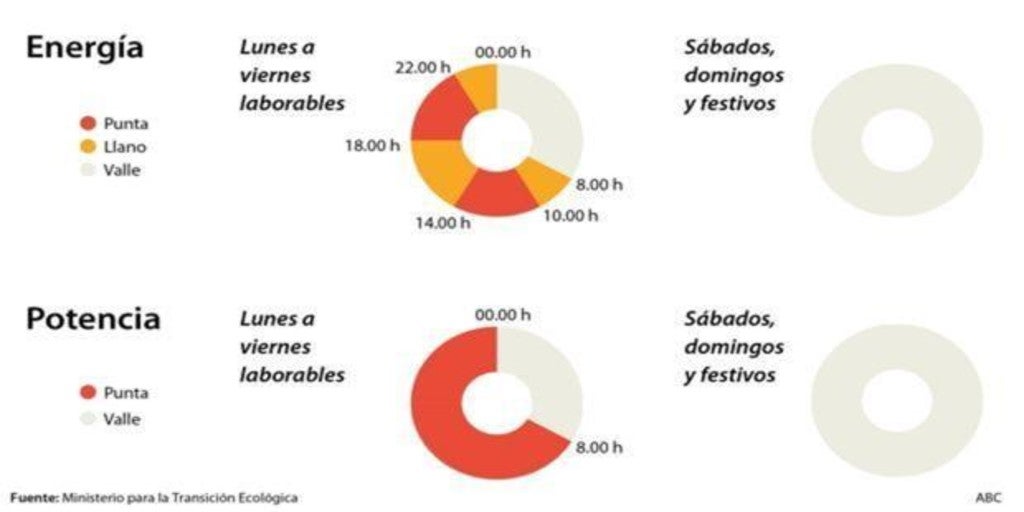 Updated:
Keep

Last Tuesday, June 1, the new electricity tariff in Spain came into force, affecting some 10 million people who take advantage of the Voluntary Price for the Small Consumer (PVPC). With this new system, the Ministry of Ecological Transition and Demographic Challenge headed by the fourth vice president of the Government, Teresa Ribera, aims to promote energy saving, efficiency, self-consumption and the deployment of electric vehicles, among other things.
One of the aspects of this new consumption method that has caused the most stir among the general population have been the new time slots. Thus, we can distinguish between different times when electricity will have a different cost. The rush hours will be the most expensive and flat those of average price. Finally, the off-peak hoursThey will be the ones with the lowest rates, but what are these hours? What times of the day will be best to save on the electricity bill that will arrive home at the end of the month?
The off-peak hours, the cheapest
As the Ministry of Ecological Transition and Demographic Challenge explains, we distinguish three time bands: rush hour, flat hour and off-peak hour.
The #NewElectricInvoice it will have 3️⃣ sections of energy consumption 💡

🔴 Rush hour
🟡 Flat hour
🟢 Valley time

✅ All weekend and holidays become off-peak time

Consumption in flat hours 🟡 or valley 🟢 will be cheaper than in peak hours 🔴 pic.twitter.com/KZC1NrPISR

- Ecological Transition and Demographic Challenge (@mitecogob) May 8, 2021
The rush hours they are the most expensive and coincide with hours of considerable energy expenditure. Those who telecommute from home will notice. Rush hours come from 10.00 a.m. to 2.00 p.m. and of 6:00 p.m. to 10:00 p.m..
On the other hand, the average prices can be found in the flat hours. These will go from 8.00 a.m. to 10.00 a.m., from 2:00 p.m. to 6:00 p.m. and from 10:00 p.m. to 00:00 a.m..
Finally, the cheapest hours correspond to those of the valley schedule. These are the ones that go from 00.00 hours to 8.00 hours. However, all those of the weekends and holidays.