"We've been suffering for a long time, it's up to the fans to enjoy"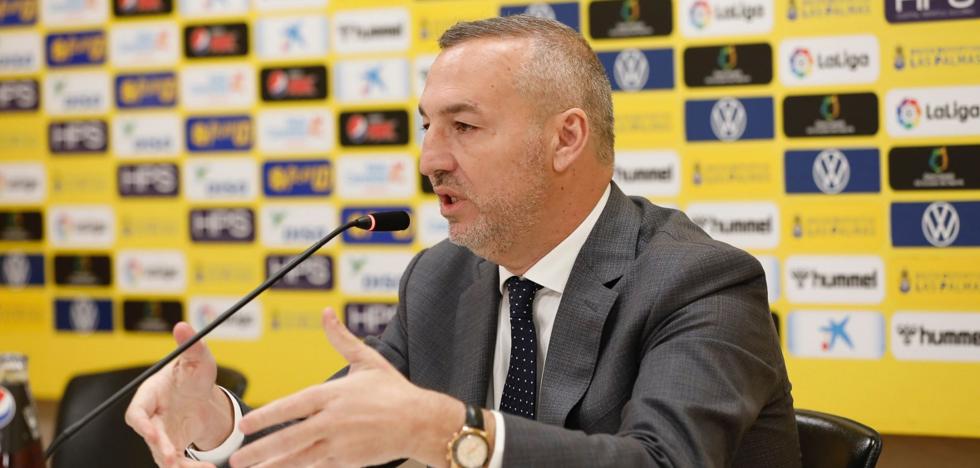 football - second division
President Miguel Ángel Ramírez analyzes the squad, proper names and the season he expects
President Miguel Ángel Ramírez reviewed the microphones of El Deportivo de Canarias Radio.
"We have been suffering for a long time., it's time for the fans to enjoy, "he stressed. At the same time he confirmed that right now there are 17,284 subscribers.
«The Cordobazo was the best thing that could happen to us. That year Córdoba charged 14 or 15 million to reach the First Division. The following year, we charged 40 million for the same promotion.
We ascended when we had to ascend. We fulfilled economic obligations that we had from bankruptcy proceedings. I hope this year is a copy of that one. Have a happy ending for everyone. If we don't succeed, it won't be because we haven't tried. But
It looks like we're going to be fighting for the top all season. I see that we make people happy for the work we do, "said the yellow boss.
Regarding Alberto Moleiro, whom he has managed to retain at UD this season, he said that «
it was not the time to sell Moleiro. I have met the fans of UD Las Palmas. I want to have the best team for our fans because they deserve it. May they enjoy a whole season seeing their team at the top of the table.
«I had to retain Moleiro, Sergi Cardona, Enzo, Valles, Coco and Eric Curbelo»

"We have been suffering for a long time. They deserve to be fans of an important team in the category. Then we'll see if the promotion is achieved or not.
What was in my hands was to leave Moleiro, Sergi Cardona, Enzo, Valles, Coco, Eric Curbelo on the squad...», he continued.
Compliments also for Luis Helguera. "I have a great sports director. In his day he brought Setién.
When we sign up Garcia Pepper I told him that a Setién was going to score, but I expected a better Setién. The merit is exclusive to Luis", praised Ramírez.
«
Jonathan Viera is not Superman. You need leaders in the locker room so that your leadership was greater. If he didn't have fellow travelers of this level he wouldn't have pulled the group. All this is positive because Viera can discharge her leadership in the group. Jonathan Viera cannot be in everything. He would only need to mark the field and tie his boots.
need leaders like him and also to complete it. This year's Moleiro is better than last year's, like Clemente or Valles", commented the president.
Calm down with Vitolo

At the same time he asked for calm with Vitolo. «
You have to be calm with Vitolo. It will give us great afternoons of glory. Tomorrow he starts training with the team normally. We are going to see if he can hold out, but the coach is not in a hurry with him. There is patience and at any moment he can appear », he affirmed.
"I believe that
we are the eighth budget of the category. Depending on the level they give us, we have to work. The signings of Sandro, Marvin and Andone represent one and a half million euros more than what the League allowed us. That is why we contribute those amounts. I managed to cover a percentage, I got sponsored and we were able to face those signings, "concluded Miguel Ángel.