Welcome Republic turns 90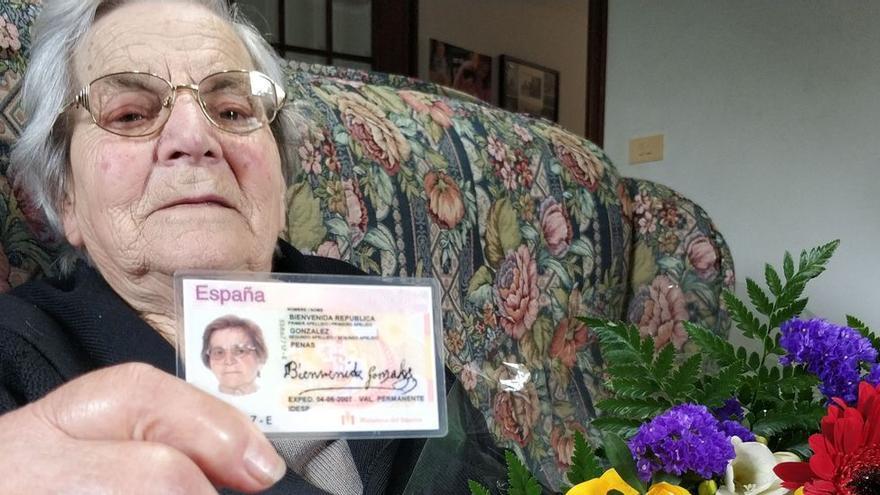 Those were times of illusion for many and Manuel González Vidal, the proud father, was one of those who "believed that our lives were going to change." He chained great joys in less than a week. Just 24 hours after the municipal plebiscitary elections that gave the victory on April 12 to the Republicans against the monarchists and put an end to the reign of Alfonso XIII, his fifth and last daughter was born. And a day later, the tricolor flag was raised in the consistories of several cities. Vigo the first.
"I always signed without the middle name, or at most it said Welcome R."
Welcome Republic did not know exactly what his father's ideology was, but he was drawing conclusions over time from the name that appears on his ID, from the family's history and from some memories of a girl. The emigration it set the rhythm of life for her and for everyone around her. His father had left in search of a better life in the first decade of the 20th century. "There was only the field to work and little else, and Dad went to Lisbon because he had relatives there and then to Buenos Aires," he recalls between old photos of his ancestors. He worked as a waiter and ran a hospitality business but never managed to overcome homelessness. In the Argentine capital he met Dolores Penas Reboredo, daughter of Coruña emigrants, they married and returned to form a family close to their own. They settled in what is still the family home, on Rúa Palomar de Prdamientos. They had five children and not only did they baptize Welcome Republic according to the social and political desires that guided them. The firstborn was called Olive Peace and after her was born Jaime Second, like the XIII century king of Aragon remembered as "El Justo". They were followed by Joaquina Concepción and Manuela Inés.
The coup d'état of 1936 changed the course of the family. The father returned to emigrate to Buenos Aires. This time for safety. The Falangists who "liked so little"According to his young daughter, they began to roam the area. They were looking for the "escapees" who were hiding there and in September they killed their friend José Vázquez Grela, the teacher from O Ceán. Manuel did not hesitate and "before the borders closed, he fled to America because he knew what could happen to him."
Her father founded a soda factory "so that his daughters would not have to be servants"
It took him four years to come back, which became eternal. Shortly before taking the boat back, Manuel was ill and sent photos to his children with farewell letters on the back for each one. "Dear welcome. You who will hardly remember me for how young you were when I left you [5 años], I am writing to you to tell you how much I suffered and suffer for not being by your side all this time that necessity forced me to come to this beautiful city to earn my bread, but patience I hope in God that we will soon embrace each other. If so, unfortunately, it does not happen, I ask you to be good, honest and loving to Mom and your sisters and to always keep me in mind for how much I have loved you. He hugs you affectionately. Your father ", says the text that still excites her.
Three children, four grandchildren, and a great-granddaughter
Fortunately, they were able to meet again in 1940, after the civil war, in Prgamos, where he resumed his work in the family mill and immediately founded the "La Ideal" soft drink factory. She did it "so that her daughters wouldn't have to be servants," recalls the youngest of them. "He regretted having returned from Buenos Aires because he believed that we could have studied there," says Bienvenida, proud instead of what she has experienced. She always worked in family businesses, married "a very good and very handsome man" and had three children.
Now he enjoys his four grandchildren and his great-granddaughter, "who is very salty," and jokes about how little his family lets him do. "I had three chickens and even that was taken from me. Now what do I do? "He laughs. Vitality to spare. He still sews and reads the newspaper daily. "It's what I entertain myself with, with FARO DE VIGO and with some TV program that I like," he says.
And it is that the pandemic has also locked her at home. "Before I went to mass, to the supermarket, to the bank ... I chatted with people but now with the virus ... Who will have thrown him out?" with dismay. Yesterday he did not stop receiving congratulations from family and friends, one of them from the Nigerian mayor, Juan González, who gave him a bouquet of flowers in the colors most in tune with his name.