Wedding in a hospital bed in Ibiza due to the coronavirus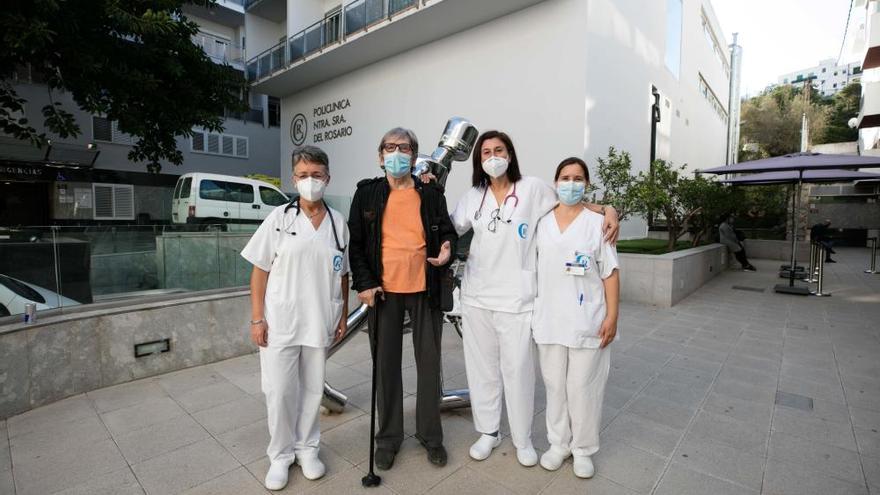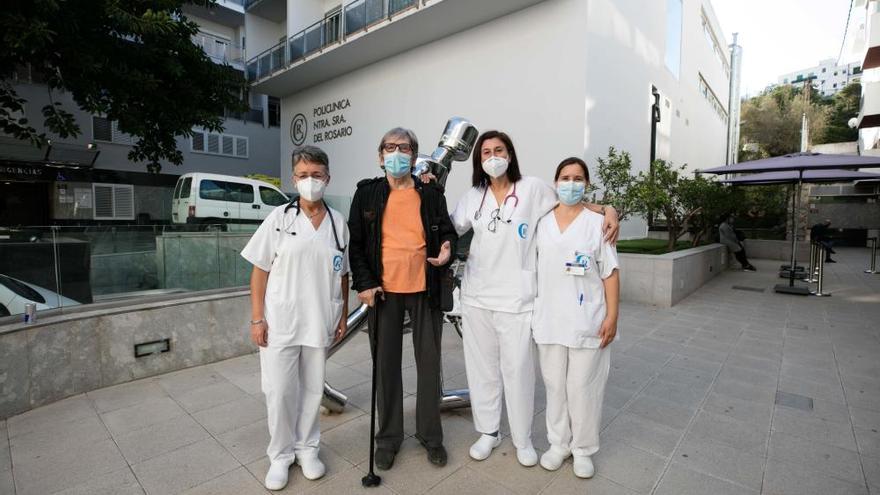 Just two weeks after the health crisis started, Christian Radtke and Liane Palmer were getting married in an unusual 'ceremony' after 45 years of life together. Infected by the Covid-19, the couple pronounced the "yes I want" to a judge through a video call from the bed of two rooms of the Polyclinic, with a doctor and a nursing assistant as witnesses.
On this occasion it can be said that the fourth time was the charm, and despite Covid-19. Christian Radtke and Liane Palmer, 72 and 65, they got married on March 27 in Ibiza, on site and under circumstances that would never have crossed their minds, not even jokingly. Up to three times in recent years they had planned and processed the papers to seal their civil liaison, but for various reasons it had been delayed. (See here photos of the ceremony and the couple)
Infected by the coronavirus, this German couple, who met in Formentera 45 years ago, gave the judge the "yes I want" prostrate in a bed at the Our Lady of the Rosary Polyclinic (each, in addition, in a different room) through a video call on the mobile phone.
There was no treat (the same hospital food every day), not even a kiss. The doctors specialized in internal medicine Montserrat Viñals and Asunción Pablos and the nursing assistant Laura Roig plucked some flowers from the hospital garden and improvised a neat bridal bouquet with aluminum foil. They also cut with scissors the string of balls that is used to raise and lower the curtains of the windows of the rooms and made custom 'pearl' wedding rings.
Doctor and witness assistant
Unable to receive visits from relatives (the couple has two children: Joshua, who lives in Paris, and Anji Molinier, who lives on the island) or friends, Dr. Montserrat Viñals and assistant Laura Roig, almost unrecognizable with the screens and equipment of protection, they acted as witnesses of the wedding. "It was a Friday [a las 13.30 horas]. I'm not going to forget, "says the doctor, who remembers this episode as" something incredible and a joy "among so many bad moments in the last nine months due to the pandemic." The yin and the yan, "says the doctor.
Liane remembers, laughing, that when she had to give her consent, communication with the judge was interrupted. "'I don't understand her well, we have a bad connection,' she told me. And Montse, who was very nervous, grabbed the phone to say: 'Yes, she does want to'. We laughed," she recalls. "There was some ruckus in the office [de los juzgados] because it was something atypical ", also points out the doctor, who immediately moved to the adjoining room with her mobile where the groom was waiting to complete the 'ceremony'. "Now you are kidding me that [por el Covid] he does not remember the marriage. And I tell you, I was a witness "laughs Viñals.
Christian and Liane slept apart the night of their wedding, but a few days later they were able to share a room in the hospital for two weeks. Christian came out first, but Liane had to wait three more weeks. But then he couldn't go home. Since then, she has remained in the Sa Residència due to the problems she has with her legs that limit her mobility. He is awaiting surgery.
How Liane can't leave the residence By the Covid protocol, her new husband, Christian, will be alone again today, at least without his partner, in another ceremony, the one to deliver the Diario de Ibiza Awards. He is going to deliver the Social Action award, which this year is given to the Pitiuso health personnel.
Christian does not value marriage more than that of a signed paper, because the proof of his love for Liane, he emphasizes, is having lived "all this time together", since 1975, when they fell in love in Formentera. "It was not necessary until now [casarse]. But with the coronavirus we did not know if we were going to survive. And if something happened, it was better to be married, "he acknowledges.
Liane recalls, through a telephone conversation from Sa Residència, who had already processed the documents for their civil liaison "on three previous occasions", but "the papers expired" due to various circumstances, such as the death of a relative or the accident he suffered seven years ago. A car ran over her in front of the church of Sant Josep. "There was no traffic light then," criticizes Liane.
"Once, the girl who was doing the paperwork asked me how many more times I was going to ask for the papers, and above all with the same man," Liane recalls now with humor. Before the couple entered the hospital they had already started, for the fourth time, all the paperwork, which is "valid for six months."
"Is it Murphy's Law?"
So that history would not repeat itself, Anji, the daughter of marriage, reacted immediately to speed up the process when the positives were confirmed. "They were going to get married anyway, but just then the pandemic hit. Is it Murphy's law or what's going on?" Anji wondered at the time. With "the scare" by the contagion of the coronavirus Anji decided that he could not wait another minute. "I was scared for them and called [al juzgado]. It was driven by fear that something would happen to them, "he says.
"You had to do the wedding now, more in that situation. My mother had been very excited for a long time and we did not know what could happen, "adds Anji. Besides their age, Christian and Liane had the added risk of suffering from previous pathologies." I was not afraid, nor did I think that I could die. At that moment [al principio de la pandemia] We didn't know much about the virus, "says Christian.
Liane caught it first. Christian was on a trip to Thailand (he usually goes every year, as he did before with Liane to visit friends) and fell ill two weeks after landing on the island. He does not know if his wife infected him or arrived in Ibiza with the virus. "I was very lazy for five days. Every year I suffer from bronchitis because my lungs are quite bad and I went to the hospital, but I did not think it could be Covid," he acknowledges.
Anji is not sorry that her parents got married under these circumstances, unable to even accompany them. "In the end it is only a role and the celebration can always be done. I hope that this virus, and I cross my fingers, will go away soon so that we can celebrate it. They have wanted to get married for many years but for one thing or the other it was delayed. When they were getting older they thought more and more about what was going to happen if something happened to one of them ", he says.
What does "sadden" Anji is that your mother has not yet been able to return home for the problem in his legs that has been dragging on for a long time. "It is hard that I have to be in a residence and more in this situation," he laments.
Born in Berlin, Christian arrived in Formentera in 1968. Seven years later, when he was working as a tour guide, he met Liane, who landed on the island in May 1975 from the German city of Gelsenkirsen, near Düsseldorf ("Do you know the football club Shalke 04? Well, that's where I'm from?" , he explains), on a vacation trip that was supposed to last a month. "During the first week I met Christian," he recalls. She extended her stay in Formentera for two more weeks before returning to her city, where she worked as an infant teacher. "I'm glad I quit because it wasn't my profession," she admits.
In September he returned to Formentera and from there he no longer moved, except to make the leap to Ibiza. "I sent a postcard home to let me know that I was staying. They weren't very excited," he remembers with a laugh.
They ran the Tennis bar in Es Pujols. Previously, Christian had exploited the Capricorn. "Good times," notes Liane, who recalls that they led a "hippie" life. It was the time. "We live on farms without electricity or running water. This could not be done in Germany, but here it was because of the good temperature," he indicates, although he points out that they also knew "five-star hotels." "In winter, when Formentera was quite empty and the bar was closed, we always went on a trip for three or four months," he recalls.
His two children were born and a few years later they decided to cross es Freus and settle in Ibiza, in Sant Josep in particular. Liane and Christian agree that for their children's education it was better to live in Ibiza. Also, it was "much faster" to travel to Barcelona or Germany. In this new stage of his life they parked the bar business. "We were already a little fed up," admits Liane.