We will never be alone: ​​we have Vic Chesnutt | Blog North American route and beyond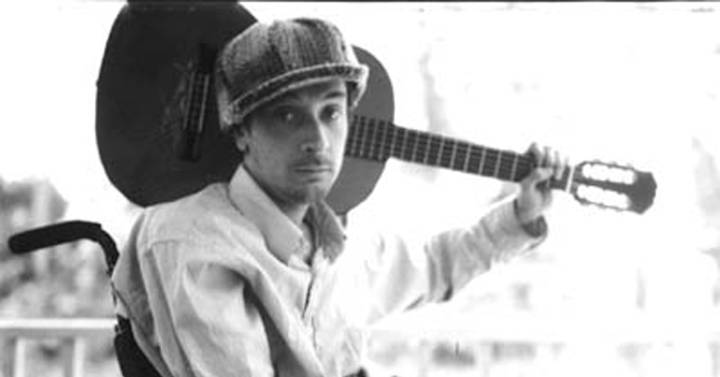 Many years after his tragic death, Vic Chesnutt's name rings again. The No Aloha Records label has released a tribute album to the ill-fated American composer who died on a distant Christmas more than a decade ago. We Are Never Alone. Songs of Vic Chesnutt It is an endearing tribute in which the most diverse musicians from the Spanish scene participate. Like the honoree, they are second and third line artists, snipers underground, which, from their humble position, most of the time deliver exciting and well-traced versions of that hypersensitive folk, a brand of the Chesnutt house. In this way, the album has such interesting and vindicable names as Salto, Ana Béjar, Some Men, Casa Das Feras or Ran Ran Ran.
For some, including myself, Vic Chesnutt was more than just a cursed musician. When he died on December 25, 2009, something broken was left unrecognized in the world of American music. In the small circles of independent rock and pop, his departure left an aura of sadness comparable to that left by the final goodbye of an accomplice friendship. An excellent folk composer, Chesnutt had spent his entire life confessing his pain in the form of naked songs, with no recesses beyond his sarcasm and concise plucking.
He died at the age of 45 after spending several days in a coma in the hospital. He had gorged himself on painkillers from excruciating muscle aches from operations. Nothing comparable, surely, to the depressive disorder that he had dragged on since a car accident, due to drunk driving, left him in a wheelchair when he was only 18 years old. As much as he overcame bad circumstances, he could never overcome an inner grief more complex and treacherous than his sad physical state.
In 1983, he suffered a traffic accident that left him a quadriplegic, with hardly any mobility in his hands, but enough to continue playing the guitar. Nothing would be the same for him since then. He made music his most important living space, where he could fly his imagination, clinging to it without contemplation. At the end of the eighties, he moved to Athens, where he became a regular at the 40 Watt Club, the most important concert hall in the city where the bands of the new wave of rock of the eighties became known as REM, Pylon, The Primates or Indigo Girls. Shocked by the sadness his songs emanated, REM's Michael Stipe sponsored Chesnutt and produced his first two albums, Little and West of Rome, that went on sale in 1990 and 1991 respectively.
The strange light that his music gave off became more intense in his subsequent works. Drunk and Is The Actor Happy?, published in 1993 and 1995, placed him as the best singer-songwriter on the North American independent scene. They were two masterpieces that anticipated the alternative folk-rock of the late 1990s and early 21st century. With precise and emotional chords, Chesnutt traced his soul to universalize his feelings of helplessness and search for happiness in a world where the presence of doom was constant. He could remember The Replacements or Neil Young in his acoustic face while, at times, he seemed possessed by the sentimental virtue of Cat Stevens or Steve Forbert. No composer gave so much with so little. However, the grunge quake, caused by Nirvana, left him in a no-man's-land in the early years of his career. Always sitting in his wheelchair, he became a cult musician while also proving to be a very prolific composer, filling his grim and hurt folk with contrasts.
When he released the barbarian in 2009 At The Cut, Chesnutt acknowledged living like a hermit, locked up in his home in Athens. It was the last episode of a drama told on records, portrayed in songs. A drama that awaited a fatal outcome. The latest operations that year had left him a debt of $ 60,000 that he did not know how to deal with. Distressed by the situation and depressed by his physical condition, he could not take it anymore and committed suicide. It took several days to completely shut down. It was on Christmas night. An extremely fragile and intelligent voice was leaving, offering his music as a true consolation to never feel alone, quite the opposite of what happened to Chesnutt.