"We will defend a reduction in VAT on feminine hygiene products and diapers"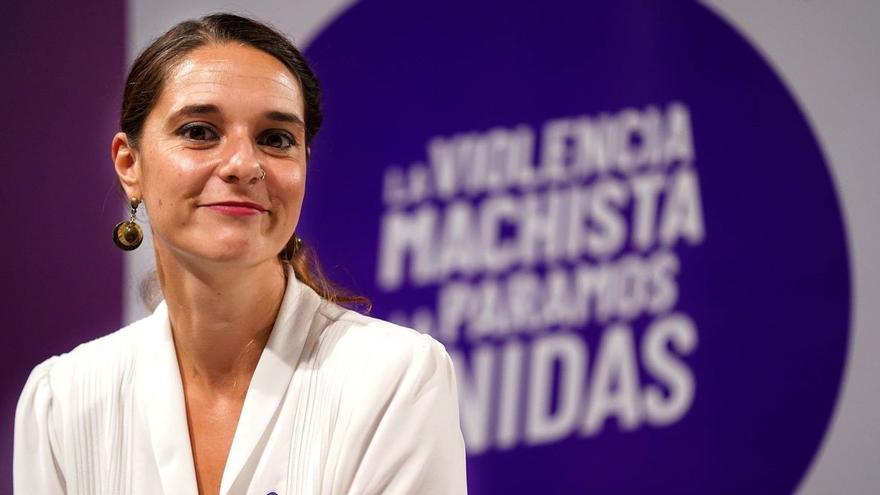 Urgent measures against sexist violence include a "standardized instrument" that will facilitate detection in primary care. What does it consist of?
The catalog of measures arose from a situation of sexist alarm. We called it that so that its gravity would be understood. Hence the need to review the tools and see what we can improve was born. And one of the conclusions is that the victims and their environment have to know that there are many doors through which they can enter to receive help and accompaniment. And it seemed important to us, because it is a demand from civil society that local public services, such as health centers, be one of those doors. But health demanded training and an instrument that would allow better detection, with specific questions, that serve professionals to identify cases of risk.
What budget will the catalog entail?
We have a budget that is the largest dedicated to this problem. It includes 80 million, which is shared with the rest of the ministries, and that is the budget that is going to be used.
The state pact is four years old. How many measures have been fulfilled? Are they going to boost its renewal?
The intention is that the pact be institutionalized, regardless of who governs. Regarding the degree of compliance, we are at 80%. This year has had a brutal push, as well as the commitments with the Istanbul Convention, with the approval of the law 'yes is yes', the creation of crisis centers to assist victims of sexual violence 24 hours, the expansion of the 016 and urgent measures, which are essential.
"Sex education has to be part of the school curriculum"
When will there be equal and regulated sexual education in educational centers?
For this, decisive steps have been taken in the latest education law, but as it is part of the DNA of the Ministry we have introduced in the law 'yes is yes' and in the trans law measures for all stages of educational life against any type of discrimination and violence. In addition, we are going to carry out campaigns very focused on adolescents. But effectively, sex education has to be part of the curriculum.
Will upcoming budgets lower the VAT of feminine hygiene products?
We have gone from disputing the pink rate to the purple one. This means that we are not only going to defend from this ministry that the reduction is given in feminine hygiene products but also in those that have to do with care, such as diapers. It is not an Equality competition but I wear the United We Can label, because we believe that it is fair to negotiate it.
Do you think that the 'yes is yes' law will have sufficient support in the Cortes?
Of course. With the case of 'La Manada' it became clear that society is ahead of politicians and that consent has to be the center of any sexual relationship and that there is a series of violence against women that must be punished.
In this law, measures against pimping have been introduced, will that lead to the disappearance of all brothels?
We have recovered the locative third party, that is, that third parties who profit from sexual exploitation are sanctioned. We will not sanction women when they agree to rent a flat and practice on their own, but we attack pimps. From there you have to keep working. For example, we have a budget for a social and labor insertion plan for victims of trafficking. This is essential because any measure must count on these women not being left stranded. We have to continue taking steps but the fight against the pimp industry is determined.
A sector of feminism continues to reject the trans law, even if you have to wait three months to get the sex change. What do you think? It is a law that protects human rights and everything else is torturous speeches, which are turning their backs on reality and are quite close to placing themselves at a point of LGTBIphobia. This law is an advance for the group, for many reasons. For the first time, it is considered that trans people are not sick. And conversion therapy is prohibited. And gender self-determination is a right. Nobody has to say who you are and how to live your identity.
This sector fears that some men will take advantage in sports competitions and to circumvent the laws that protect women.
That would be law fraud, no one can commit a crime and then change their gender identity to make a profit. These speeches install that trans people decide to change their sex, something that is a huge life difficulty, because yes, as if it were walking through the park eating pipes.
In the reform of the abortion law, they plan to stop obstetric violence, but the College of Physicians rejects that it exists in Spain.
International organizations speak of obstetric violence, as a violation of women's rights and that it is a type of violence that must be regulated. In that sense we are going to move. We have started a participatory process, which is being led by the Women's Institute, which will meet with health workers, the feminist movement, civil society and experts with the will to reach an agreement. In addition, a deeper issue must be addressed, which has to do with the working conditions of health professionals. From there we must recognize that obstetric violence exists, that it is invisible and normalized and that is why we have to name it because, if it is not named, it does not exist.
"It is important to recognize that women have the right to be informed and to make decisions about their delivery, their postpartum and their motherhood."
Will women be facilitated to sign informed consents for invasive birth procedures?
The respected delivery will be at the center of the legislation. It is important to recognize that women have the right to be informed and to make decisions about their delivery, postpartum and motherhood. These are issues that are governed by a masculinized perspective and we have to provide them with a gender perspective.
How is it expected to guarantee abortion in public centers if at the same time conscientious objection is guaranteed?
We have recent cases that invite us to think that consensus can be reached, such as the euthanasia law. We have to have meetings with the communities to see what is happening because it cannot be that depending on where you live you can access public health or not. The abortion law was a historic advance but it has become outdated, the right must be guaranteed and harassment must also be addressed in private clinics, where women and professionals are insulted. All in a participatory process.
Will this law end the agencies that facilitate surrogacy?
First it is going to be recognized as a type of violence against women and then we are going to attack something fundamental, the advertising that these companies do.
To facilitate conciliation, they have approved the Coresponsables Plan, but it is endowed with a modest amount. Is it going to increase?
The plan assumes that for the first time the State takes co-responsibility and attends to the care crisis. It is endowed with 200 million that are destined to a bag made up of young people or adult women who will certify their experience and provide the service at home or in authorized spaces. It is a seed policy, modest but the intention is that it increase and be the beginning of a state system of care.
And what else are they going to do?
Addressing care goes beyond that plan, we have made progress but there is still a lot to do. For example, rescuing education from 0 to 3 years and addressing the care of the elderly with the emergency plan of dependency. And we are going to collaborate with Labor in the law of co-responsible time, which is going to attack the points of inequality in the labor market. And it is important to also highlight the decrees of equal pay and salary transparency, which for the first time bring together unions, the company and the administration.
"Addressing care goes beyond the Stewardship Plan, we have made progress but there is still a lot to do"