"We went through the hardest of cancer and now we are afraid of COVID"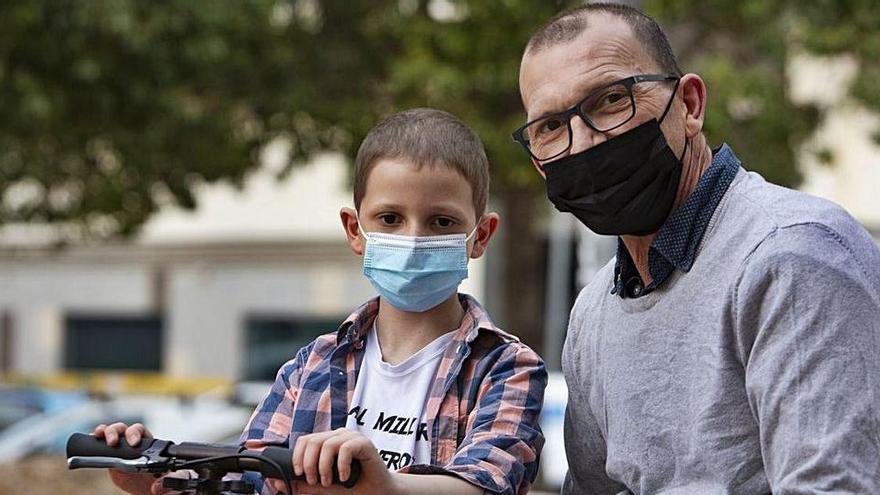 His loved ones now call Biel Bielosaurio, because of how much he likes dinosaurs and because of the strength he has shown in the last year, more than that of the great rulers of the Cretacite such as the T-Rex, the triceratops or the diplodocus. She is 8 years old and while the world was fighting a pandemic, he and his family also did it against a leukemia.
"It's hard, very hard, but now we're fine, confined, but fine", says his father, Julio J. Rodríguez. The notice came with a backache that did not even let Biel sleep." One morning I found him sitting on the sofa because he couldn't even lie down, "says Julio.
It was April and Spain was locked up at home. They went to the emergency room three times and all three sent them home. It was the pediatrician who was alarmed by the three visits for back pain in a child and asked for tests. They diagnosed him with leukemia.
Quarantine in a room
They were admitted to the Hospital La Fe de Valencia with the covid protocol activated: Only one of the parents would have to stay with Biel in a room as a form of isolation to avoid any possible contagion. PCR tests, quarantine in a room before going to the cancer ward and waiting. First, Biel's mother stayed, but Julio admits that it was very hard for him to be at home and think that his son was in the hospital so they exchanged roles.
"We could not exchange after a few hours, or meet with the other parents who were also with their children admitted, you are alone with your child and it is harder because you have no one to talk to, cry with, support you in someone and share what you are living and that in such a difficult moment would have helped a lot ", says Julio who, however, does not stop thanking the warmth they received from the hospital health staff and the volunteers of the Spanish Association Against Cancer that encouraged and helped, telematically, to pass the days.
Those days, he remembers, were 24 hours in a room, father and son alone. "I have had many moments, I have known my son a lotNormally it is not possible to spend so much time at work, but it was a very beautiful moment where I had to explain what was wrong with him, why we were there and that he was being very brave ", recalls Julio who adds that from his company they gave him all the facilities and compensated him for the salary he lost due to being on leave.
December was the last time they were admitted to the hospital. The results are negative in leukemia remains and the control visits are increasingly spaced. Your problem has been external. Again the covid has seen an exponential increase in cases"The hardest part of cancer has passed, but now we are afraid of catching the virus," says Julio.
They live practically confined and without contacts. "From time to time we go for a walk and if we see that there are people we leave, it becomes complicated, especially because of Biel and his sister who want to see and play with their friends, but prevention is better than cure," he says. July. At the moment Bielosaurus is winning the battle not only against leukemia but also against the pandemic.
"It is essential that we become bone marrow donors"
The story lived with his son Biel has marked Julio. Say what he has no words to thank for all the support received, both from the hospital and from the Spanish Association Against Cancer and from his own company that compensated him for the loss of salary when he was on leave. This process also makes you claim the importance of being a donor. "It is essential that we become a marrow and blood donor," he remarks. "You do not know the number of transfusions that Biel needed to be able to face the process, and it is a very simple thing, the conditions can be met by almost anyone and many people who need that help are helped," explains Biel's father.