"We want to chronify lung cancer so that patients can die of something else" | Science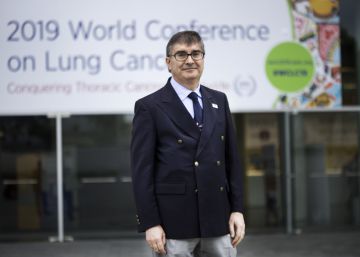 Lung cancer is the one with the most lives: in 2018, it killed 1.76 million people, according to the World Health Organization. This week, 7,000 medical professionals have gathered in Barcelona to share the global advances in their research and treatment, during the World Congress on Lung Cancer. The event is chaired by three Catalan oncologists, including Dr. Ramón Rami-Porta (Barcelona, ​​1956), clinical head of the Thoracic Surgery service of the Mútua Terrassa University Hospital. During four decades of work, he has seen the treatment of cancer patients progress first hand, and has participated in this evolution with the development of a new system of staging tumors, unified and internationally recognized for decision making in thoracic oncology. For this task he received in 2017 the highest distinction – the Merit Award – from the International Association for the Study of Lung Cancer, organizer of the congress. The doctor shares the conclusions of the meeting during the last day of meetings in Barcelona.
Question. What has changed in the last 10 years for a newly diagnosed patient with lung cancer?
Answer. We have new treatments. In surgery, there have been advances, not so much on what is done inside the chest, but on how to access the lung. In this congress two clinical trials have been presented, one from the United Kingdom and one from China, which compare what we call thoracoscopic surgery with open surgery – in which they separate the ribs to operate. The first is a minimally invasive surgery, in which one, two or three holes are made, to put the video camera and then the instruments through the other holes. Clinical trials have observed that minimally invasive surgery has the same cancer value, but in addition the patient suffers less pain and recovery is faster.
P. Is it already a usual surgery?
R. We have done minimally invasive surgery for twenty years, but there was no well-designed, prospective clinical study that supported it. Now two have already been made. I think this will convince those thoracic surgeons who still resisted a little to use minimally invasive surgery.
P. And when the cancer has spread and cannot be operated?
R. The most spectacular advance of the last ten years, which is being talked about a lot in the congress, is in two types of systemic treatment: what we call target therapies and immunotherapy. The chemotherapy that we all know is a vein medicine, which goes throughout the body and affects both malignant and normal cells. But now we better understand the intimacy of the tumor cell: we know that cancer is due to an alteration in the DNA of the cell, and that this genetic alteration translates into metabolic changes that allow the cell to perpetuate itself, avoiding the process of cell death . More and more mutations are known, and for them there begins to be specific medication; Drugs have been designed to counteract these metabolic alterations and return to normal, favoring the abnormal cell to die. These target therapies are now first-line in stage IV cancer, metastasis, with response rates of around 70%, while before it was systemic chemotherapy, with a response rate of 30%. This does not cure cancer. It is not necessary to give false expectations, but it does reduce the progression a lot, reduce the tumor radius, with a good quality of life of the patient, and prolong the survival.
The other way is to boost the patient's immunity to overcome the tumor, the immunotherapy. Lymphocytes are white cells that control the activity of normal cells, including tumor cells. There are hooks that link the tumor cell with the lymphocyte, and thus deactivate the ability of the lymphocyte to act on the tumor cell. Certain medications destroy this union and restore the lymphocyte's ability to attack the tumor area, this is immunotherapy. Before, with metastasis only chemotherapy was used, nothing more. Not now. Now, knowing the molecular profile of the tumor, we can have other therapies that are more personalized for each patient.
P. Is it achieved that fewer people die of lung cancer, or the goal is to extend the hope and quality of life of patients?
R. With the target therapy they live more years, because before, when a metastatic tumor did not respond to chemotherapy, it was only a matter of weeks or months. Now there are patients with stage IV, that is, with metastases, who live for years: the disease is chronicled. It is rarely cured in the sense that we have proof that the disease disappears completely. But it has had a very important impact on the forecast. Chemotherapy had reached a ceiling, there were no new medications. In addition, chemotherapy is a bondage: the patient has to go to the hospital, the next day he has a bad time, you have to give treatments to avoid side effects, vomiting, dizziness … Instead, the target therapy is a pill. It will also have some side effects, but it is tolerated much better than chemotherapy.
P. Science is driving these advances in diagnosis and treatment. What about prevention?
R. The best prevention is to eliminate or reduce the smoking habit, but the following happens: if we stopped smoking today, we would have lung cancer for decades, because the damage caused by the carcinogens of tobacco is not immediate. That is, since a normal cell of the bronchial mucosa becomes cancerous, until we identify a tumor of a centimeter or two centimeters by radiography or CT (computed tomography), it has been years. In fact, sometimes the patient is missed. Many of our patients are ex-smokers and they tell us: "But doctor, I haven't smoked for more than ten years." Yes, but the damage was already done. Globally, I am pessimistic: the incidence in North America and Europe is going to fall, because we have anti-smoking laws that are increasingly being followed, but tobacco companies go to countries where there is less regulation: China, India, Southeast Asia .
P. What other risk factors can be avoided?
R. Pollution, especially: atmospheric and radiation, such as radon gas in the soil of certain areas. But let's not forget that there are also spontaneous DNA mutations and DNA repair mechanisms that, when they fail, can cause lung cancer in a patient who is not a smoker and lives in the Pyrenees with a healthy air. Then there are some lung cancers that can be inherited, because a mutation is passed that facilitates that cancer. These are four factors, but in our context the most important is tobacco: more than 85% of our patients are smokers or ex-smokers.
P. Would it be useful and feasible to carry out early detection campaigns, as is the case with breast or colon cancer?
R. In the United States a study of screening —Written— of lung cancer, the National Lung Screening Trial (NLST). In Europe there was another, the Nelson. Both have been positive because more early tumors have been detected in the screened group and these have been treated. Over the years, there is a 20% difference between the branch of people who were screened with low-dose CT and those who were not. We have spoken at this congress: it is incontrovertible that screening for lung cancer scanning is useful. Everything that is done to try to diagnose a tumor in the earliest phase is in favor of the patient, because it does not allow time for it to develop locally or to metastasize, it greatly improves the prognosis. But what happens in other countries? That in South America there is no screening and in Spain neither.
P. For lack of resources?
R. Yes, it would be necessary to buy more scanners, and it is an activity that, in my opinion, cannot be introduced in the clinical practice of radiologists, because they are already at the top. In addition, Spain is a country of smokers. If you have to do a screening of patients of a certain age, which are usually from 35 to 45 or 50, who are smokers or ex-smokers, you have to do thousands and thousands of scanners. More machines and more personnel are needed, which makes it much more expensive. Yes there is a breakthrough that will ultimately reduce the programs of screening: ultra-selection by blood tests. In the area where you want to screen, you can look for tumor markers in the blood of individuals. TAC is then done only to that more limited population that has biomarkers of blood cancer. This reduces the cost of the entire project.
P. Do you think it's a good idea for people to find out their genetic risk of cancer with personal DNA tests?
R. Sometimes you can detect things that have no treatment, and that has repercussions on the psychology of the patient. If you get a risk of lung cancer, you can, in any case, avoid all carcinogens. For example, if I had a genetic predisposition to lung cancer, I would do my best not to smoke. I would also try to observe the radon of the soil, if I go to a risk area that is not paved, for example. There are people who have had both breasts removed by detecting a genetic predisposition to breast cancer, but the two lungs cannot be removed. I think it is a very personal decision and a massive DNA analysis cannot be recommended to the population. The more information you have, the better, but then you have to know how to digest that information. It depends on each case.
P. What public health policy is still missing?
R. I believe we have the laws. Thirty years ago they were not fulfilled, but now they do not smoke in public places, or in transport, or in hospitals. In any case, what I would do is education, in schools, since childhood. I think we need to explain well at school what one risks to start smoking or drinking alcohol, because it is fashionable or because there is pressure from colleagues. On the other hand, tobacco plantations can not be eliminated overnight, there are many people who live from it and it is not to blame. There must be long-term programs to replace all those businesses – from planting, harvesting, distribution, everything – so as not to leave millions of people unemployed.
P. Are we looking into a future without cancer?
R. Globally, I don't know; Out of every 100 unselected patients with lung cancer, only 15 will remain alive at five years. But I believe that lung cancer will be cured, although not immediately, and will be with combinations of therapies. This last decade, we have seen very important advances that chronify the disease, but people are still dying of lung cancer. Now we slow the tumor, prolong survival, but there is no cure as when a pneumonia with antibiotics is cured. And perhaps this is what we should aspire to: not so much to cure the disease, but to chronify it so that the patient does not die of lung cancer, but lives with him, taking medication. That maybe you can die of something else. Let's go over there.
(tagsToTranslate) want (t) to chronicle (t) cancer (t) lung (t) patient (t) to be able (t) to die (t) thing (t) medicine (t) to personalize (t) to be (t) to drive ( t) hope (t) life (t) incurable tumor (t) (t) explain (t) president (t) world congress (t) lung cancer



Source link