«We have the challenge of feeding the population in a sustainable way»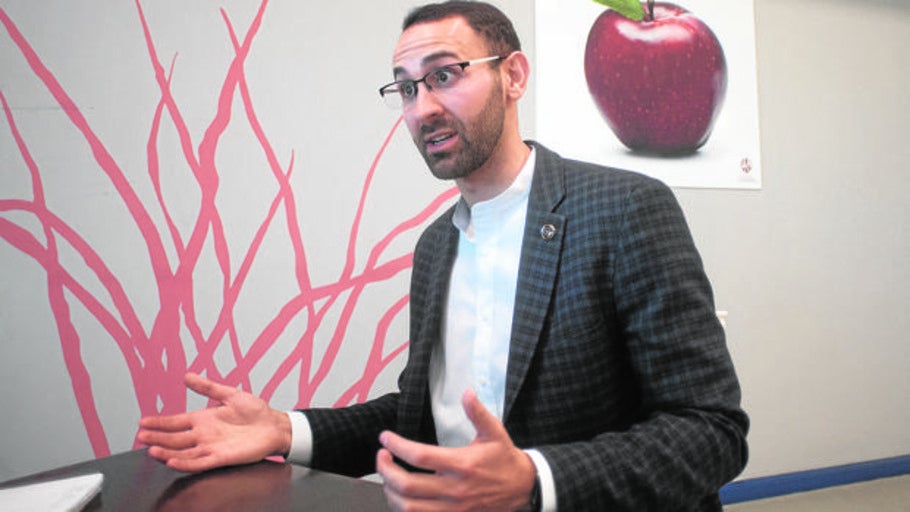 MalagaUpdated:
The challenge of producing more food with fewer resources and in a sustainable manner is causing a growing development, not only in the large companies of the agribusiness sector, but in a multitude of small start-ups. The director of Digital Alliances and Venture Capital Ventures of Bayer Growth Ventures, Paimun Amini, has recently visited Malaga to give a lecture on the application of technology on farms at the Smart Agrifood Summit, a forum to create points of encounter between innovative ideas and access to funds. Amini's team works to identify emerging technologies and new business models in which to invest to develop collaborations. In the last year they have collaborated with 800 companies, of which twelve projects have been set for Bayer, one of them belonging to a Spanish firm: Plant Response Biotech. "Now there are two or three in which we see the possibility of investing", recognizes this biologist and master in business management, who joined Monsanto in 2011, now Bayer after his purchase.
What is the department that you manage?
It is the investment arm of the company. The idea of ​​the company is to invest in entities, start-ups and new technologies that can revolutionize agriculture.
What are the advantages of participating in projects with start-ups instead of developing them within Bayer?
It's a great way to collaborate with developments outside of Bayer. We spend around 2,400 million in research, but outside our environment other companies invest 10 billion dollars. It is therefore a way of participating also in these developments. We have a great knowledge in Agriculture, phytosanitary, seeds … but there are other companies that have it in drones or digital agriculture; and it is a good opportunity to invest.
Should we promote research for development in agriculture?
There are three key aspects for the development of technology in agriculture. The first is to take into account that the challenge is to feed the population in a sustainable way. Then, that the problems of agriculture to produce more with fewer resources have to be solved with technology. And finally, address that development with an open mind and economic perspectives of innovation and business collaboration. We know the current problems of the sector and our challenge is to invest in projects that can address them with a mindset of innovation and collaboration.
And they do it collaborating with emerging companies. Could this reduce the amounts that Bayer dedicates to its own innovation?
It is complementary. Outside the company there are other projects where progress is also made. It is a way of approaching other technologies where we do not have that knowledge. We invest 25% of each dollar to be able to experiment in those areas without spending too much. We have about a hundred collaborations along the entire value chain and in each case it depends on the characteristics of each of the clients.
Do they also collaborate with public institutions?
It is an open strategic approach. There are collaborations with universities in South America and the United States. Also with the different sectors along the value chain.
Which criteria have more weight to select a company in which to invest, scientific or economic?
We are looking for a good team of experts with the appropriate technology. In this type of company the economic viability has no weight in the decision, because they start the road at that moment. They have no economic projection. It is a more personal decision, of human resources and potential.
How is Bayer's relationship with these start-ups?
At Bayer we have a deep knowledge of the market, technologies and scientific advances. These companies value it and represent an opportunity to provide them with that knowledge and develop their project. Normally we invest in very early stages of these companies and we accompany them during the development of the product and its growth.
And what do you offer then to the farmer?
First, changing the way you make decisions. We go on to provide you with information to make the decisions. Then we give you the necessary technologies to carry your farms and, finally, we provide you with more sustainable practices in the use of the resources you need for your activity. On the other hand, we also need to understand the information more, put it in common and integrate it in order to offer technological solutions to the farmer.
Has the agriculture area been strengthened after the merger of Bayer and Monsanto?
They have been able to unite the two investment formulas that both companies had. The knowledge and way of doing things with the support of new technological developments is the result of the perspectives of the two companies.
In Germany there are some reticence to the merger by ecologists and some pressure groups. Has the same thing happened in the United States?
Unfortunately I can not comment on it, because it is not my area of ​​knowledge in the company. But I can say that the United States Environmental Protection Agency supports our products.