"We have been left a little orphaned"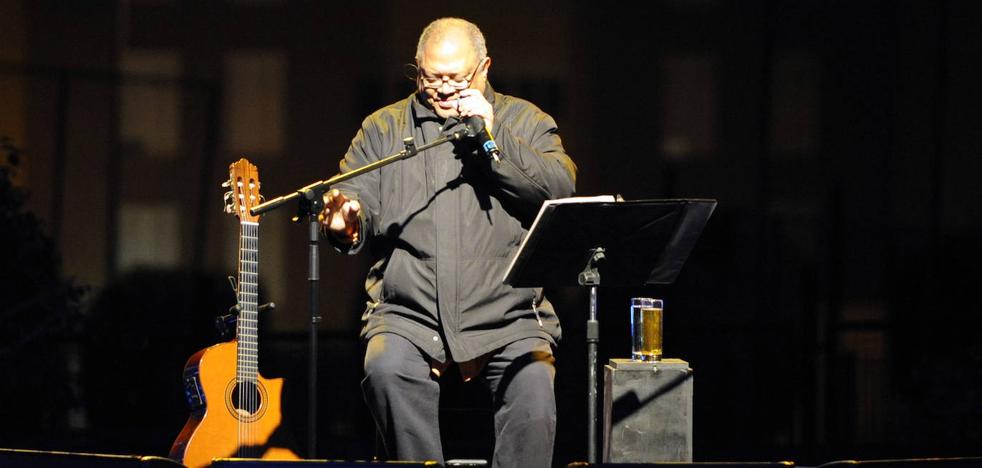 death of pablo milanés
The cultural world of the Canary Islands highlights the humanity of the Cuban artist, his love for the islands and his enormous mastery of melody, with an enormous level of poetry
The death of Pablo Milanés has been very felt in the Canary Islands.
The Cuban artist's relationship with the islands has been very intense over the years., with countless concerts and projects. La Nueva Trova was a new musical current led by Silvio Rodríguez, Noel Nicola and Milanés himself, from the year 68, which managed to gain a foothold, but Milanés' poetics, his romanticism and his way of seeing life made him a "very special person" The world of culture in the Canary Islands has been dismayed. Remember that Pablo Milanés had a concert scheduled last summer in Agaete, but it was finally cancelled.
The singer from Gran Canaria Olga Cerpa, together with Mestisay, shared the experience with Pablo Milanés, a year and a half ago, of singing a song with him, in the 'Palosanto' recording project. "It was in the middle of the pandemic. He was already sick and with many health problems. He was in a kind of bubble and we recorded in the same studio but on different days. I gave him my voice and he recorded his. I remember that he came up and he was not very satisfied with his recording and he repeated it.
That song 'Evil Eyes' will remain in my memory forever. Pablo Milanés has left us a little orphaned for a whole generation. He was a referent of the Nueva Trova, and he dominated the melody like nobody else, with a very high poetic level. It's a sad day. He was not only the patrimony of Cuba, but of all music in Spanish", he highlighted.
For his part, the artist from La Palma, Luis Morera, found out about the news through a call from CANARIAS7. "What sad news. She was one of my favorite singers and she stood out mainly as a human being.
I was from his sidewalk and had a lot to do with him in his way of seeing things, of expressing himself, etc.. I had several encounters with him throughout my musical career and we met sporadically in various dressing rooms. He was a person I admired, "says the composer and interpreter from La Palma and voice of Taburiente, who did not expect to receive this sad news that has caused enormous consternation in the world of culture.
"His music has influenced, as well as his person," highlighted Chano Gil, director of the Gran Canaria Big Band. The curious circumstance arises that the Big Band «had the opportunity to make some arrangements of songs by Pablo Milanés, such as 'Ámame como soy'. His music could be perfectly adapted to jazz and we did so.
It is a joy for us to be able to have that great memory with a format very different from yours., but that many generations had Pablo Milanés as a reference ». Chano Gil highlighted that they had a project underway, which was interrupted due to the pandemic, together with Silvio Rodríguez, "which may now be a good time to think about taking it up again," he highlighted.
"Words are unnecessary.
The loss of a great artist is always a loss for music.. But you have to recognize, admire and enjoy all the legacy he has left. When I lived in New York I had the opportunity to see it at Carnegie Hall and it was a blast. Music always lasts and we have all that treasure it has left to enjoy forever", says the pianist and director of Fábrica La Isleta, José Alberto Medina. From the Cuban singer-songwriter he stays with "his ability to communicate. His lyrics reach you and are always identified with a part of you. Who has not identified with any of his songs? It is the most beautiful of music », he adds.
Finally, the general director of the Fundación Auditorio Teatro de Las Palmas de Gran Canaria, Tilman Kuttenkeuler, acknowledges that his death has been "a very sad surprise". «We know him from many concerts in this institution. He was an artist with whom we have shared many moments, just like the public.
He was a friend and an artist of the house. The news is very sad, but for an artist the great success is that his music is always with us and in his case that is what happens», he comments. When programming it, she admits that the Foundation "never had any problems with it. With all artists there is a 'feeling' or it doesn't exist. With Pablo we did have it », he underlines.