"We don't emigrate from Central America: we run away" | Economy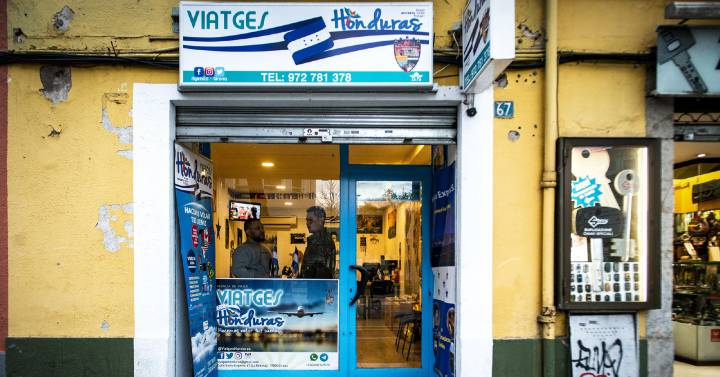 Vanessa Escoto changed Tegucigalpa for Madrid six years ago. He followed in the footsteps of his mother, who already lived and worked in Spain. "I had no job, the economic situation was not good and there was a lot of insecurity," says this 31-year-old Honduran girl, taking advantage of the fact that the baby she cares for in the morning has already fallen asleep. In a few hours he will enter his second job, supporting his compatriots in immigration procedures. After having brought his two children, he is already in the process of obtaining nationality. "It has been much better than I expected before coming," he values, looking back. "I have no plans to return: in Honduras there is no work and there is a lot of violence, but I never forget where I come from."
The number of Central Americans registered in Spain has doubled in the last three years, the most acute period of social crisis in their countries of origin. And the case of Honduras is especially significant: from less than 50,000 registered in Spain in 2016, more than 96,000 were passed in 2019. An emigration that, "ironically", points out Richard Barathe, head of the UNDP in Honduras, has shot up in years in which the growth of the economy has been high. "What happens is that migration transcends a lot of income: it has a lot to do with inequality, which has accelerated, with violence and, above all, with the lack of employment opportunities." To Honduras is Nicaragua, a country ravaged by a political crisis that is on its way to becoming eternal and that has claimed the lives of hundreds of people. Since the beginning of the protests against the Government of Daniel Ortega, the exile has multiplied: in the first year 62,000 people left the country, according to Acnur. The vast majority opted for Costa Rica, the simplest option, but the alternative of Spain has been gaining luster: from 26,000 registered in 2017 it has been passed to more than 42,000.
In the last survey of the Latin American Faculty of Social Sciences (Flacso), in 2018 almost three out of ten Honduran schoolchildren had "expectations" of emigrating to Spain in the future, compared to 45% who opted for the United States. The next country on the list was France, but light years: only 5% of preferences. "Going to Spain is a trend that does not stop growing", deepens the director Flacso in Honduras, Rolando Sierra. The intense creation of employment in recent years has played an essential role in the greatest attraction. The Spanish labor magnet, which was lost with the crisis, has returned to attract migratory flows.
In 2019, 240,000 foreigners entered the labor market and, of them, more than 182,000 found an occupation. Central Americans are a growing fraction: microdata extracted from the Active Population Survey (EPA) by researcher Enrique Negueruela reveal that workers from El Salvador, Guatemala, Costa Rica, Honduras and Nicaragua have gone from less than 65,000 in 2016 to about 108,000 today, 66% more. In absolute numbers, Honduras and Nicaragua are the largest emitters – 22,000 and 15,000 new immigrants – but the largest percentage increase, although starting from a low base, does correspond to El Salvador: 153%. Another figure that shows how the attractiveness of the Spanish labor market for Central Americans has skyrocketed in recent years: if in 2016 only 22,250 workers in that group – in which the INE also includes Mexico, Cuba and Puerto Rico – had been 12 months or less in Spain, today they are almost 50,000.
From these five countries in 2019 they arrived 107,769 people, 66% more than in 2016.
Source: EPA and Enrique Negueruela.
THE COUNTRY
From these five countries in 2019 they arrived in Spain 107,769 people, 66% more than in 2016.
Source: EPA and Enrique Negueruela.
THE COUNTRY
From these five countries in 2019 they arrived in Spain 107,769 people, 66% more than in 2016.
Source: EPA and Enrique Negueruela.
THE COUNTRY
The Central American crisis has many fronts. Politician: the regimes of Ortega and the Honduran Juan Orlando Hernández; social: young populations that do not find their place in barren labor markets and traversed by informality; of violence; and even climatic, with raw droughts hitting the dry corridor and carrying tens of thousands of people to misery and hunger-. And, unlike recently, when emigrating to North America was practically the only option, Spain has been winning whole. "Since [Donald] Trump has tightened the nuts to Mexico and Guatemala, has gotten hotter, "says Manuel Antonio Flores, a professor at the National Autonomous University of Honduras. "Salaries are lower, but getting to Spain is simpler and much safer." There is, however, a large gender gap: men continue to lean towards the United States and women by Spain, where they are almost two-thirds of Central American residents.
Jenny Mariela Barahona, a 36-year-old pedagogue, arrived in Girona eight months ago leaving her three children and her husband in her country. His status as an activist against the Hernández regime closed all doors in his country. "To access a public square you need a political recommendation, sleep with a deputy or pay," he sighs. "We don't emigrate: we run away. Of poverty, violence, lack of opportunities and political and social crisis. It is a forced displacement, "he says with enviable poise. "The despair that one has to have … Breaking his heart if possible to leave his children."
In 2014, Honduras had the highest homicide rate in Latin America: 80 per 100,000 inhabitants. The figure, although still at unacceptable levels, has dropped in half in a classification in which El Salvador is second today, after Venezuela. An aggravated problem in the case of women. "There we are not worth anything," Barahona completes. She emigrated because her husband would have had a harder time finding work in the United States – pressure from the Trump Administration has made things more difficult – and because the road to North America "is more complicated for a woman, because of kidnappings, rapes and murders Almost all those that pass through the migratory route are violated by cartels or coyotes. "
Adaptation and rooting, like almost everything in this life, ends up being measured in intangibles. And that there is radio made by and for Hondurans in Spain says a lot about it. Jey Álvarez, a Honduran from the country, ironies of destiny, from a city called El Progreso, directs Zona Ktracha, a program on-line which acts as a thread of union for the Honduran community. "Here we have found the opportunities that our country has not given us," says this 30-year-old Honduran, the last three in Madrid. "Our people," adds Ofelia Mendoza, president of the Guaymuras association, "already sees the United States very hostile: the immigration policy of [Donald] Trump is choking us, using our governments as fighters to stop migration. " In the last three years, he completes, "they are coming to Spain, where the same language is spoken and there are job opportunities in the domestic service". The money they send to their families in Central America is vital: 20% of Honduran GDP comes from abroad, "an important part, to invest in land," adds Flores.
In 2021, the entry into force of the ETIAS – a procedure similar to that faced by Spaniards traveling to the United States with the ESTA – will require approval by the authorities before taking their flight to any of the 26 countries in the area Schengen, complicating things to those who want to reach Spain. The usual process – tourist visit and months of irregularly paid jobs until the paperwork is obtained – will be the least difficult. "It is one of the reasons I came here a year ago, without waiting any longer," says W. A., 37, who has already obtained asylum and who combines his work in a bar with the care of the elderly. Gone are two stores and a food business in San Pedro Sula (Honduras), which had to close due to violence. However, no one doubts that, as long as the expulsion factors persist, their case, such as those of Escoto, Álvarez, Barahona and Mendoza, will only be a drop in the rising sea of ​​Central American migration.