'We are sorry for the inconvenience', the series that breaks with the clichés of old age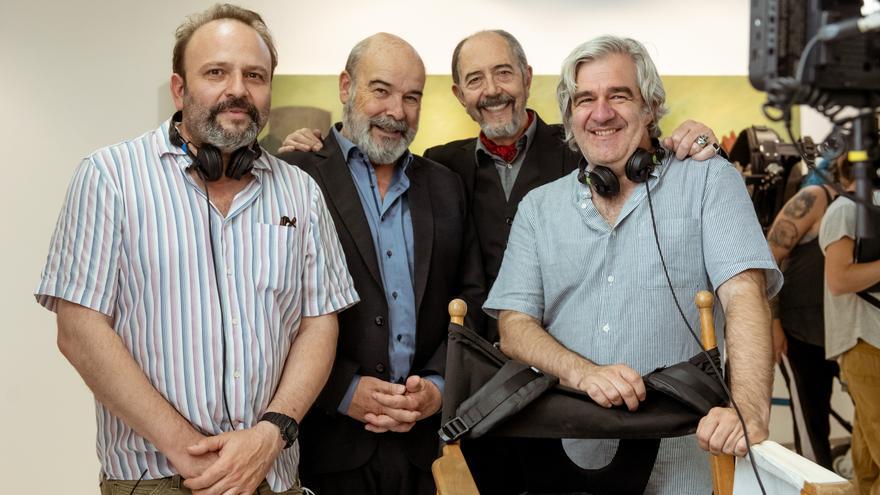 Juan Cavestany and Álvaro Fernández-Armero break stereotypes and make fun of old age in 'Sorry for the inconvenience', a Serie with Antonio Resines and Miguel Rellán, who play two septuagenarian friends dedicated to music, whose filming has just finished in Madrid.
The creators acknowledge that the series was born from the "observation of close cases" and the realization that "there is a third age with incredible mental and physical health".
"It was worth talking about this new generation that reaches this age with tattoos and that has nothing to do with the stereotypical idea we have of grandfather, with his cane, in the park," says Fernández-Armero during a break from filming in a luxurious villa in Aravaca, where the house of one of the protagonists is located.
Why older people now "can work, have romantic, sexual and all kinds of relationships". "And the question is whether society has really made a hole for this new generation," he highlights.
'Sorry for the inconvenience', whose premiere is scheduled for next year by Movistar +, follows the story of a couple of lifelong friends who are now in their seventies.
On the one hand, Rafael Müller (Resines), an acclaimed conductor married to Gloria (Fiorella Faltoyano) although secretly in love with the first cellist of his orchestra (Melina Matthews).
And on the other, Rafael Jiménez (Rellán), an old rock glory who refuses to hang up the guitar, and who now, with his daughter, granddaughter and great-granddaughter, has nowhere to fall dead because he is going to be evicted and barely survives on income.
Both will have to fight to keep fitting in a fast young world who insists on removing them from the game board, despite the fact that they still feel fully empowered.
"It is very good that these stories are made. There should be more roles for adults and series that deal with them, there are many for young people," says Resines, who considers that "there are a number of shortcomings" in the world of acting and " older people are a bit out of the way. "
"Knowledge is a plus and in my case it is evident. We are much better actors now than years ago," he says convinced.
An opinion supported by Faltoyano, who in her private life is also an active woman and is about to publish a book of stories (with the provisional title of "The empty hours"), after writing her memoirs.
"It seems that when you get to a certain age, in addition to having few roles, the ones that exist are that of the mother of … or grandmother of … Nowadays older people are also active and can be the protagonists of the story, and this is what makes me he likes the series, "he says.
A mix of drama and comedy in the style of films such as "The Marigold Hotel Success" and series such as "Grace and Frankie" or the recent "The Kominsky Method". Cavestany would like this scheme to become "normalized" and "open the range to mature leading characters."
Just before the 2020 lockdown, the creators and the protagonists were able to meet for lunch and dinner several times and begin to channel the story.
"We have written it for them and the idea is that at dinners they would tell us about their life experiences, but in the end we always ended up talking about other things", recognizes Fernández-Armero, who hopes that there will be a second season to strain more experiences of the protagonists in the scripts.
At first, the scriptwriters thought of Rellán for the conductor and Resines for the rocker, but, nevertheless, in the process the tables were turned.
"I have always dreamed of being an orchestra conductor, I have insistently asked for it, with Garci, with Cuerda … and now that it seemed that I was going to achieve it they go and give the role to Resines," laughs an afflicted Rellán.