'We are somatic beings': the path from heartbreak to self-love in five acts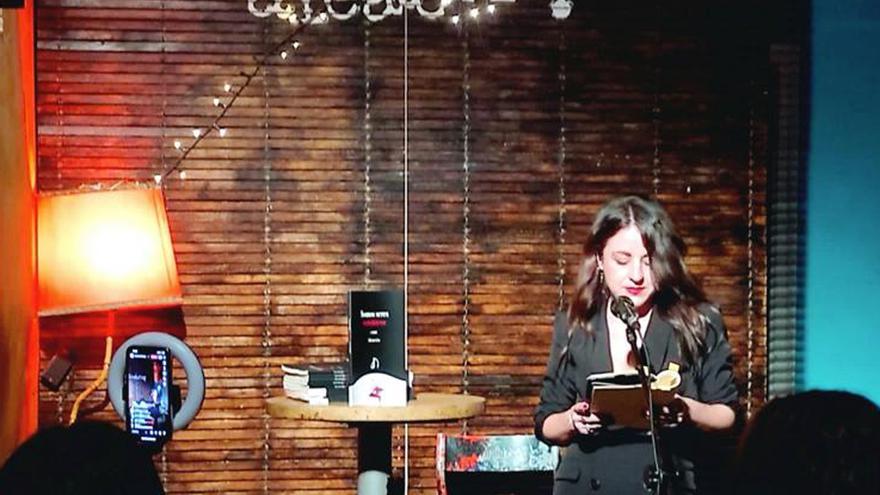 This story begins with a full stop and ends one day in January 2017. It starts with "just two words: without you" and ends with "love me." 'We are somatic beings' (Achilles' heel, 2020) is a story of a lack of love, but also of healing. It is a trip between Laredo, Bilbao and Madrid in five acts. "It's a year of my life"Says Miriam Cos, its author, as she talks excitedly about the story behind some poems with which broken hearts are easy to identify. "The truth is that this loneliness is more overwhelming every day since you left," he says in 'Forever'. It is difficult not to travel back in time to imagine yourself at a specific moment.
After presenting this "dream come true", this "brave book", this didactic and balsamic story in its Cantabria natal and in the Basque Country That stained his maturity, the bar 'Aleatorio' in the Madrid neighborhood of Malasaña was the scene of the launch of his first collection of poems in the city that is now his present. Among the audience were family, friends, colleagues and future readers. Some of them took with a special dedication a book that is the perfect wardrobe background, an anthology that she herself says that "talk about bad love, that love that destroys you and makes you forget about yourself and then makes you rebuild", it states. Then read 'Faith', and it all makes sense: "You played god with your heart and / now you're picking up the pieces," he prays.
Miriam found in writing the escape route out of toxicity of a relationship that was not easy to leave behind. "At that point in my life, my psychologist recommended that I keep writing and I started doing it compulsively," he recalls. Because sometimes written words are easier to create than speeches. This is how he collects it in 'I can': "I want to talk and I can't. / It is the panic of the heart that, coincidentally, makes it throb. / And you throbbing too. / And you smile. / And the thaw arrives… ".
What Miriam didn't know is that those words he was scribbling almost automatically were actually poetic prose. "I didn't know that what I was doing was poetry," he recalls. Until an editor arrived to put those verses on paper and make them reach the public after the hard months of lockdown in the first state of alarm. That confinement was for her a source of inspiration that translates into the section 'Poems confined'.
And it is that, in one way or another, Miriam hardly remembers herself without a pen in her hand. She is a poet and also a journalist for Prensa Ibérica, and that is why he hopes that 'We are somatic beings' is only the first line of a long bibliography. With her mind set on those first few times, Miriam reads 'Piropos de mortar', the poem that contains the verse that gives the book its name and, for her, the most beautiful. 'Piropos de mortar' is special because it is the first poem of his life. When he wrote it, he was having one of his most difficult moments: "You are the hit man of my life, / my desire, my wanting and not being able, / my imperative need to perceive everything."
With the aim of shaping a second book in the not too distant future, this 'pen', as she defines herself, leave bits of your day to day in your account Instagram, @poeticallycorrect. There she rescues verses from her debut that she recites herself and shares new experiences, new thoughts, new feelings.
But 'We are somatic beings' will always be special. Because, in addition to a cry of pain, it is a hymn to self-love, a feeling that is enough to read the book from beginning to end to become a participant in the hard path that Miriam walked to build it. "I am my goddess. / With mockery and irony, / with pen and scepter. […] I am my axis, my center, my epicenter and my life ", he writes in 'Diosa', a poem that talks about" loving oneself first, which is the most important thing. Then comes to love others "and that also is the key to what is to come.