"We are seeing income from 20-year-olds every day."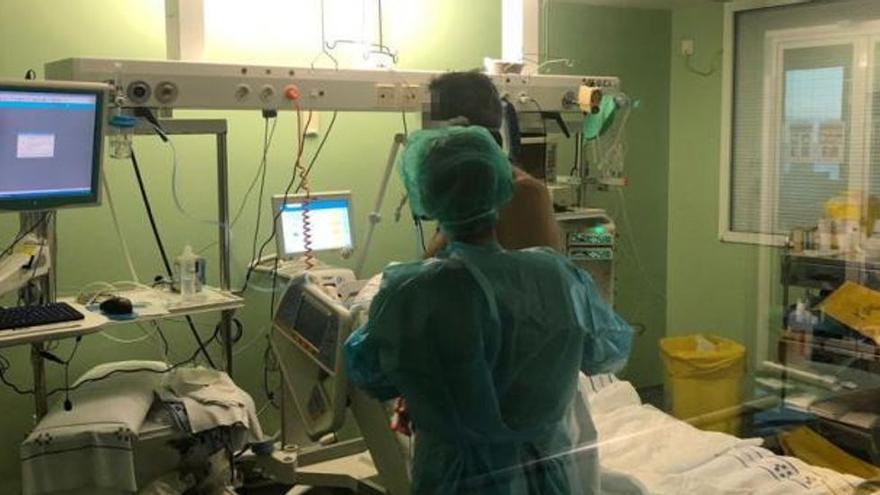 The indicators that mark the level of cumulative incidence in the last seven and 14 days in Gran Canaria and Tenerife remain at very high risk, despite having experienced a decrease compared to last Tuesday, August 3. The pulmonologist Miguel Angel Ponce, has affirmed the concern of health personnel about the low percentage of immunization of young people between 20 and 29 years old before the Covid-19 in the Canary Islands in an interview conducted at Cope Canarias. Listen to the full interview here.
"Every day we are seeing income from people in their 20s and 30s, and the fifth has been the worst wave by number of income. La Candelaria Hospital has exceeded 200 admissions, and in no wave has it had that number of admissions ", says the doctor and PP spokesman in the Canary Islands Parliament on health matters.
"Pneumonia can leave sequelae, I have patients who are on oxygen for months at home and even if they do not die, there are many cases of persistent Covid in young people with various sequelae", asserts and points out that young people can also have the disease.
On the controversy that arose around the AstraZeneca vaccine, states that "Certain vaccines such as AstraZeneca's are being demonized, highlighting in the media two cases of thrombi among a million people and this has generated fear and confusion, reinforcing deniers that they are doing so much damage." "There are many patients with fear, when the contraceptives themselves produce more blood clots than the AstraZeneca vaccine"he insists.
With respect to new drug, which has been tested with significant success in Israel, EXO CD24, and to which some information gives a 90% cure, argues that "Now we are using Rendesivir and corticosteroids with acceptable results, especially if the patient has at least one dose of the vaccine. But these new drugs decrease inflammatory cytokines and are having good results on inflammation, with which the therapeutic arsenal is increasing and the most important thing is that they are approved by the large international agencies ".
While, on the Lambda variant, it was sincere that "We know little about it, although there is also the Delta Plus. The danger is that these variants have greater vaccine escape than the Delta, and in the Delta we are already seeing outbreaks in residences with deceased. With which, in this immunocompromised and older population, we will need a third dose. Not to the entire population, but to these people, because they are the ones who die the most ".
10 08 2021 15:30
There are 15,568 active cases in the Archipelago, of which 99 are admitted to the ICU and 475 are hospitalized.
10 08 2021 15:30
Two of the deaths associated with the disease and reported this Tuesday occurred in Gran Canaria.
10 08 2021 15:29
Conference with 434 new cases of covid and three deaths in the Canary Islands. Read more
10 08 2021 13:11
Level 4 does not prevent the public from entering the Gran Canaria Stadium. Read more
10 08 2021 13:09
The Canary Islands exceed 65% of its target population immunized against Covid-19. Read more
10 08 2021 13:01
More than thirty professionals at Hospital Doctor Negrín have participated in programs to address stress and fatigue. Read more
09 08 2021 16:00
Of the three deceased with covid, two were in Gran Canaria, 67 and 84-year-old men, the first of them linked to an outbreak in a social health center and the second to a family outbreak.
09 08 2021 15:58
Three deaths and 384 new cases of covid this Monday in the Canary Islands. Read more
09 08 2021 11:38
The southern nightlife businessman who failed to comply with health measures was sentenced to a 960-euro fine for disobedience. Read more
09 08 2021 08:23
Health asks the municipalities to collaborate during Alert Level 4. Read more
08 08 2021 18:44
A farmer from Gran Canaria asks for help to sell all his sleeves. Read more
08 08 2021 18:41
The Local Police evicted 320 people in various parties this weekend for breaching the COVID regulations in Las Palmas de Gran Canaria. Read more
08 08 2021 18:40
Arrested for not complying with anti-Covid measures and attacking Police officers in the south of Gran Canaria. Read more
08 08 2021 18:40
A peninsular tourist charges against the absence of a party in the Canary Islands in the middle of the fifth wave of Covid-19. Read more
08 08 2021 18:39
Canarias reports the lowest number of Covid-19 cases in a month. Read more
08 08 2021 18:39
Pharmaceutical poverty, another hidden scourge of the pandemic. Read more
08 08 2021 18:38
A doctor, the last to leave the ICU in Lanzarote. Read more