"We are not aware of the contamination we swallow" | Society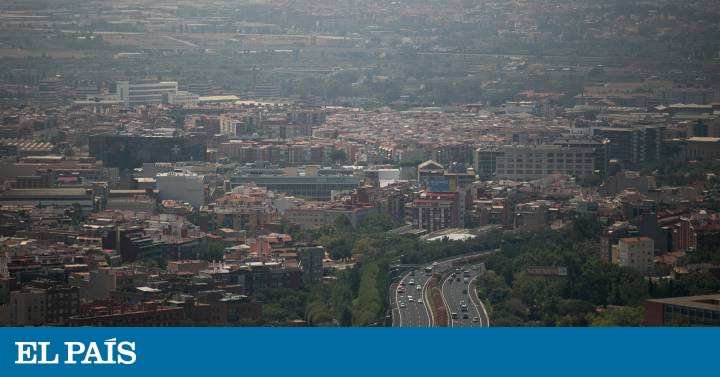 Antonio Coria, retired formworker, 48 years resident in L'Hospitalet de Llobregat, is no longer with friends in the park of Can Buxeres. "Before it was more pleasant," says Coria, "before there were many nests and more birds: thrush, turtledoves, magpies stacking of so many there were. Now there are few. And if you went at night, you used to see the stars, not now. " There are voices of all colors in the municipalities of Baix Llobregat indicated by the European Commission, together with the rest of the metropolitan area of ​​Barcelona, Due to its high air pollution: there are neighbors like Coria who believe that pollution eats them and others who think that the problem is little compared to what the center of Barcelona suffers.
María Carmen Villamor and Agustina Olmos are friends and have the habit of taking the fresco on the Rambla Just Oliveras de L'Hospitalet before lunch. "The air must be more polluted, there are now many more cars than 40 years ago, and there are also air conditioners. There are narrow streets where you will behead with the exits of the air, "says Olmos. The Baix Llobregat, a region of great industrial weight, has seen how the most polluting factories were closing, and Villamor admits that in the seventies "the clothes, when you laid them, you were black of what came from the metallurgist of La Farga, or the Norit factory. "
Eusebio López and Petra Batalla, residents of L'Hospitalet for more than half a century, are amazed when they receive the news that the Baix Llobregat is an area that suffers a dangerous level of air pollution: "Maybe it's because of cars and air conditioned, but we don't breathe worse. If we compare it with the cloud of pollution over Madrid that we see on television, we consider ourselves lucky. " Another neighbor comments, María Toledo: "Maybe older people notice it more, but I don't see so much pollution, and more if you compare it with the center of Barcelona ".
In Cornellà de Llobregat, Lucía Martínez, 31 years old and an employee of the Alarcón hairdresser, warns that the situation is risky: "I was scared recently because from Sant Joan Despí [on the slopes of the Collserola mountain range] I saw how the villages of the Llobregat were covered by a gray cloud. " Xenia Fernández and Jasmín Carrascosa are employees of an office in the center of Cornellà. Carrascosa lives in El Prat and says that every day is a testament to what the European Commission points out as one of the main causes of toxic emissions: vehicle traffic.
Traffic not only in the two rounds that circle Barcelona and that coincide in the Llobregat area, says Carrascosa, but especially that of freight transport in the free zone, in the port. Carrascosa travels daily from home to work by car, between two neighboring municipalities, on a route of just four kilometers. He says he is aware of the emissions he generates, so he asks for better public transport connections, and helps to buy a less polluting vehicle. "I think we are so used to it that we don't even realize what we swallow," adds Fernández.