"We always say that the war is waged from within and going to Eurovision would be a very good thing"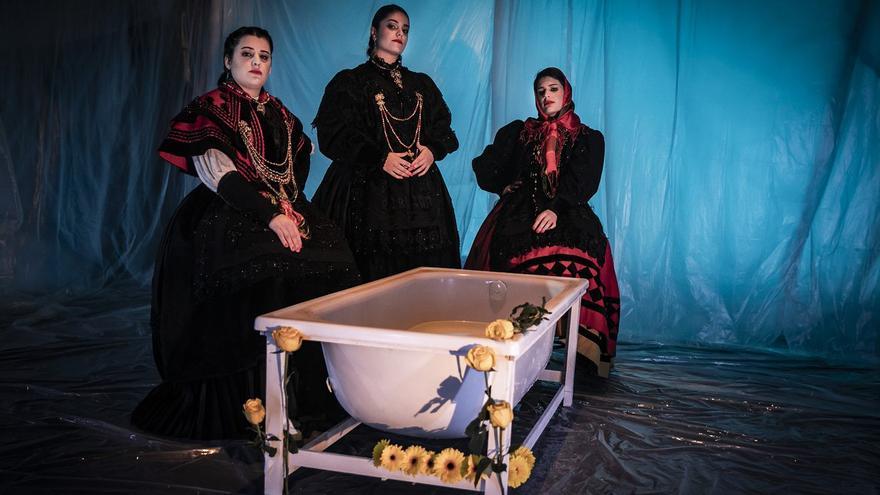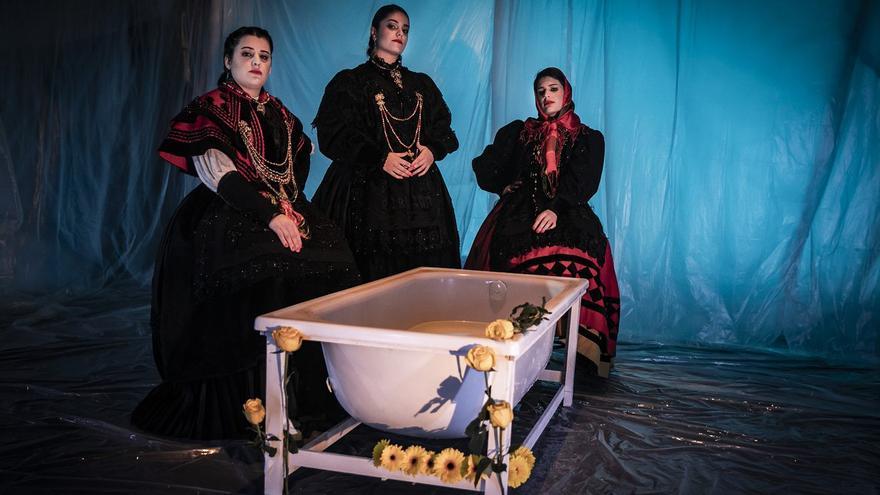 It is the group of the moment. Tanxugueiras conquers the music scene with its commitment to traditional Galician music, but in which there is also space for autotune. They will participate in the Benidorm Festival, from where the representative of Eurovision, after feeling the support of Eurofans in previous polls. Sabela Maneiro reviews the last year, what is to come and what the new generations need to respect and love your culture.
They have been for almost three years, including a pandemic, with Contrapunto. What is it like to say goodbye to this tour?
The truth is that it is very sad, because it was an album and a tour that we did with a lot of affection despite the obstacles that we could have. But at the same time, we are also happy to open another door and start another tour in March. They are mixed feelings between joy and sadness.
What do you have in store?
We are working on the album and on a live show that is at the same level as any of those that are being heard today at the state level. That it is sung in Galician does not mean that it does not have to have that level.
Will the live shows of 2022 be different?
We are not going to lose our essence, it will be traditional music, but we are evolving and taking one more step. We want to get closer to the youngest, who are the ones who are going to make this last over time. It is necessary that the new generations take up the baton. If they are disconnected, there will come a time when this disappears. If we connect the new generations, this goes for a long time.
Tanxugueiras is the example that tradition returns to claim the place it deserves.
Tradition returns to stay. We try to make traditional music visible, but it comes back to stay because we are building a quarry, we and our colleagues. Now the only thing left is to go up.
They carry out activities in schools to promote traditional Galician music with songs and games. What do boys and girls need to know their culture?
I think that at school, not only in extracurricular activities, they had to teach that. It is our culture, our tradition and our history. More information needs to be done. We go through the schools and there are children who have no idea what we have here. They should do a subject or classes so that the children know what they have but they tend to forget it, because they do not know, they are not rooted. We, for example, were lucky to feel part of our culture. It is our identity. If we do not make children participate in what their culture is and that they have to love, respect and care for it, they do not have that roots with it. It is normal.
What do they find on those visits?
The children are delighted. They discover, for example, that they like the tambourine. They get surprised. We talk about Galician, about linguistic diversity and that we have to take care of what is ours. It is a shame that children are ashamed to speak Galician or play an instrument like ours. We try, as far as we can, that this does not happen.
It's funny what a music group does.
You are right. There should be a base. Children are sponges and, in many cases, they don't know.
And so Tanxugueiras is a reference for many. They are aware?
You are right. We notice that responsibility but it is not ours either. We are aware that we have a loudspeaker and that we have to use it in some way, but we do not take much responsibility. This is something for everyone. For many girls we are their reference, but we are what we are, we are people, we cannot assume the pressure of being a reference for a girl who is about to discover the world and that anything you can say can influence.
What was your reference?
The Leilía. They were empowered women who were the first to get on stage playing a tambourine. It was the first time that they did not accompany any pipers, they played their own repertoire.
In February 'Midas' came out, a song with electronic bases and autotune. How did it come about?
We listen to all styles of music and that is reflected in the creations. We listen to Nathy Peluso, María José Llergo, Rosalía, Rodrigo Cuevas … We soak up all that, we have no prejudices. Music is music and the content of the lyrics is what makes a difference if it is worth or not.
Will the new job sound like this?
We are moving in a very clear direction. We are not going to forget who we are and we will bring up more traditional themes, but we are very clear that this is the line we want to follow and the one that will reach the youngest. We have a goal, which is to reach as many people as possible, and to catch as many boys and girls as possible.
Along the way to teach their music and reach more places, Eurofans bet on Tanxugueiras in a poll to go to Eurovision. How was that moment?
Very funny and uncertain. We did not know what was happening. We are very happy to be the winners of that poll with as many artists as there were. We must not forget that it was the public who chose us. It was a surprise. We all watched by Twitter.
The Benidorm Festival will not participate in the choice of who will go to Eurovision. What do you have in store?
An empowered song, more of us than ever and with rhythms that can reach the public, but knowing what the message we want to convey is.
Are you thinking about the possibility of representing Spain at this festival?
We do not close doors. They are unlikely things, not impossible. We always say that war is fought from within. Going to Eurovision would be a very good thing for Galician music, for pandeireteiras, for traditional music, for co-official languages ​​and for many things. If we are that springboard so that we are respected and it is seen that there is more root music in Spain, not just flamenco, and so that the co-official languages ​​are respected, welcome. Not only is it a group in Galician singing in Galician, it is that the traditional music is there and that the public is shuffled that we can go to Eurovision, it is an achievement. Things are changing and we have a responsibility to Galicia, with our people and with ourselves. We presented the song and now it no longer depends on us.