Wave of solidarity to help the man who sold his belongings to live in Valencia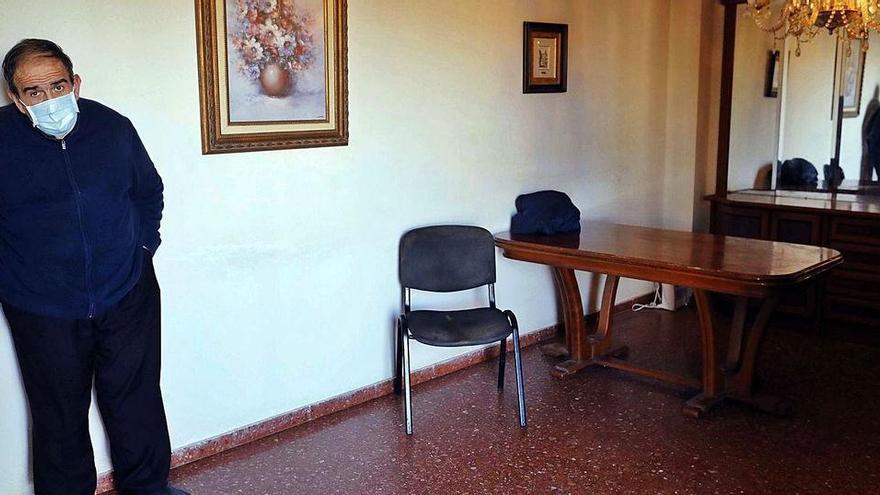 The history of the Valencian Roberto Terradez has awakened the solidarity of many who, without hesitation, have contacted this diary to offer you help. Long-term unemployed, as posted Lift-EMV, I know He was forced to sell his furniture, his appliances, his computer equipment and even his vinyl collection of cinema to face the bills once consumed 24,500 euros of savings in almost a decade. And it is that for six years, Roberto has not entered a euro.
This Wednesday he will go to the social services of his neighborhood, a door that he has not called thinking that owning a flat was taking him away from any public aid. Nothing is further from reality. In fact, the only benefit that he has requested on his own "and it is finally being processed, which has cost me", is the Minimum Living Income (IMV).
While this newspaper is called by anonymous people willing to offer him food, clothing, furniture or money, Roberto consults various job search platforms. "If it is that what I need is work. I am not a person to ask although I appreciate any help with all my heart. Mainly to pay the electricity debt, I still owe the receipt of 252 euros. I know a job would guarantee the stability I need, but I've been looking for so long that I've already lost all hope. Age does not help me, 58 years old, but I have been rejected more because of my physical appearance. I am big, I am 1.85 and I weigh 110 kilos, and I have been told many times that I do not give the physical profile to work, even if it was in an office without attention to the public, "he explains.
Administrative and teacher
Roberto, however, yes has work experience as an administrative and as a Spanish teacher for migrants. And although it lacks it in other sectors, "I learn quickly, I am very willing and a hard worker," he asserts.
People of all ages and profiles have contacted Levante-EMV to offer help. And not only from Valencia. Solidarity has crossed borders and people from Mallorca or Asturias have asked how and in what way they can help a man "who could be any of us.
After a lifetime contributing and working, he finds himself in this situation due to lack of employment, like so many others. "Anyone could be Roberto and the same thing could happen to us," they say.
Among the calls received, three stand out. One is the Aliter law firm, from where they are willing to advise you both in the aid to which he is entitled and in the debt he has pending with the community of neighbors, since he owes about 5,000 euros for some works on the elevators and on the property portal.
"We are a law firm that cares and takes care of the social. If a person reaches the point Roberto has reached, it is evident that everything has failed because he is entitled to a series of aid and is not charging them. We can advise him also on how to agree with the farm the payments because there are many ways to do it. Here the expression 'cannot be' does not exist even if it takes away many hours of sleep ", explains the lawyer María José Alamar.
The teacher from a Torrent school prefers to remain anonymous until the "plan" she has in mind bears fruit. "It is not the first time that thanks to my students we have been able to help people who need it. That is what I want to do. The kids I teach are between 16 and 17 years old and I think we can help Roberto in different ways. Young people can change the world and it is important that they show solidarity from a very young age, "he explains.
From Castelló, call Manuel Grau who has two channels on Facebook (Manu Grau and Nongolia) from where he intends to mobilize "help for Roberto since he can collaborate in various ways and in the end what is important is dissemination because the more people join the cause, the better", he explains.