Washed in the face of Lydia Lozano for her behavior with the victims of the volcano on La Palma, from where she works for 'Sálvame'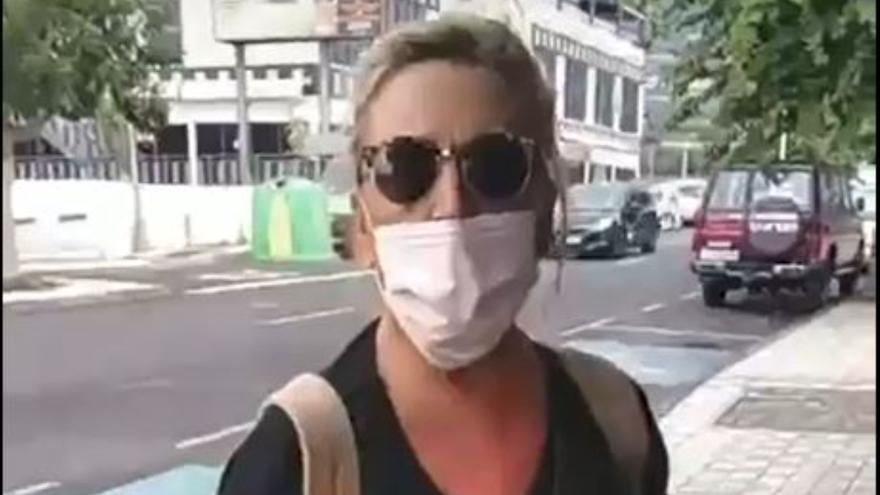 The palm tree journalist Lydia Lozano, displaced to La Palma to report on the 'Sálvame' program of the situation that their countrymen live by the eruption of the Cumbre Vieja volcano, has been caught in an act of insensitivity and her reaction broadcast live. Canarian DJ Jacob Alonso, who collaborates these days as a volunteer in the organization of aid to those affected by the volcano, he recriminates his attitude in the video which he broadcast live this Wednesday through his Instagram profile.
According to the version of Jacob, who corners Lozano until he confirms his accusations, the journalist reached the point of solidarity at the Los Llanos de Aridane sports hall saying that she was from 'Save me' and that she needed for the program a person who had suffered the misfortune to lose everything, something that Alonso did not like at all.
In the video that has gone viral, extracted from the Instagram direct made by Alonso, the DJ starts a conversation with the journalist, who is in a somewhat disheveled state, after the mask and sunglasses, and with a ponytail that collects her disheveled hair. Lydia Lozano ends by acknowledging that she had asked a person to suffer the consequences of the eruption. "Yes, I said that I am looking for people who are having a bad time," he admits, but he defends himself saying that his intention is to help. Jacob Alonso is not convinced and ends up accusing her of yellowing.
Who is Jacob Alonso?
Jacob Alonso, the man who embraces Lydia Lozano in the video, is a DJ from La Palma famous for his solidarity initiatives almost always related to music. Just a week before the volcano erupted, it gave a 24-hour music session to raise funds for those affected by the latest fire in El Paso and Los Llanos. With this, he not only obtained funds but also the Spain's record of DJing for 24 hours without interruption. It began on Friday, September 10, at 11 a.m. and ended 24 hours later, from home, broadcasting via streaming and without sleeping.
Now, after the eruption of the volcano in Cumbre Vieja, He has not stopped on his social networks to ask for help for those affected by the volcano and to work as a volunteer to improve the situation of his neighbors. Under these lines, one of his latest appeals on social networks. "Food for celiacs and lactose-free milk are needed", Explain.