Wall Street closes in green and regains ground after the biggest fall of the year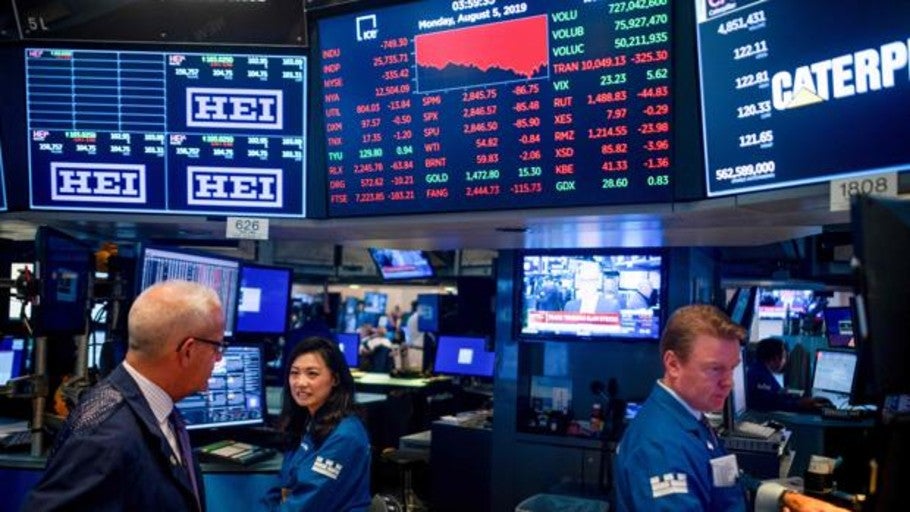 Updated:
Wall street closed this Tuesday with the three indicators in green and regained some ground after its worst day of the year, yesterday, in which investors punished the escalation in the trade war between the United States and China.
At the end of the session in the Stock Exchange of New York, the Industrial Dow Jones rose 1.21%, or 311.78 points, to 26,029.52 integers, while the S&P 500 rose 1.30% or 37.03 points and ended at 2,881.77 integers.
For its part, the Nasdaq index, where the main technological groups are listed, was the one that rose the most, 1.39% or 107.22 units, closing at 7,833.27 integers.
By sectors, the highest profits were for the most affected the previous day, such as the technological (1.61%), the financial one (1.51%) and the industrial one (1.50%), while only the energy company decreased (-0.06%).
The New York parquet had in the previous day the largest percentage losses of the year in its three indicators, of 2.90% or 767.27 points in the case of Dow Jones of Industrials, of 2.98% in the S&P 500 and 3.47% in the Nasdaq.
After the announcement made last Thursday the president Donald Trump, of new tariffs on Chinese imports on September 1, at Banco Popular de China, the yuan broke the psychological barrier of seven units for every dollar on Monday, something that had not happened since 2008.
China also confirmed that it suspended the purchase of US agricultural products. According to analysts, this Tuesday the yuan recovered a little in the wake of the Chinese authorities, but the US Treasury Department designated them Monday as «currency handler», Which could lead to sanctions and aggravate the commercial war.
Today, President Trump's chief economic advisor, Larry KudlowHe warned that China's economy "is falling apart" as a result of the trade dispute and reiterated that the US It is ready to resume the "negotiations" at the beginning of September.
Among the 30 listed of the Dow Jones of Industrialists, they highlighted the advances of Nike (2.95%), Walt Disney (2.58%), United Technologies (2.43%), Cisco (2.39%), Goldman Sachs (2.15%), Visa (2.14%) and Apple (1.89%). Half a dozen signatures fell, including Walgreens (-0.81%), Dow (-0.76%), 3M (-0.61%).
In other markets, the Texas intermediate oil 1.92% fell on Tuesday and stood at $ 53.63 due to the upsurge in commercial tensions, now with currencies on the pitch.
At the close of Wall Street, the profitability of Treasury bond at 10 years it slipped to 1,716%, while gold amounted to $ 1,485.70 an ounce, at maximum 6 years, and the dollar gained ground against the euro with a change of 1,1201.
. (tagsToTranslate) close (t) wall (t) street



Source link