Vox organizes a mass in memory of the "aborted children" in a church in Seville | Society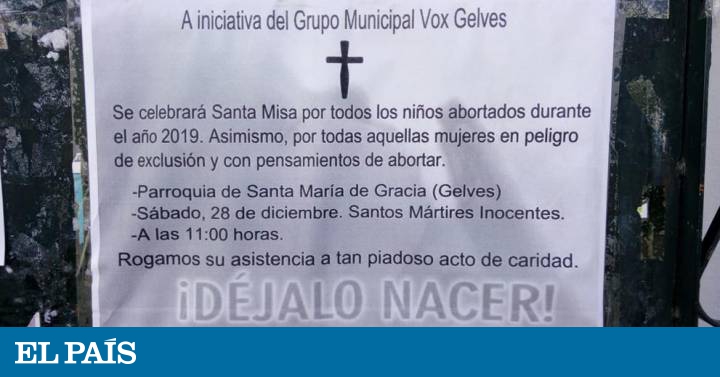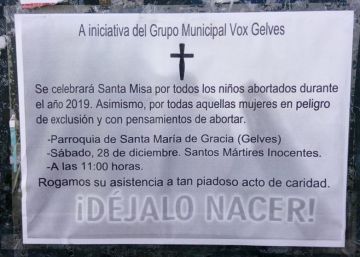 The only councilor who has Vox in the City Council of Gelves, Sevillian municipality of about 10,000 inhabitants, has called the neighbors through social networks to a mass "for all aborted children during the year 2019 "and for women" in danger of exclusion and with the thought of abortion. "The councilor, the journalist Rafael Fernando Sánchez Pareja, has chosen the format of a notice for such a peculiar call to be held on Saturday, December 28 , the day when the Catholic Church remembers the Holy Innocent Martyrs The obituary, which begs for assistance "to such a pious act of charity", ends with the phrase: "Let it be born!".
The mass, which is announced in the parish Santa María de Gracia de Gelves, will be complemented by an act in Seville, in the Ronda de Triana, in which the party plans to distribute a replica doll of a 14-week fetus and conduct a campaign information against abortion "to remove consciences". In the Andalusian capital will also read a manifesto "provida", advance sources of the party, and ask "believers to pray for the soul of the children killed."
Gelves is governed by the PSOE, with 17 councilors, and its mayor, Isabel Herrera, has refused Thursday to make statements about the call for Vox In this context, a manifesto "provida" will be read, as detailed sources of the formation, which reminds that they have also published a notice asking "believers to pray for the soul of murdered children".
The pastor of Gelves, José Manuel Martínez Guisasola – with whom this newspaper has not been able to get in touch – is also a professor at the Higher Institute of Religious Sciences of Seville and the Center for Theological Studies. Martínez has self-published, in Red Point, the book The gender ideology. Philosophical genesis, doctrinal development and legal incursion. The work, according to the synopsis of the publishing house, is based on an idea from the end of the 20th century "born in the political and intellectual sphere of the left and that in a surreptitious and malicious way has expanded. This ideology starts from an initial premise. : every human being when he is born does so in a state of sexual neutrality, which is what is intended to impose the idea that sexuality does not have a biological component but is nothing more than the result of a social construction. "
For his part, the Minister of Equality, Social Policies and Conciliation of the Junta de Andalucía, Rocío Ruiz, said that "respects the laws passed by all on abortion" as well as "the freedom of women in this regard," reports Europa Press For the counselor, each party has "freedom, according to its ideology, to convene this series of actions," so it respects "all political parties in such calls."