Vocento recognizes the role of companies in economic and social progress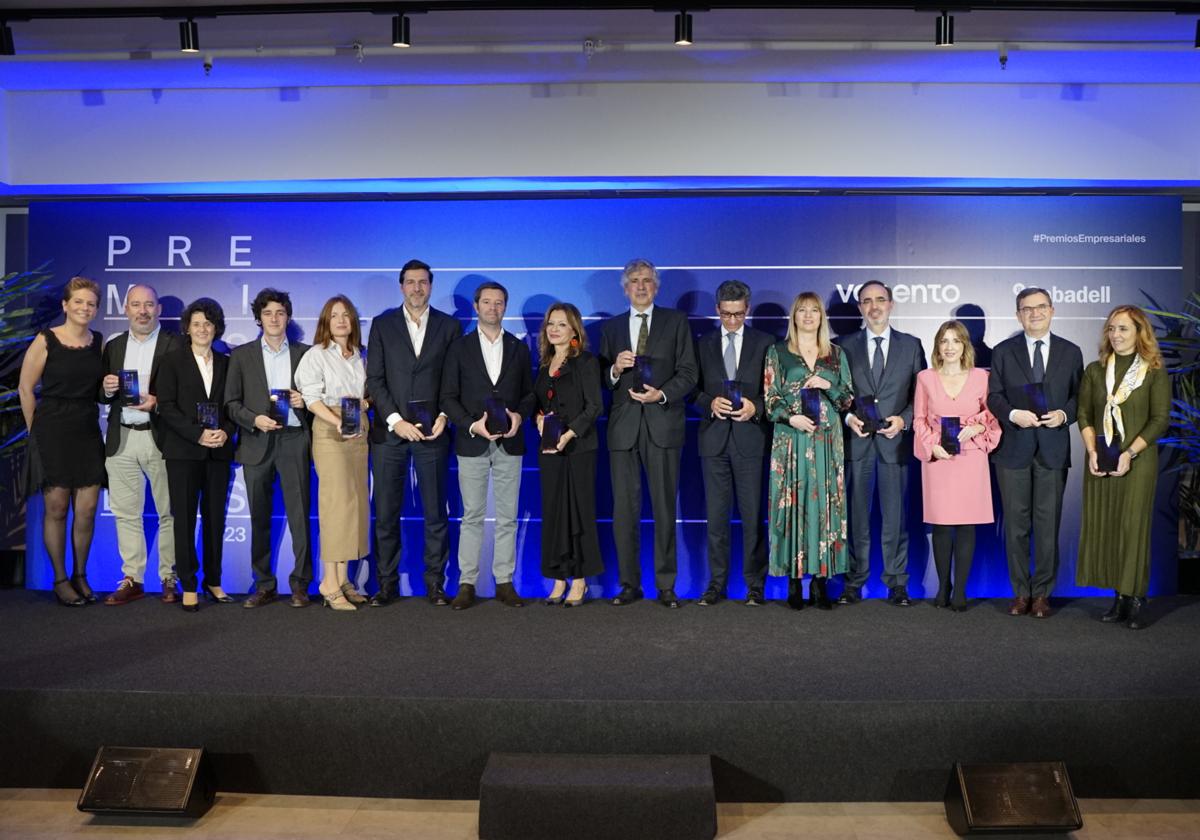 This Thursday, Vocento celebrated the VII Edition of the Business Awards with which the Group intends to value the performance of 14 prestigious companies that this year have stood out in different facets of their activity. A year marked by strong uncertainty due to the increase in costs and the fall in demand due to inflation and an environment of rising interest rates that has made access to financing more difficult.
In the face of difficulties, "we reward talent, effort and the desire to do things well," said Paloma Bravo, General Director of Communication and Institutional Relations of Vocento at the opening of the event. «We love good news and we like to find companies like yours, that are shining for their excellence. "You make this a great country and, of course, you make us all better," added the board.
For his part, Óscar Lara, Director of Banco Sabadell's Madrid Large Companies Office, highlighted that the winners "are a brilliant example of good management, responsibility and courage, virtues that in the changing times we live in we must underline with more vigor than ever.
«Collaborating with the Vocento Business Awards is a way of paying our particular recognition to all those companies that, in good and not so good times, have known how to move forward thanks to the fact that they have developed and continue to develop excellence as a driving force in their purposes and objectives, turning them into references and role models for many other companies and institutions," they add from Banco Sabadell, an entity closely linked to the business and entrepreneurial world and which has supported these awards since their first edition.
"The Vocento Business Awards are consolidated as an excellent platform for those who believe that companies anticipate the needs of society and contribute to building a better world," explained Lara.
The winners

The Vocento Business Award for External Communication went to Novartis, for its work to strengthen the brand image and active listening to its customers. The award for Internal Communication went to Prosegur, which this year has opted for the development of tools and a global corporate application for internal use to improve communication with its teams, offering them the possibility of installing a direct interaction channel on their personal mobile phones. and corporate information adapted to your needs.
The Brand Positioning Award went to Cupra, which in just four years has positioned itself as the second most valued brand by dealers in Spain. The recognition for Digitalization went to El Corte Inglés, which has managed to confront the great giants of online distribution by improving its processes and adapting to the needs of its customers.
For its part, Marqués de Cáceres won the International Expansion Award, already consolidated as a benchmark by exporting more than 50% of its production, with a presence in more than 120 countries.
Iberostar was awarded in the Environmental Sustainability category, for its pioneering responsible tourism project 'Wave of Change', whose roadmap is focused on the regeneration of the coastal health of all the destinations in which it operates and its contribution towards a model responsible tourism with the environment.
Likewise, the ISS firm received the Vocento Business Award for Social Sustainability, for its foundation's project 'One more smile', to create employment in developing countries.
Santalucía was awarded the Family Business award which, after 100 years of history, is now among the 10 main insurance groups in our country, in a constant process of geographical expansion and business diversification until it becomes an insurance group with a proposal of comprehensive value with more than 7,000,000 clients and 10,000 employees.
The recognition for Equality, Diversity and Inclusion went to Iberdrola, for its cultural, gender, disability or LGBTIQ+ initiatives. The group has more than 40,000 employees of 89 different nationalities. This figure represents an increase of 24% compared to three years ago. Four different generations coexist in the workforce, where 24% are women who occupy 26% of the relevant positions. Furthermore, at Iberdrola there are more than 700 employees with disabilities, 27% more than three years ago.
Innovation and sponsorship

Gilead won the Innovation Award for its commitment to R&D&I, with which it has revolutionized fields of biomedicine, such as HIV, hepatitis C, oncology and advanced therapies.
In a complex financial environment in which entrepreneurship is increasingly difficult, Nude Project won the Business Award for Startup of the Year. The company was born in 2019 as a clothing brand and has already become the favorite brand of generation Z. Four years later they have a turnover of 11.5 million with their viral sweatshirts and this 2023, along with the opening of their first store outside Spain, they have decided to explore another market by launching 'Desnuda', their own beer.
For its part, Visa was the company awarded the Sponsorship Award, for its commitment to women's sports and being one of the most active sponsors of soccer in this category in the world. The Breakthrough Company Award went to Acciona, for revolutionizing the electric vehicle model with the Silence motorcycles that have a removable battery system that can be charged at any home outlet.
Finally, the recognition of the Results went to Ferrovial, after achieving a gross operating result of 728 million euros in 2022.