Vivien Déniz transforms her body into a palette of colors and vomits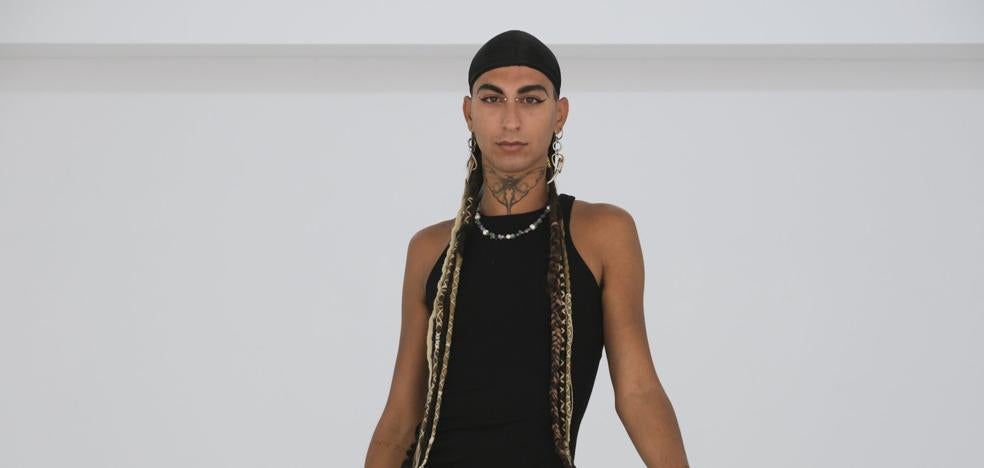 The artist from Gran Canaria stars in the 'performance' entitled 'Fakk KKK', this Friday, at 7:00 p.m., at the Francis Naranjo Foundation
Capitalism and the increasingly ferocious consumer society turn Vivien Déniz's guts upside down. On a mental and physical level, as you will make clear during the
'performance' who stars tomorrow Friday,
from 7:00 p.m.on the
Francis Naranjo Foundationlocated at number 63 of Avenida Primero de Mayo in the capital of Gran Canaria.
'Fak KKK' is the title of this artistic intervention that, without a doubt, will not leave the attendees indifferent. «It is a 'performance'
quite intimate and motherly that is going to capture the entire journey of a cyclical work that I have done in recent years", advances this artist,
Graduated in Fine Arts, that travels through the margins and that is involved as
Queer activist for the rights of trans people.
The title, he points out, is part of «a transformation of the English word 'Fuck' [joder]» and three
KKK stands for "against cultural capitalism."
meanings

During this piece, Vivien Déniz talks to the audience about her obsession with "a slime".
That slime is "the capitalism and consumption in which we are submerged." He points out that it is "transparent, it surrounds us and makes us act and 'perform' in ridiculous ways, according to my point of view," he stresses at the Francis Naranjo Foundation.
"I'm obsessed," she reiterates, "with pointing and painting that slime to see where it's placed." "The fact of living in concrete, on top of a platform like the Earth, which is already made, is part of my critical thinking," she adds.
And how does that message come to life tomorrow? «What will happen in the 'performance' is that
I will become a color palette and I intervene on a support. In this case, a body, which is not mine. The 'performance' consists of vomiting.
I'm going to vomit colors. It is a kind of political act, in which I talk about vomiting itself and the unsightly. The interpretation of vomiting is dual, it can be seen as something disgusting and conflictive. I'm talking about what that vomit generates, it's a kind of ritual in which I expel what's toxic inside me... it serves as an act of rebellion against that slime that is capitalism.
It is not only on me, it is also inside me and I constantly want to expel it.», points out this confessed admirer of
Viennese and Millie Brown Actionismcontemporary emblem of pieces 'Puke' (vomit in English).
Viscerality and beauty

Vivien Déniz defends that it is a 'performance'
"visceral", but also "beautiful". «I vomit colors and a methodology of color is made. I start with yellow, the purest color, and then move on to orange and red. My stomach is transformed into a color palette », she explains about an intervention that he performs very punctually and with prior medical supervision. «
I have to have discipline and a contact with my own body to know to what extent I can force myself», defends the artist.
Déniz understands the art room where 'Fakk KKK' will take place as "a normative space", in which
"a dissident subject"as he defines himself, «intervenes» to strike down that same «normativity».
He recognizes that his 'performance' is a kind of ephemeral installation, in which there will be a constant voice, his own, which will recite
"a poem, the manifesto of the entire work", as well as some instrumental tracks as a
"contemplative pieces" that he himself has created as a result of his work as a DJ. It has the participation of two more people and warns that its main objective is "the process", since it hopes that each individual who attends the appointment this Friday at the Francis Naranjo Foundation draws "their own conclusions".
Since her time as a student at the universities of La Laguna and Granada, Vivien Déniz has already begun to create pieces not only in line with her lines of thought, but also in defense of the planet. «I am interested in things being ephemeral. Garbage is not ephemeral and that is why I work with garbage and waste.
If I am an artist, my methodology includes my critical mentality and the idea of ​​acting with things already created, so as not to generate new waste.. For this reason, sometimes I go to the flea market and to the containers to create pieces from the things I find there", explains the creator from Gran Canaria.
«We are starting the 'ballrooms' in the Canary Islands so that there is a dissident 'Queer' scene"

After the 'performance' called 'Fakk KKK' this Friday at the Francis Naranjo Foundation, Vivien Déniz will continue with her nightly pieces in the 'ballrooms' "that we are starting in the Canary Islands". These enclaves are inspired by the ones that proliferated, she notes, "in New York since before the 80s where trans people from the suburbs were freeing and partying to survive."
«We are starting these 'ballrooms' in the Canary Islands so that there is a dissident 'Queer' scene. I usually do my 'performances' there at night", says Vivien Déniz.
Next Friday, the 16th, also starting at 7:00 p.m., the Francis Naranjo Foundation hosts another 'performance'. In this case, it is titled 'El (A) Dorado' and is starred by the Chilean artist Antonio Guzmán, born in Valparaíso in 1964. This ephemeral intervention is part of the project 'School of Didactics Instruction', created by Guzmán himself. His 'performance' is based on a play on words, where the term el dorado refers to a legend or myth that was born from the conquest of America by the Spanish and that in the delirium of those conquerors they thought of the existence of a city built in gold. Antonio Guzmán appears wearing a Mexican wrestler mask and reflects on the power struggle in Latin America.