Vithas develops a portable device for the individual isolation of patients with covid-19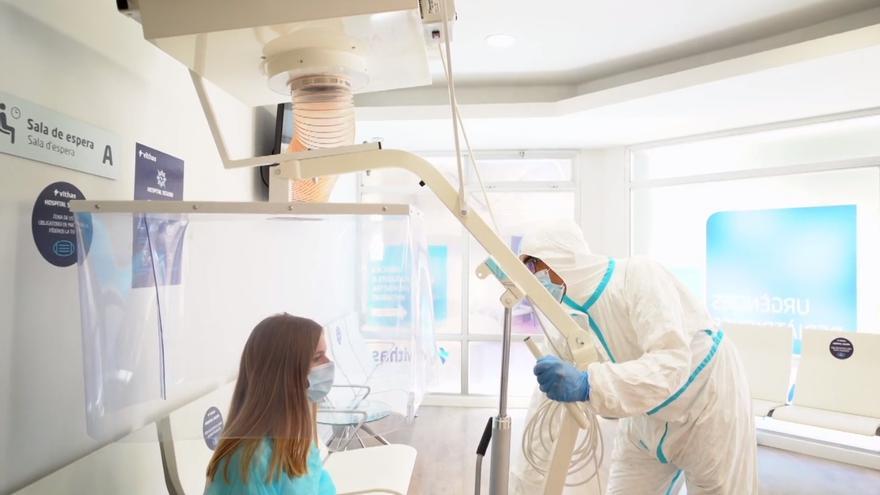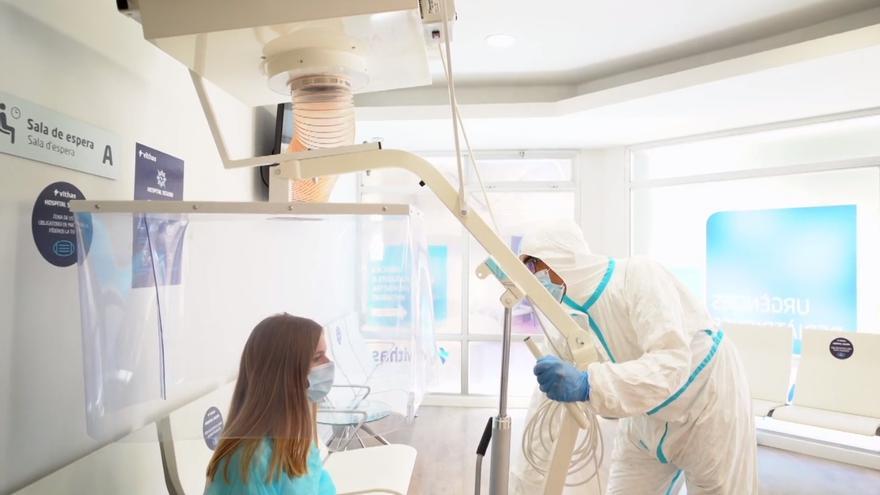 Vithas and the Vithas Foundation have developed an innovative portable device, called Aerobox, that allows the individual isolation of a patient in any space and minimizes the spread of airborne particles of any type of virus, including SARS-CoV-2, and bacteria. Its effectiveness has been confirmed by qualification reports focused on particle measurement, which demonstrate that it is capable of remove at least 95% of droplets and aerosols within 15 minutes that the device is fully operational, therefore offering free spaces from covid-19.
Aerobox is designed for application in the hospital setting (including field hospitals), although it is also indicated for use in nursing homes, the health industry, and biological protection, including the military. The patented device has the CE marking for marketing and is already being used successfully in the public hospitals La Paz and Central de la Defensa Gómez Ulla in Madrid, as well as in various hospitals in Vithas.
Prevent the spread of the virus through the air
Proper ventilation is an important element to control and reduce the transmission of the SARS-CoV-2 virus, so avoiding the spread of droplets and microparticles is a fundamental resource. For this reason, and with the aim of providing a solution that controls and limits the presence of aerosols in waiting rooms, ICUs, and other hospital settings as a priority, Vithas Group engineers have worked for 8 months on the development of Aerobox.
As explained by the doctor Ángel Ayuso, corporate scientific director of Vithas and managing director of the Vithas Foundation, the main advantage of the device is that "it allows the safe handling of the patient in interventions with high infective capacity by aerosols, such as tracheotomies and intubations, in addition to prevent the spread of the virus and the contagion of professionals and relatives when dealing with a patient suffering from covid-19". Since Aerobox allows the patient with covid-19 to be cared for safely in any space, one of its potential advantages is that "it would alleviate healthcare pressure, it would not be necessary for these patients to be referred to ICUs, which would free up beds for critically ill patients to whom they are destined ", has emphasized the doctor Ayuso.
José Manuel Guillot, Engineering Director of the Vithas Group, recalled how the healthcare pressure derived from covid-19, and the need to isolate patients, prompted his team of engineers to devise a system that is easy to use in practically any setting and with scientifically proven effectiveness. "It is a healthcare technology as a result of 100% Spanish R & D & I, whose simple use and manufacture offers a practical solution within the reach of any healthcare system in the world, including those in developing countries, and very versatile in any circumstance, including field hospitals, nursing homes or health centers of any kind ". In addition, since it allows to isolate individually, "opens the possibility that the patient can be accompanied by their relatives without risk of infecting them, which would notably humanize healthcare, "Guillot emphasizes.
AeroBox in La Paz and Gómez Ulla public hospitals
The device is already being used with fully satisfactory results in public hospitals La Paz and Gómez Ulla de Madrid Defense Center, as well as in various hospitals in Vithas in Madrid, Valencia, Malaga and Vitoria.
The Dra. Rosario Torres, acting coordinator of the emergencies of the Hospital Universitario La Paz go to Aerobox "a technological advance for the optimization of the treatment of patients with SARS-CoV-2 infection and with aerosolization requirement thanks to its ability to isolate patients from the environment where they are located. His simple and versatile use makes it possible to use it in all rooms of the Emergency Service. What's more, allows monitoring of patients by relatives, according to the protocols in force in hospitals, in a safe environment ".
For its part, Dr. Francisco Javier Membrillo de Novales, head of the infectious disease section of the Hospital Central de la Defensa Gomez Ulla, has explained that Aerobox "allows safe handling of the patient in aerosol treatments, as well as the maintenance of closed spaces with a certain level of safety thanks to its autonomous operating mode, which facilitates the neutralization of all those particles with a high potential for transmitting the disease".
"The Aerobox -adds Dr. Membrillo de Novales- is designed for the protection of patients and healthcare personnel from infectious diseases by air, such as SARS-CoV-2, through an innovative concept which aims to isolate the patient with possible COVID-19 infection through an encapsulation and aspiration system of any nanoparticle with potential risk of disease transmission by air. "
An autonomous and easily manageable team
Aerobox is an autonomous equipment, manageable by a single person, with absolute filtration for all types of viruses, bacteria or any suspended particle present in the air. These features make it especially useful in situations where it is difficult to isolate a patient, in field hospitals or in saturated ICU situations.
It consists of a hood with a waterproof envelope without corners, configured to serve at least one patient. This hood has an air outlet connected, in turn, to a disinfection equipment that includes a powerful suction fan and a filtering system with terminal HEPA14 type absolute filters. The suction fan has a flow regulation system to ensure that the air inside the hood is renewed at the necessary speed.
The set of hood and disinfection equipment is supported by a height-adjustable structure that allows it to be adapted to the patient, whether standing, bedridden or sitting, while allowing family members to accompany them safely.
Particle Measurement Report
In order to verify the effectiveness of Aerobox, particle measurement studies were carried out at the Vithas Lleida Hospital that controlled the effectiveness of the reduction of respirable particles per cubic meter inside and outside the Aerobox. In each measurement, the degree of effectiveness was recorded for both drops (> 5µ / m3) and for aerosols or microdroplets (<0.3µ / m3-0.5µ / m3).
In Vithas Lleida, the study was carried out in a hospital-type room, without ventilation. The result showed that the use of Aerobox reduced the presence of infective particles in the air, going from 18 million per m3 of particles of 0.5 u to less than 1 million per m3, which represents an average reduction of 95% of aerosols.
Patent and commercialization
Aerobox already has the corresponding national and European patent, and will be marketed by the Vithas purchasing center, PlazaSalud 24, who has selected the company Altex for its development and industrial manufacture.