Vithas, awarded at the EnerTIC Awards as the best project in digital transformation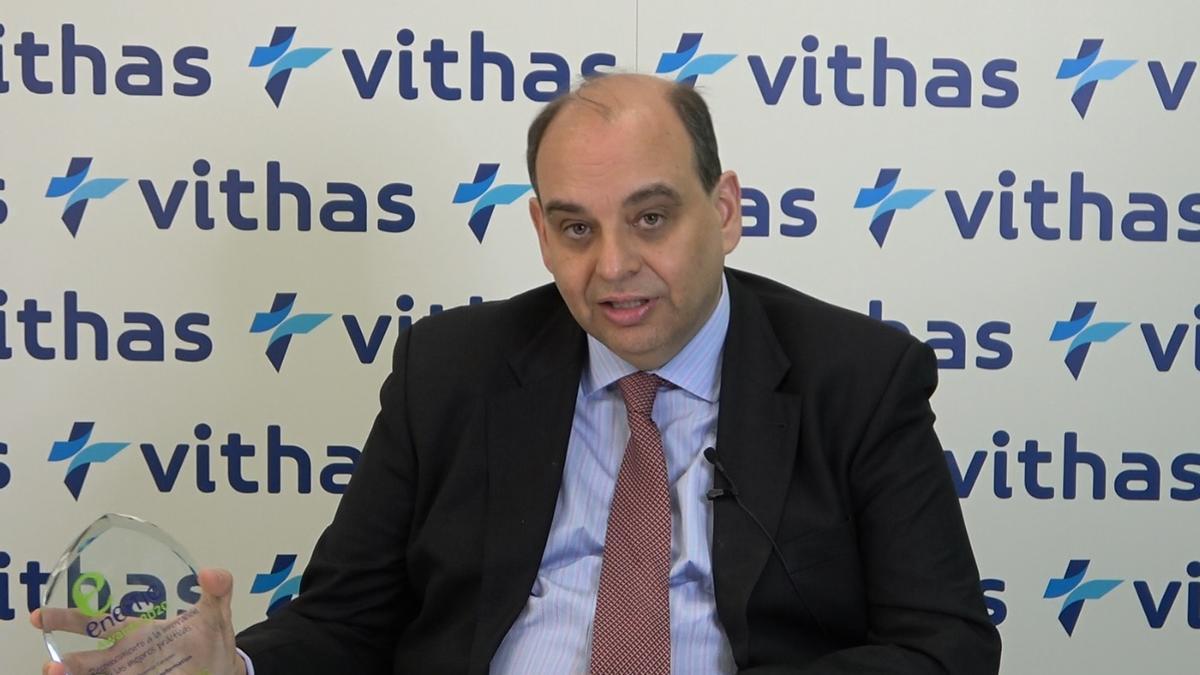 The Vithas Group has once again been awarded in the enerTIC Awards. In its eighth edition, Vithas has been awarded in the category of Digital transformation for the project "Application for the integration of multiple hospital control systems and intelligent information processing", or CONECT @ system, a single standard control tool that encourages safety and sustainability of highly complex buildings such as a hospital.
This tool, developed by the Vithas Group engineers in collaboration with specialized companies such as Insiste or Watiocero, seeks to achieve certain objectives such as promote connectivity and universality, homogenizing and unifying all the management information of a hospital in a single program; promote simplicity and agility, generating simple accesses through the Internet from any device and location; bet on scalability, by allowing easy integration of other systems and buildings that you want to add; and lay the foundations for the so-called Industrial Revolution 4.0 a through a process of automation and centralization of the facilities. Definitely, improve the quality, patient experience and assurance of services to achieve more efficient and safe installations.
Thanks to the impulse of Juan Antonio Díaz Medina, Head of Engineering at Vithas Las Palmas, A pilot test of the CONECT @ system was developed in this hospital, which had incorporated numerous control tools from different manufacturers, among which communication had to be improved. Thanks to the new system, hospital engineering departments can know the status of the complex and what aspects may require their attention quickly and from a single program, improving the effectiveness, efficiency and safety of all processes.
In addition, this pilot test has made it possible to verify the benefit that the CONECT @ system also provides in terms of sustainability and cost savings: electricity consumption has been reduced by 225,000 kWh and almost 400,000 kWh of propane per year, which is equivalent to the no emission into the atmosphere of about 230 tons of CO2 per year.
José María Ramón de Fata, Corporate Director of Operations of the Vithas Group, has thanked the award, which it considers "recognition of a line of action that is part of our DNA and that, even in times of pandemic, has continued to make important advances in energy efficiency. Some advances that have been possible thanks to all our professionals, although I would like to underline the commitment and leadership of our engineers, the true architects of this achievement ". In this sense, Ramón de Fata recalled that "Vithas has a strategic plan for energy efficiency and sustainability that during the last 5 years has allowed us to save more than 21 gigawatts of energy, equivalent to more than 12,500 metric tons of CO2 per year, to which is added that our energy consumption is 100% sustainable ".
The enerTIC Awards are an initiative that allows identify, reward and disseminate success stories and innovative good practices, that serve as a reference to advance and raise awareness about the opportunities offered by digitization to improve energy efficiency and sustainability. In this 8th edition, to which 111 applications from 108 organizations have been submitted, the jury has once again recognized Vithas's commitment to the safety of its patients, energy efficiency and sustainability.