Virtual reality to stop the blows of macho abuse | Innovation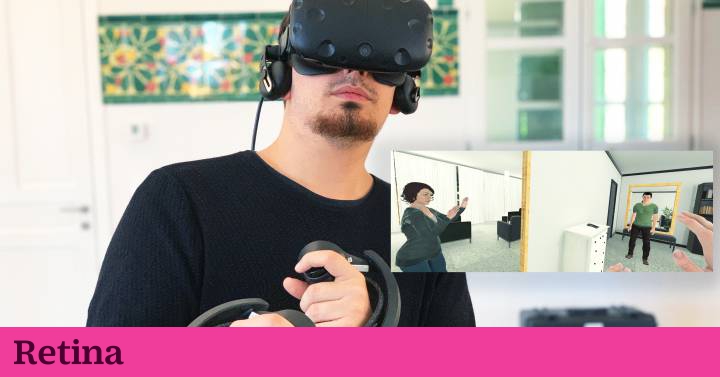 Although there is no way to reverse the meter of more than a thousand women murdered by sexist violence, some people, such as the neuroscientist and researcher Mavi Sánchez-Vives, have found an ally in technology to combat this scourge. His specialization in an almost mystical area as the incarnation – comes from English embodiment and it is nothing more than the study of how we feel a virtual body as our own- allowed him in 2011 to co-found the startup Virtual Bodyworks to reeducate abusers through immersive experiences. "We collaborate with the Department of Justice of the Generalitat of Catalonia and we must understand that these virtual reality environments are more effective if they are integrated into a rehabilitation program. They do not do miracles on their own, "he says.
Once equipped with glasses, in the middle of a diaphanous space, the abusers have to face their own acts; although, this time, in the form of avatars. They suffer insults, psychological violence, aggressive attitudes … In short, they face a replica of their behavior with the victims. "While we were working on a European project, we considered what it was to put ourselves in the place of the other. This is how the idea of ​​helping to combat violent behaviors and treat them came about, "explains Sánchez-Vives. Evidently, here there are no physical aggressions or anything that resembles it. Most environments that are replicated during sessions are related to verbal strokes, something that, according to the latest study of the Government Delegation for Gender Violence, affects 89% of the battered.
In case some are tempted to think that simply, as the name suggests, is a virtual reality, the neuroscientist remembers that movies do not go beyond fiction and generate all kinds of emotions. Miguel Lorente, former Government Delegate for gender violence, remember that this type of technological solutions are very useful for awareness, to recognize that an abuser has done something that is wrong. "When you live a scene of macho violence with distance and reinterprets it coldly and neutrally, it is easier to understand your behavior. Helps to prevent the aggressors from accepting as correct criminal acts, "says Lorente.
From the experience of Virtual Bodyworks with this project, they conclude that those who pass through the environments they have produced with the help of more experts, called VRespect-me, gradually change their attitude. As stated by Sánchez-Vives, ICREA researcher at IDIBAPS, batterers respond to immersion. The facial expressions and movements recorded during the experience are a faithful reflection of the fact that they live in an uncomfortable situation, like any macho violence. "They even tell us they were right there! They are controlled situations in which we know what users perceive. For the therapist, he has the advantage that he can repeat the scenes as many times as he wishes and introduce new elements at a specific moment ", adds Sánchez-Vives.
Stopping all sexist blows at a stroke is impossible. It is not enough with a virtual reality session to leave with the qualification of re-educated. The co-founder of the startup is clear, from his extensive experience, that the final effect ends up being the decrease in incidence, but very long term. This temporality is essential for a psychologist like Elisa Sánchez. "When you have abusive partners, you are likely to look for more partners of this type. Normalize violent situations, that's why it happens more times. The psychological abuse generates emotional wounds, in comparison with the physical ones, which require more time for treatment ", Sanchez ditch.
Thanks to all the work of Virtual Bodyworks, the data and information they collect allows them to improve what they build from virtual reality. For example, Sánchez-Vives he has learned that aggressors have a great deficit of emotional recognition, which has led him to create immersive environments that foster empathy, also works on other types of solutions, not only those that place us in the perspective of the victim, to study the response of the participants. "The application of new technologies does not hurt. In themselves they are not a guarantee of success. The really important thing is to have a good orientation to apply these reeducation programs ", suggests Lorente.
In its fight against sexist violence, the neuroscientist has begun this year to collaborate with institutes to identify control situations in adolescents. Observe to what extent they tolerate these situations to correct them as soon as possible. "We provide immersive environments so that they learn to respond to these behaviors. Education is vital and we have to act quickly in the face of abuses and controlling behaviors, "says Sánchez-Vives. Like it or not, macho violence is more normalized than it seems. "Misogyny needs a deep approach, a social transformation. We need a social reeducation to abandon machismo, references in equality, "says Lorente. Technology, however virtual, tries to help with all the reality that can contribute.
(tagsToTranslate) reality (t) virtual (t) stop (t) hit (t) maltreatment (t) macho (t) neuroscientist (t) mavi sánchez-vives (t) collaboration (t) startup (t) virtual bodyworks ( t) department (t) justice of the Generalitat of Catalonia (t) reeducar (t) abuser (t) immersive experience (t) (t) immersive



Source link