Villarreal put the brake on Real Madrid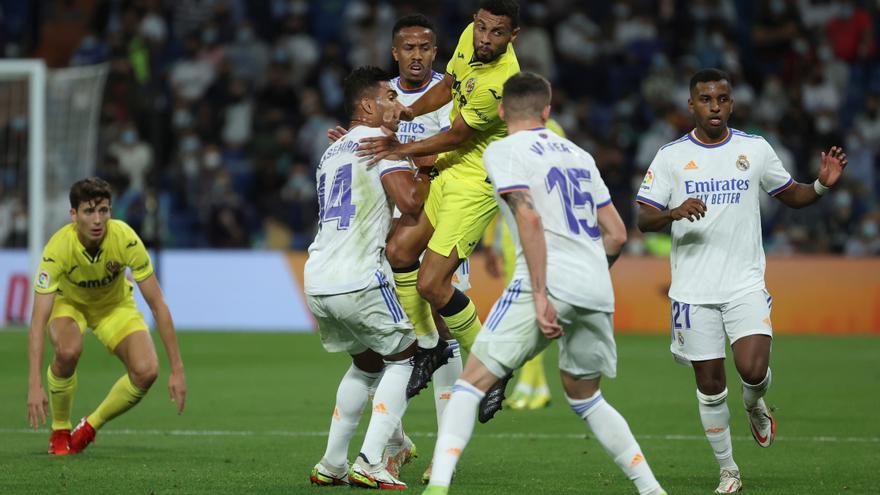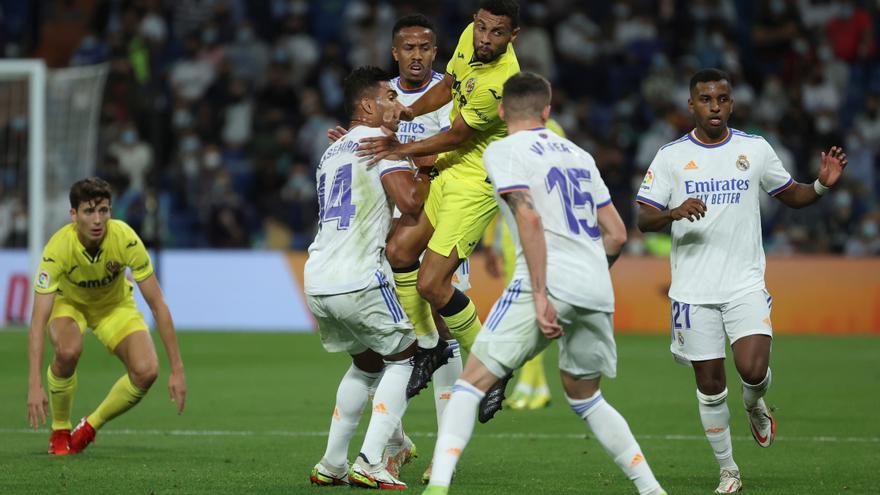 Of his defeats in the Santiago Bernabeu, a cursed stadium for Unai Emery, where he had only scored once in his career, the coach learned lessons that he captured in an approach that lowered the effectiveness of Real Madrid in their stadium. The Villarreal wanted the ball in a beautiful tactical duel, reinforced by the commitment to pure midfielders, with Capoue and Coquelin as Dani Parejo's squires, and by poorly executed pressure by Ancelotti's men.
The white team is comfortable from the vertical and with less possession than its rival, it was difficult for them to put the gear that unbalances the duels. With Rodrygo missing and Vinicius having difficulties to prevail over Juan Foyth's marking. Emery's team looked for Madrid's weakness through the wings, with Nacho as a wild card on the left wing and Fede Valverde in a strange right-back position. Danjuma looked for him and in his boots was the first danger that Courtois saved with a great downward stretch.
The Villarreal notice presented a first part of tactical toughness to the leader. A difficult encounter to decipher from a reduced time in each possession, without the success of Vinicius in the precision in the pass when he found a slight space, with Benzema having to shoot from outside the area to generate something and with Asensio looking for the perfect place to unsheathe his left foot in the title award after his exhibition against Mallorca.
The reality is that the danger was put by Emery's team, with the impudence of Yeremy Pino on the right wing and another shot saved by Courtois, to Paco Alcácer. In the traffic jam, Real Madrid requested a penalty on a Nacho climb with decision until he was knocked down by Raúl Albiol. His team was not working and Ancelotti looked for solutions at half-time. The center of the field was crying out for reinforcements and opted for Camavinga, with plenty of personality to change the face of the white team.
He achieved it in the minutes of greater Madrid superiority but without disturbing Rulli. No shots on goal until minute 82. Villarreal proved the reason for their three goals conceded in seven games. He defended himself judiciously but lacked ambition to go for the game. He reared excessively despite not feeling almost overwhelmed.
Ancelotti's tactical tweaks gave him more ball but his scoring festival did not return. From eleven goals in two games to nothing. Vinicius's attempts were in vain, Benzema did not receive any balls and Asensio was diluted on the right wing. He turned to Hazard, without success.
Rulli's first intervention came eight minutes from time, to a header from Isco, and Nacho saved a worse result with speed, avoiding Peña's heads-up against Courtois in the last second. Villarreal was the first team that knew how to disfigure Ancelotti's team at the Bernabéu.
Data sheet:
0 - Real Madrid: Courtois; Valverde, Militao, Alaba, Nacho; Casemiro, Modric (Hazard, m.73), Marco Asensio (Isco, m.81); Rodrygo (Camavinga, m.46), Vinicius and Benzema.
0 - Villarreal: Rulli; Juan Foyth (Mario Gaspar, m.86), Raúl Albiol, Pau Torres, Alberto Moreno; Capoue, Coquelin (Moi Gomez, m.58), Dani Parejo, Yeremy Pino (Rubén Peña, m.84; Alcácer (Dia, m.58) and Danjuma (Manu Trigueros, m.84).
Referee: Jesús Gil Manzano (Extremadura Committee). He admonished Vinicius (40) for Real Madrid; and Coquelin (55) and Moi Gómez (70) for Villarreal.
Incidents: LaLiga Santander match of the seventh day played at the Santiago Bernabéu stadium before 23,895 spectators. The kickoff was made by Paralympic triathlete Susana Rodríguez, a gold medalist in Tokyo.