Villarreal get the tie on track with a penalty goal against Dinamo Zagreb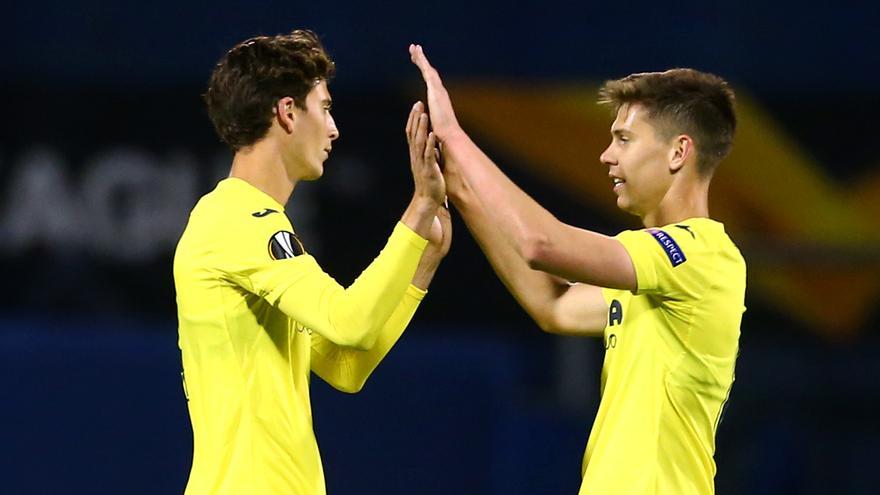 A Villarreal superior carried out his visit to Zagreb in the first leg of the quarterfinals of the Europa League thanks to a clear penalty transformed by Gerard Moreno shortly before the break of a thick match at the beginning, in which the Spanish team needed their best version to neutralize Dinamo's desire in a great second half.
Villarreal's good defensive game was accompanied by the effort of its attackers, who always had the rival defense in suspense and who, especially in the second half, played very close to the goal of the local team, in which they sought to increase their advantage with a new goal.
Villarreal tried to set up a low intensity match against an opponent who wanted to speed up the game from intense pressure, which combined long ball possessions by the Spanish team to which the locals responded with great grit and dangerous approaches. to the goal defended by the Argentine Gerónimo Rulli.
Neither team gave any facilities in a clash that from the beginning was presented with very level forces and in which both were aware that the rival was going to demand a very good performance from them to get a favorable result in the first round of this continental round.
As the first half progressed, gave the feeling that Villarreal was a more powerful team than Dinamo, which by closing the spaces and above all by being very competitive, barely allowed Unai Emery's men to maneuver, which led to a first half with hardly any chances and with a goal disallowed to the Croatian team for an offside in a counterattack .
When the match seemed doomed to reach the half-time goalless, a clear hand from Theophile-Catherine was punished with a penalty and Gerard Moreno He advanced with a good launch to his team on the scoreboard after 45 minutes of level forces.
The goal gave Villarreal peace of mind for the second half, in which the Croatian team had to risk, although the Castellón team was superior in territorial control of the game, since it was able to always play close to the rival goal and he limited his opponent's arrivals to isolated, shallow counterattacks or long shots.
Villarreal were looking for a second goal that could be lethal, especially through Pedraza's penetrations on the left wing and without allowing Dinamo to clearly find the way to Rulli's goal. It seemed that 0-2 was closer than 1-1.
Although the Spanish team was confident in all its actions, the minimum difference in the scoreboard did not allow it to play with joy and although it had tied the rival, any oversight could truncate its effort.
The match advanced towards its conclusion with hardly any notable actions, controlled by the visitors, but with un Dynamo something more offensive in order to rescue at least a draw for the return leg, but to which Villarreal replied perfectly.
Data sheet
0 – Dinamo Zagreb: Livakovic, Ristovski, Lauritsen, Theophile-Catherine, Gvardiol (Leovac, m.72), Ademi, Jakic (Kastrati, m.61), Ivanusec, Majer (Tolic, m.83) Orsic (Franjic, m.83) and Atiemwen (Petkovic, m.61).
1 – Villarreal: Rulli, Foyth, Albiol, Pau Torres, Pedraza, Parejo, Capoue, Trigueros (Rubén Peña, m.86), Chukwueze (Moi Gómez, m. 68), Bacca (Paco Alcácer, m.46) and Gerard Moreno.
Goal: 0-1, m.44: Gerard Moreno, from a penalty.
Referee: Daniel Siebert (GER). He admonished Gerard Moreno for Villarreal
Incidents: First leg of the quarterfinals of the Europa League played without an audience at the Maksimir stadium in Zagreb (Croatia).