Villarreal delves into the serious crisis of colista Valladolid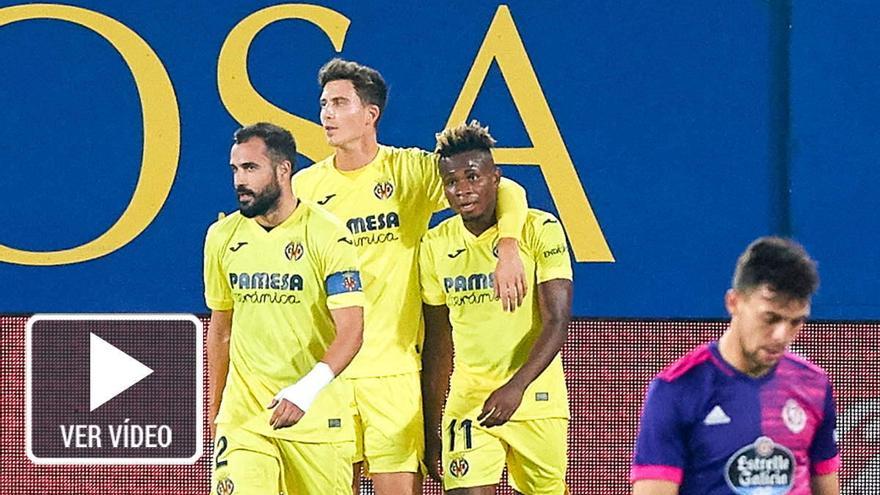 Villarreal easily beat Valladolid 2-0 in a match in which the localss reflected on the field of play their theoretical superiority Against an opponent who still does not know what it is to win this season and who is still embedded in the deepest part of the classification.
Unai Emery's team left the game very on track in the first half, in which he scored his two goals, and although Valladolid improved their image in the second half, it was not enough to try to score in La Cerámica and could even suffer a broader score against.
Valladolid started the game with two lines of four very close together and good tilts that closed the pass lines well to a Villarreal who had great possession but who he could not put Masip in trouble.
However, at 20 minutes, a recovery of Pedraza in the field of Valladolid it caused the lateral incisor to delve down the left wing and give in to the penalty spot where Chukwueze finished first to score 1-0.
Sergio González's men tried to react but their offensive contribution was nil. On the other hand, Villarreal increased his advantage in a corner kick that Alcácer extended at the near post so that Pau Torres could score at will in the second. The locals were even able to increase their advantage, but the post avoided the goal of the reappeared Gerard Moreno in the last minutes of the first act.
The two changes made at half-time caused more intensity and a greater offensive presence from Valladolid but without generating clear chances. The game opened a lot in the last quarter of an hour and the goals could fall on the side of either team.
Gerard saw how the VAR annulled a goal and shortly after wasted a very clear chance, like the Japanese Take Kubo. For its part, Valladolid saw how the sticks prevented him from scoring on two occasions. First, Kike sent a long shot to the crossbar (m.81) and later Marcos André smashed his shot into the post.
Data sheet:
2. Villarreal: Asenjo; Mario, Albiol, Pau Torres, Pedraza (Estupiñán, m.67); Trigueros, Iborra, Moi Gómez; Chukwueze (Take Kubo, m.64), Gerard (Yeremi, m.83) and Paco Alcácer (Bacca, m.83).
0. Valladolid: Masip; Luis Pérez (Hervías, m.46), Joaquín, Bruno, Raúl Carnero; Orellana, Alcaraz, Michel (Kike Pérez, m.78), Waldo (Marcos Andre, m.46); Weissman and Plano (Toni VIlla, m.78).
Goals: 1-0, m.21. Chukwueze. 2-0, m.37: Pau Torres.
Referee: Alberola Rojas (Castilla La Mancha Committee). He admonished Mario for Villarreal and Joaquín, Carnero and Alcaraz for Valladolid.
Incidents: Match corresponding to the eighth day of The league Santander played at the La Cerámica stadium in Vila-real without an audience.