Villa de Agüimes Ibarra wins the Manuel La Fiera Memorial Contest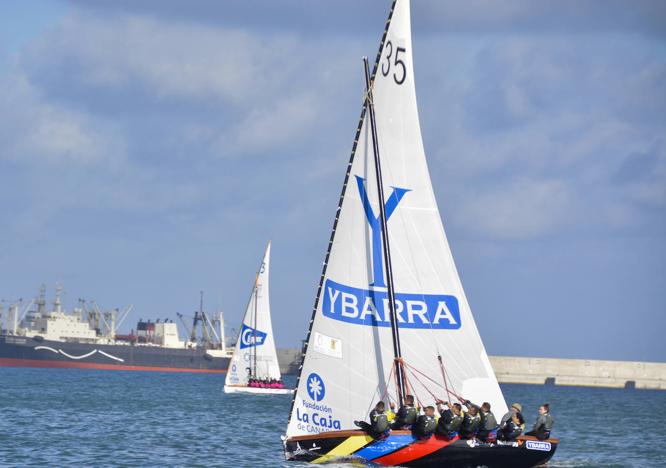 latin sail
Puerto de La Luz Fundación Puertos Las Palmas was imposed by two seconds. Hospital La Paloma Pueblo Guanche was third
Villa de Agüimes Ybarra won by just two seconds ahead of Puerto de La Luz Fundación Puertos de Las Palmas in the Manuel Cabrera La Fiera Memorial Contest. Abimael Hidalgo's men, who were making their debut at the Villa's cane, came out in sixth position and soon placed themselves among the first, achieving a time of 1:11:22 at the finish line.
For its part, the boat skippered by Manri Rodríguez went from less to more and climbed positions until fighting for the first position.
Also important was the comeback of Hospital La Paloma Pueblo Guanche and Poeta Tomás Morales Clipper, who finished in third and fourth position less than 30 seconds behind the first.
The fifth place went to the Estibadores Portuarios Fundación Belén María, with a time of 1:12:06, followed by Villa de Teror, who suffered a broken cane and was able to overcome it. Seventh was the Minerva Hotels Vistaflor Idamar, while the Porteño Atlantec Sabor a Gloria was eighth.
The classification of this Canary Latin Vela Memorial Contest was closed by Chacalote A Blue Thing in the Cloud, Disa Roque Nublo ULPGC and Unión San Cristóbal Restaurante Los Botes.
They were unable to complete the course, the
Spar Guerra del Río, who blundered at the start, and Tara del Mar Daida Dental Clinic Locksmith La Llavewhich was forced to withdraw after suffering the loss of a crew member in the middle of the regatta.
After the dispute of three days, the Island Cup of Gran Canaria It is led by Hospital La Paloma Pueblo Guanche, with 6 points, followed by Puerto de la Luz Fundación Puertos de Las Palmas, with 11, and Poeta Tomás Morales Clipper, with 12 points.