Viera uses a penalty to get air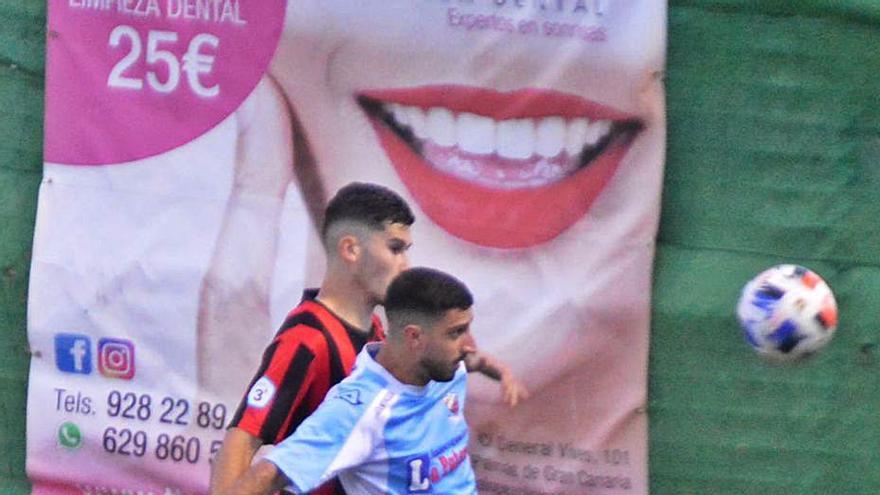 Unión Viera ended its spell in the La Ballena venue by achieving its sixth victory of the course (1-0), the second at home, against a direct rival for permanence as the Guide. A solitary goal by Cristian Barrios, from a penalty, when Ángel Luis Camacho's team played with one less footballer due to the expulsion of Zizu, decided the game for Schamann's men.
Alfonso Silva hosted a direct duel between two teams that aspire to achieve direct salvation in the Third Division. In a bland first half, both the Unión Viera and the Guide showed signs of nervousness due to their qualifying situation, which resulted in there not being abundant opportunities to break the initial score.
After the restart, the Guide came out more connected, stretching in search of his first goal, which made it possible for him to put the Ciudad Alta goalkeeper in trouble. Things got even better for him when in the 71st minute Unión Viera was outnumbered by the expulsion of Zizu.
However, despite seeing one less footballer, Ángel Luis Camacho's team did not lose heart and came very close to scoring the first with a cross shot from Michael. In the continuation of the play, Kevin Pérez picked up the rebound in the Guiense area and was knocked down by the visitor Melo. Cristian Barrios assumed responsibility and did not fail to score 1-0.
In the decisive stretch of the contest, the Guide turned in search of the tie, but he found himself facing a solvent team that knew how to defend its advantage.
Data sheet
Union Viera 1 – Guide 0
Union Viera: Alex Guanche; Ramón, Elvis, Joel, Xiraxi (Michael, 76 '), Cristian Barrios (Fernando Naranjo, 86'), Alfredo (Edu Jiménez, 86 '), Zizu, Yudai Ishida, Kevin Pérez and Ale Suárez.
Guide: Juan Carlos; Rivero (Aythami, 80 '), Alberto, Luisja (David Flaco, 72'), Maceo, Carlos Delgado (Fajardo, 67 '), Cristian (Jorge Flores, 72'), Javi (Melo, 72 ') Farías, Alexander and Nacho.
Goals: 1-0.- (79 '): Cristian Barrios, from a penalty.
Referee: Alexander Ravelo Santana. He sent off for the locals Zizu (71 '), for a double yellow card, and Fernando Naranjo (93'), for a direct red. In addition, he admonished Xiraxi, Ramón and Álex Guanche by the locals; and for the visitors to Cristian, Farías and coach Iván Mendoza.