Vidrala heats its ovens and takes off in Bag | Economy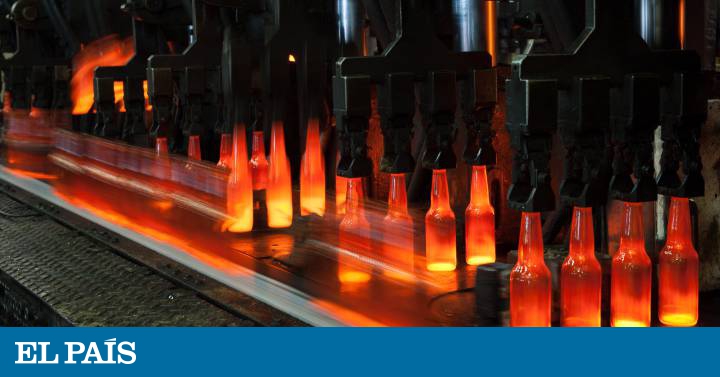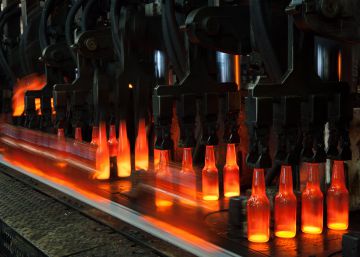 It has been manufacturing glass containers for food and drinks since 1966. It started with a factory in Llodio that had an oven and two machines, a few employees and a capacity of 25,000 tons. Vidrala was and is still a family business, one of a lifetime. Captained by the Declaux, one of the wealthiest surnames of this country, which, divided into five branches, sits in the shareholding of this company, with Carlos Declaux Zulueta at the head, as president since 2002 and maximum shareholder with 7% indirectly. In the last five years, Vidrala's share has revalued 122% and the company is already worth 2,654 million euros on the stock market.
Nearly six decades after its launch, Vidrala continues manufacturing for the same sectors as when it started and "we do not plan to do anything else," says Carlos Declaux. Vidrala has a workforce of 3,700 employees and produces and sells more than 8,000 million containers per year that it delivers to 1,600 customers based in Spain, Portugal, France, Italy and the United Kingdom, who manufacture from beer or wine to canned or jams. Its trajectory was consolidated in 2019 with an expected growth in sales of 5% compared to 2018, a turnover that will be close to 1,000 million euros and benefits that will be around 125 million. "Last year we began to reap the fruit of everything we have done before, such as the expansion of recent years," says the president. The company already has a 35% market share in the Iberian Peninsula.
Its growth and expansion strategy has culminated in the presentation of an investment plan of 500 million euros that will be executed from this year until 2024. A plan that arrives with the antecedent of a smaller one, implemented between 2017 and 2019 in the Corsino factory (Italy), in which 100 million euros have been spent. "With this investment the plant has improved in technology and environmental standards. Although Italy does not have the size and weight of the rest of our factories, it works well and we have opted for it. "
Expanding productive capacity, modernizing facilities and improving environmental practices are the axes on which the strategic plan revolves. The bulk of the investments will go to the two plants in Portugal and the United Kingdom. Without specifying items, company sources explain that the investment is subject to the furnace repair schedule and the weight of the plant within the whole. "We are going to invest in markets that have a competitive position," says Declaux.
The plants of the United Kingdom live in expectation for Brexit. A situation that they do not see as a catastrophe, "although influencing, influences." "But we" – explains the first executive – "do not export to the continent and our costs are handled in pounds, except in the Republic of Ireland, we work in euros and where we do export." These plants, one in Elton, near Manchester, and another in Derrylin Fermanagh, in Northern Ireland, near the border with the Republic of Ireland, and which is the only glass factory on the emerald island, were acquired in 2015 to Encirc for 408 million euros. The purchase was a turning point "and made us ambitious."
In these plants not only glass is manufactured, they also have six bottling lines, which have their flagship business in the wine, which is imported in bulk, especially from Chile, Australia and California. "At first we did not see the potential of bottling. We thought it was a curious business but also a mystery. Over time, bottling has grown a lot in the UK, since they don't produce wine but consume it more and more. " More than 170 million liters per year arrive at their packaging machines, which they then sell in the country's supermarkets, such as Sainsbury or Tesco.
A business that worries Declaux at the exit of the United Kingdom. "We don't know what can happen with contracts with countries like Chile, the United States or Australia. There is some uncertainty that is not good. Some are from the Commonwealth and we believe that the agreements do not have to be worse than what is now. The cash we have generated here in these years accounts for 30% of the total billing. If you lower the price of the pound, it will harm us. If the forecasts are met and consumption and growth will be lower in the United Kingdom after Brexit, it will also affect us, of course, "he adds.
Apart from the aforementioned factories in the United Kingdom and Italy, Vidrala has six more plants. In addition to the parent company of Llodio and, after building a factory in 1989 in Caudete (Albacete), in 2003 began its expansion with a policy of acquisitions, which has marked the good progress of the company. His first purchase was in 2003 with the factories of the Ricardo Gallo group in Portugal and in 2005 with Castellar del Vallés (Barcelona) and Corsico (Italy), both acquired from Owens-Illinois, the world's leading North American glass manufacturing company.
In 2017 he looked back to Portugal, where he acquired Santos Barosa, a family-owned plant, for 245 million, next to Ricardo Gallo's. "It is the largest glass factory in the Iberian Peninsula and produces 400,000 tons. With your purchase we saw possibilities of improvement in logistics, even if it was side by side. It is not an advantage, but not an inconvenience and they work independently. "
Sale to headquarters two euros
Currently, Vidrala has slowed its eagerness buyer, "but we are not closed to opportunities if they arise." Purchases that have also seen the other side of the coin, with the sale of the Belgian headquarters, which until last December was its ninth factory. A symbolic price of two euros is what the French Saverglass has paid. "I don't know if I would have preferred to buy that plant when we did it, but Belgium has lost competitiveness. In that plant we made money, but the end of the facilities were approaching and we had to make strong investments. That's why we thought it was better to invest where we are strong and see the future, "says Declaux.
The president also boasts the attention Vidrala has with its shareholders. This year's remuneration stands at 1.09 euros, 15% more than in the previous year. "For more than 25 years we have maintained a growing cash dividend." They have also made a repurchase of shares for amortization and last November they executed an extension that their president calls "almost as a gift". For every 20 titles they gave a new one. "This allows the shareholder to monetize their shares and at the same time those shares allow us to increase the liquidity of value." Despite the significant rise in the stock market, in Ahorro Corporación they still believe that the action has gasoline: "It is one of the most profitable companies in the sector in Europe. Its high capacity to generate cash and the low level of indebtedness place it in a privileged place to face future acquisitions ".
Glass is a material with infinite lives, which can be recycled infinitely and is the one with the highest recycling rate in Spain. According to Ecovidrio data, 893,989 tons of glass were recycled in 2018, representing a quota of 76.5%. Despite this, the Iberian Peninsula is deficient in recycled glass for several reasons. In addition to the lack of awareness, the volume of glass packaging is very high, but these containers are exported in good part and it is in those countries of destination where it is recycled. In fact, Spain has to import recycled glass from England, which has a surplus in this sector.