Videos of the most interesting plays and summary of the match Real Oviedo 0 - 0 UD Las Palmas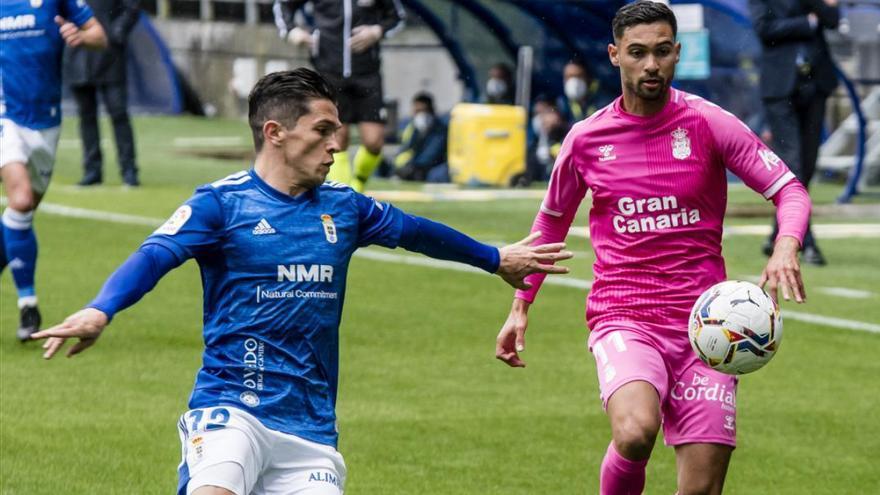 Real Oviedo and UD Las Palmas went from more to less in a goalless match, in which the home team only reacted in the end, but to crash into a good goalkeeper, Alvaro Valles, in charge of tying a point at home for an insular team that had to play half an hour with one less for the direct red from Jesé.
After the hour of the match, an entry from behind Jesé to Sangalli after losing a ball ended with the expulsion by direct red of the Canarian winger.
Data sheet:
0 - Real Oviedo: Femenias; Nieto, Arribas, Christian (Borja Valle, m. 74), Mossa; Sangalli, Edgar, Tejera, Borja Sánchez; Nahuel (Obeng, m. 94) and Blanco Leschuk (Rodri Ríos, m. 65).
0 - UD Las Palmas: Álvaro Vallés, Lemos, Curbelo, Suárez, Benito; Clemente (Castellano, m. 70), Ruiz (Kirian, m. 83), Mesa, Rober (Pejiño, m. 62); Jesé and Araujo (Mujica, d. 83).
Referee: Hernández Maeso (Extremadura College). He admonished Tejera (12 '), Christian (70'), Rodri (70 ') and Arribas (75') at Real Oviedo and Oscar Clemente (23 ') and Jesé (66' Red) in Las Palmas.
Incidents: Match corresponding to the 34th day of the League played at the NMR Carlos Tartiere (Oviedo) behind closed doors.