Victory on the Guaguas fast track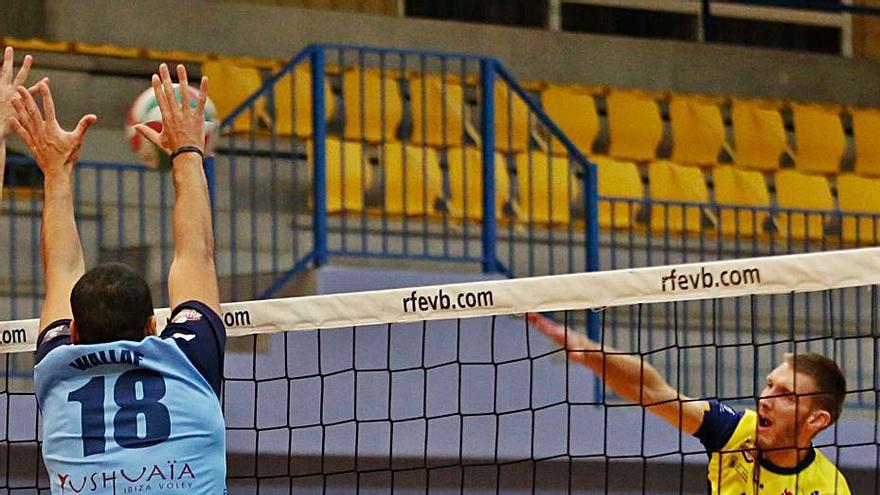 The CV Guaguas puts the direct to overcome UD Ibiza and place third. Sergio Miguel Camarero's men dominated the game from start to finish, imposing their game at all times to certify their eighth victory of the season, which places them two points behind Unicaja Almería and with one game less.
A key match that the Gran Canaria faced this afternoon in Ibiza in the first of the five matches that they will have to play in the next 10 days, in a Tourmalet in which Sergio Camarero's men will play a large part of their options to be head of series in the Copa del Rey.
The staging of CV Guaguas was excellent to dominate the first set and force Aitor Barreros to request the first time-out of the match at the first exchange with a disturbing 1-6 on the scoreboard.
The pair formed by Moisés Cezar and Matt Knigge in the center of the net, forced Barreros to consume his second time out with a 5-14 that presaged the worst for the local parish. But among the unforced errors of the Ibiza the lashes of Hage and Kukartsev that closed the first round with a clear 19-25 (0-1).
The forcefulness of Hage and Knigge in the network, before an Ibiza to which anxiety took a toll, forced Barrero to request a time-out with 8-14 in the electronic in the second set. Ibiza could not find a way to counteract the power of the Guaguas that pulled Hage, Cezar and Kukartsev to dominate the sleeve, entering the match in the final stretch apparently controlled. Guaguas was applied when the score was tightened and the lesson of Almansa and Knigge put it 0-2
Ibiza tried to force the fourth set but it was impossible. In the blink of an eye, Guaguas opened a 5-point income to face the set with all the tranquility in the world (3-8). Ibiza tried, but Almansa, Knigge, Hage and Cezar took advantage of their power to implement their law in the network (9-14) that put them against the ropes. The yellow attack was unleashed and closed the third set on the fast track with a 16-25 to win the match (0-3).