Victoria Abril apologizes to the relatives of the victims of the coronavirus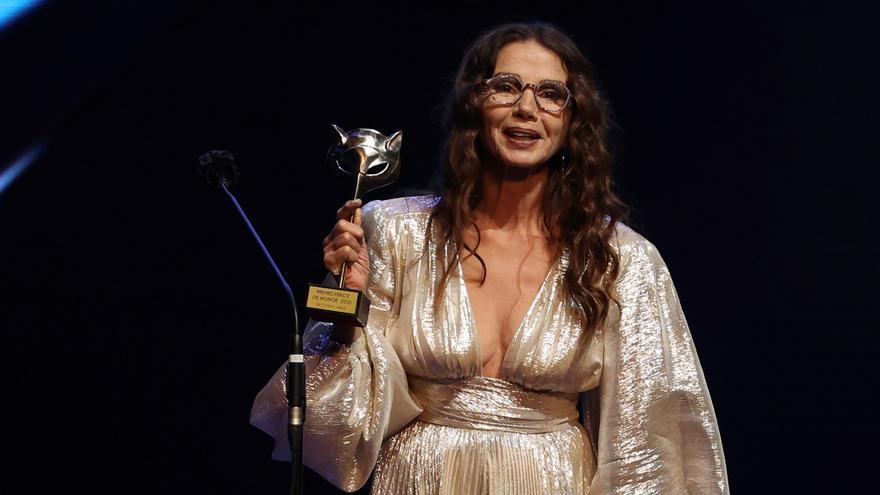 Without a mask but with a speech far removed from the denier that he gave during the presentation press conference as Fierce award of Honor 2021, Victoria April has collected the award asking apologies to the relatives of the deceased by the covid those he could offend.
"I apologize if at the press conference, speaking without filters of the living, I have offended those who have lost their loved onesI swear that it was not my intention, for me all lives count, "said the actress after collecting her award and being applauded by the audience.
He was referring to the statements he made on February 25. "This is not covid, this is a coronacircus", then said Abril, without a mask like tonight and unconcerned about being taken as"denier". "We are guinea pigs, vaccines are unproven experiments that get us quickly and since we are vaccinated there are more positive cases, "he said.
But at the gala in which he received the Feroz de Honor by the Association of Cinematographic Informants of Spain (AICE) in recognition of his career, especially active in the 80s and 90s and marked by her work with directors such as Vicente Aranda or Pedro Almodovar, April has abandoned this speech.
Has pulled "chop" for thanks, especially to Vicente Aranda, Pedro Almodóvar and Agustín Díaz Yanes, has assured that she misses the cinema and the public, and has declared herself a member of the Spanish cinema family, to which she is willing to return from her retirement "from childhood in search of peace" after a final year. underliving "in Paris.
"If you need me, whistle, I'll come up", has assured who has recognized that he would like to die "like Molière, made up" and working as an actress.
April has been introduced by her partner Jorge Sanz, who has assured that he learned from her "that you should not trust anyone"and that the actors are" the catalysts for all the small and large artisans that make up this profession. "
"Victoria Abril has the quality that you will always believe her character. Be careful with that of the masks, which still convinces us all … ", added the actor about an actress" unique, irreplaceable and different from everything else "who" has long decided to do what comes out of the comb and when it comes out of the comb and be a great diva because she can ".