Vicky Losada: "The Queen should attend the Queen's Cup, which is why it bears her name"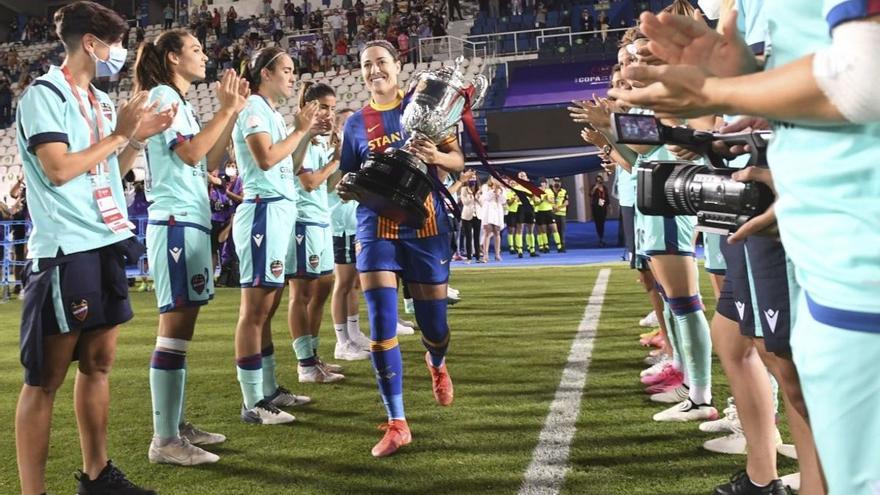 -Sincerely not yet, not even the Champions League, which I think has been the most important title, because we have not stopped. Now we are preparing the Atlético de Madrid game tomorrow. It is being a very intense year.
-Even when the season ends, they will be really aware of the magnitude of what has been achieved.
-I think so, they have given us a lot of visibility, it shows that socially there has been a change. It reminds me a bit of the World Cup, that you are in a bubble and then when the months go by and you relax you really realize that it is much more than you imagined.
-Only four teams had previously achieved the treble in Europe. How do you rate the media impact?
-The truth is that I was surprised, especially with the Champions League final: all the messages of support, all the mobilization of the masses, of Barça fans, of girls, of boys as well, I was pleasantly surprised. I think it will mark a before and after. We are Barça and everyone knows that we reach many more people.
-Patri Guijarro says that they have knocked down the wall, Lluís Cortés that they have broken the roof. What is broken for you?
-I believe that a wall has been broken and that behind there was a lot of work from many years and that thanks to the media it was the last push that was needed for these people to see that the football feminine is here to stay. All the work we have done with all the teammates, I think we have had a very good year and we have played football that the spectator likes.
-Is it the push that was lacking to professionalize the League?
-I think it has opened many eyes and has changed many mentalities in society. I think it may be the beginning of the professionalization of the League, but that there are many steps to take that are not within our reach and that are decisions that unfortunately we cannot take and what we have to continue to do is give a good image, keep arriving to the people, continue to be examples and that the institutions take firm steps.
"The Champions League is going to mark a before and after. Women's football is here to stay"
-You insist on the importance of girls now having female soccer referents that you did not have.
-It is super important that they have their dreams from a very young age, that now they can come true, because we have been the clear example that now they have more opportunities to grow in a world where they can dream of being soccer players. There are games that you can play better or worse but the image, dedication and sacrifice knowing that many girls are watching us is non-negotiable.
-What difference is there between women's football now and when it started?
-In my case at Barça, professionalization has given us the opportunity to improve our performance. An elite soccer player improves in performance and competitive mentality, in media responsibility. Before there was absolutely nothing. The conditions were not good, we trained at night, nobody bet on us, there was no television. And so it is very difficult to reach people.
-Has football ceased to be a men's private preserve?
-I think that with the visibility we have given it is a giant step, but there is still a lot to do. In the big events they have supported us a lot, they have given us a lot of visibility. But to begin with, there is an issue that has to be solved as soon as possible: television rights. All the games in our League should be taking place without any problem. And in the end it is the media that are going to help us. And these details have to be solved as soon as possible for next year.
-What is not seen is as if it does not exist.
-It exists but is not seen. I think that now many people have had the opportunity to get to know our football for the first time. And that many people will want to follow us. And if the media do not facilitate that it is impossible.
-There are still macho attitudes, as could be heard in the Madrid-Eibar audio environment. Will it persist as a reaction to the growing presence of women's football on TV and in the media?
- There will continue to be cases. Our history, our society, older people who have grown up in other generations. That is what we are here for, to change those mentalities and to educate the generations to come by example.
-In that education, would it have been a good message for the president of the Federation, Luis Rubiales, and Queen Letizia to have attended the final of the Queen's Cup?
-The girls of now do not realize. But we who have been around for a long time know that they are very important people with a lot of visibility in the world of football. And the fact that they are not there, the first thing people are going to do is compare it to men's football. These things shouldn't happen anymore. Just like the Queen. I think that the Queen should attend the Queen's Cup, which is why it bears her name. They are details that leave in doubt if they really care about us. is a reality. There is no denying it.
-In the absence of Letizia they had the self-crowned Queen Pereira.
-In the end, sometimes they are things that have to be changed. But the message has to always be positive and many times doing it through comedy is a good medium. We had talked about it before the final, we knew that the queen was not coming. And through comedy it is another door that we also try to tear down and we also try to change.
- Will there be more and more girls who, in addition to playing princesses, play soccer?
-Surely yes. As a result of the Champions League final, there are many people I know who say that their daughters, when they saw us play, have suddenly asked to start playing football. It will open many doors. After the World Cup in France, the number of chips has already increased. And I'm sure they will continue to increase after this year.
-Not only is it achieved, but how, with an attractive and faithful playing style to Cruyffismo.
-The culé fan and especially the cruyffista, that those of us who are from the house have been working on it for many years. With the people who have joined from other nationalities and who have given them another plus and they have adapted well. It is a work of many years, it is very difficult to play like that and we are super proud.
-Cruyff insisted that the difficult thing is not to arrive, but to stay. What are the challenges?
-Today I was talking to the captains that we have to keep moving forward. We are aware that the Cup final was not our best game, that there could be fatigue, or whatever. But for us they are not excuses. We know that we are not playing well lately, we are aware. But when you get to the top it is very difficult to maintain ambition, to be motivated. But we will do everything possible so that that does not change and we are as high as possible.
-Did you imagine this could happen when you debuted with Barça in 2006?
-No, far from it. When I made my debut when I was 15 years old, I didn't imagine being a footballer, far from it. I did not intend to dedicate myself to football or my family, or anyone else. I was studying, I got a higher degree. Then I went to the USA and there I decided to leave everything and bet on the dream of being footballers. It worked out for me but maybe not for other people.
-Having played in England and the US, how do you see the degree of professionalization in Spain today?
-They are different cultures and football is lived differently. At the US and UK marketing level. The English Federation has been working very well for years. I think it can be a very good model for the Spanish Federation. I think there are many problems here that are perhaps slowing down the rise of women's football after the World Cup in France. But Spain is a country that loves soccer and that is a plus for us compared to other women's sports; we have Olympians in all water sports probably, athletes. But we have that plus.
-How have you seen the evolution of the club's bet in these 15 years and what role does it play in the boom of women's football in Spain?
-Our evolution was long-term projects, maintaining the quarry, the objective was what we have achieved this year but in football it is very difficult because normally it takes away much more than it often gives you. It is a lot of sacrifice. The satisfaction is incredible because we have made the triplet and there is work from many players, coaches, managers ... Many people who have been here for more than 10 years. And now we have to maintain it, it is our responsibility. At the national and international level, the club has shown that it has a firm commitment, lately investing more money, that gives more visibility. We have taken very good steps, we have never lost a year of work and in the end it is this: putting together an incredible group, playing good football, showing what our style is and doing a triplet that is something historical.