Vicente Huidobro, the avant-garde father of literary creationism | Culture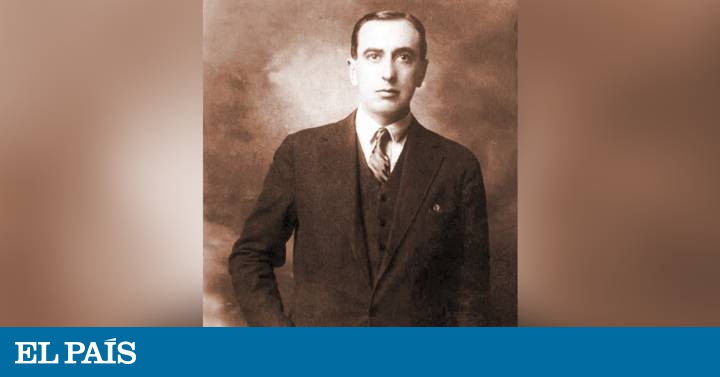 Born into an aristocratic family, the continuous trips he could make Vicente Huidobro since childhood he was allowed to know the European avant-garde, and to form his own vision of the world. He was a prolific writer from a young age under the influence of his mother, also a poet, and created a literary movement, creationism, to use words to the limit of creativity. He is considered one of the most prominent Chilean poets along with Gabriela Mistral, Pablo Neruda and Pablo de Rokha, in addition to the most influential avant-garde promoter and disseminator in Latin America in the first third of the twentieth century.
Vicente García-Huidobro Fernández was born in Santiago, the capital of Chile, on January 10, 1893, in a wealthy family, related to politics and banking. His father, Vicente García-Huidobro, was the heir of the marquisate of Casa Real, and his mother, María Luisa Fernández Bascuñán, an active feminist and organizer of numerous literary evenings.
He spent the first years of his life in Europe and published his first poem with 12 years. Upon returning to Chile in 1907, Vicente began studying at the San Ignacio School in Santiago, belonging to the Society of Jesus, from which he was expelled for wearing a ring he said he was to marry. Years later he criticized the Jesuit teaching in his works.
He began studying literature at the University of Chile, which did not finish, and published Echoes of the soul in 1911, a work with modernist tendencies. The following year he married Manuela Portales Bello and began editing the magazine Young Muse, in which part of his later book appeared, Songs in the night, as well as his first calligram, Harmonic triangle.
Vicente Huidobro, name he adopted to sign his works, he decided very soon to make his way in the world of letters, but at the same time he refused to reduce his literary atmosphere to Chile and moved to Paris in 1916, where he participated in all the avant-garde movements of the moment, although he soon distanced himself voluntarily from all of them and began to create his own current, known as creationism.
For Huidobro the artist should not limit himself to imitating Nature, but he had to maintain with it a kind of competition in which he could show the vitalism of his own work. This famous thesis was synthesized in the formula "Why do you sing to the rose, oh poets !?" Make it bloom in the poem. "This proposal entailed the need to create new images and a new poetic language capable of breaking with everyone language levels and also generate their own syntax The juxtaposition of sentences, words and sounds strangely brought into contact became one of the most prominent features of this new movement.
The creationists, with Huidobro in the lead, closed ranks around these proposals as original as sometimes delusional, and still today praised by the majority but also with a large critical sector that accused him of mere prestidigitator of words. With this aesthetic he traveled to Madrid in 1918, where he founded a leading group of creationist poets dedicated to the writing of texts that faithfully followed the principles of the then respected and prolific Chilean teacher. Huidobro He expressed himself as well in Spanish as in French and that is why publishers competed to publish their works. In the capital of Spain, he related to refugees, participated in social gatherings and continued to publish four more books.
His interest in knowledge and nature was increasing and he took several courses in science at various universities, as well as approaching the exoteric: alchemy, astrology, ancient cabal and occultism in general.
Upon returning to Paris a few years later, in 1925, Vicente Huidobro He continued his feverish process of poetic creation, also enriched with a curious approach to the narrative-cinematographic genre. However, his interest in politics, where he met the failure, disrupted his personal life with a strange event with a 15-year-old girl: Ximena Amunátegui.
The great poet in the eyes of everyone met Ximena, a young student, and decided to leave his wife, whom he had been married for 15 years, and their children. Ximena was not only a minor, but she was the daughter of a powerful Chilean who opposed her relationship with Huidobro. The poet went to Paris to forget the disappointment, closed the house in Montmartre where he had lived with his family as a child and moved to New York, where he also succeeded as a screenwriter.
However, in 1928, when Ximena Amunátegui had just reached the age of majority, the poet returned to Chile and kidnapped her from the high school where she studied. The couple moved to Paris and lived happily in the Montparnasse district in a few years of loving and creative fulfillment for the poet.
Huidobro was at the height of his fame and enjoyed the success achieved by his film novel Mio Cid Campeador (1929), in which the poet himself, who boasted of being a descendant of Rodrigo Díaz de Vivar, identified his adventure with Ximena Amunátegui as a modern reincarnation of the couple formed by El Cid and Doña Jimena.
After this success of his version of Cid Huidobro he decided to resume a long and ambitious project that had begun ten years before: Altazor or the parachute ride, the masterpiece of universal creationism, which along with Tremor of heaven It constitutes the greatest legacy to the poetry of its time and whose poetic value continues to be incalculable.
In 1931 he traveled again to Madrid to manage the publication of Altazor Y Tremor of heaven. There he attended the recital of Poet in New York, from Federico García Lorca, and a brief epistolary dispute was also generated at that time with Luis Buñuel For political reasons. He returned to his country again in 1932 under pressure from the world economic crisis and lived an intense political activity in favor of the Communist Party of Chile.
In 1934 his fifth son was born, and his political convictions were so strong at this time that Vladimir called him in honor of Lenin. In these years he alternated his new works with the foundation of magazines and film criticism in various publications.
Between Huidobro and Pablo Neruda a controversy broke out in 1935 when the first one appeared more prominently in the Anthology of new Chilean poetry. In 1936, next to Picasso, Arp, Vasily Kandinsky, Robert and Sonia Delaunay, among others, signed the Dimensionist Manifesto and he produced anti-fascist political articles while organizing Chilean writers in solidarity with republican Spain during the civil war.
In 1937 the controversy with Neruda was accentuated when both were in Spain supporting the republican cause. The International Association of Writers for the Defense of Culture intervened from Paris by sending a letter to both of them urging them to depose their attitude.
Back in Chile, he published the poem in prose Out of here against Italian fascist military visiting the country, which gave rise to a great current of opinion against him. In 1938 the group La Mandragora was born, a Chilean surrealist movement that was organized in meetings at Huidobro's house.
In 1945 he returned to Europe as a war correspondent and transmitted his chronicles from the French capital. There he received a letter from his wife, Ximena, announcing the separation. He enlisted and entered with the Allied troops in Berlin becoming a captain, but was injured and discharged, returning to Santiago with his third wife, Raquel Señoret.
In 1946 he settled in a coastal resort in the central region of the country, in Cartagena, where he never recovered from his war wounds and his health was declining. The following year he suffered a stroke that was attributed to a consequence of those injuries and on January 2, 1948 he died at home at age 54.
According to his wishes, he was buried on a hill facing the sea, and his eldest daughter, Manuela, and Eduardo Anguita wrote the epitaph he left written and that lives up to his creative flow of creationism: "Here lies the poet Vicente Huidobro / Open the grave / At the bottom of this grave you can see the sea ".
Huidobro wrote more than thirty works between books of poetry and poetic narrative, of which just over a dozen were published posthumously. The same year of his death, Manuela published Last poems, a compilation of unpublished texts and scattered texts in magazines.
To preserve the poet's legacy, the Vicente Huidobro Foundation was founded in 1990 in Santiago, Chile. It has a Documentation and Archive Center that is open to researchers, students and the general public with the purpose of promoting initiatives for the study and dissemination of Huidobro's works, as well as those of the avant-garde. The foundation, which is a non-profit institution, is chaired by Huidobro's grandson, Vicente García-Huidobro Santa Cruz. Thanks also to the foundation, on April 6, 2013, the Vicente Huidobro Museum was inaugurated in its 320-square-meter home in Cartagena, with six rooms and more than 300 documents.