Vicente Aleixandre: "Long live the modest impudity of the burning bodies" | Culture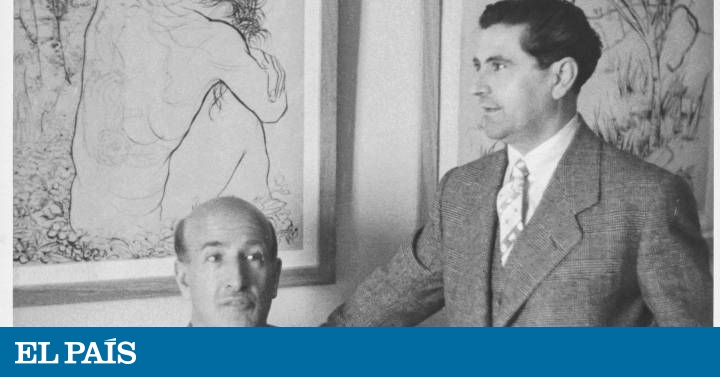 "I have huge desires to live, boy, to come to life. [...] It is my fire and my exaltation and I feel an appetite for the world and for the love that would make me embrace it until it was me, until I alienated myself in its loss ". It is the lyricism and passion unleashed in a letter of Vicente Aleixandre to his friend the painter Gregorio Prieto, linked to the generation of 27. Both maintained a very affectionate relationship and an extensive epistolary relationship from 1924 to 1981, which includes the book Visit all the skies (published by the Banco Santander Foundation in its Fundamental Work collection), presented this Tuesday in Madrid. There are 76 letters (13 of them not dated), "an unpublished material in 90%, which was in the Gregorio Prieto Foundation, in the capital," said the anthologist of the edition, the journalist and writer Víctor Fernández.
Prieto (Valdepeñas, Ciudad Real, 1897-1992) met Aleixandre (Seville, 1898-Madrid, 1984) in 1924, as certified by the first letter of the publication, dated October 9 of that year, which ends with a "hug of your 'new friend' and the one he accompanies with a poem, Adolescence, published in his first book, Ambit (1928). Since that time, the link - unfortunately incomplete, because Prieto's letters have not been found - intensifies, with the impatience to see a teenager: "All this week I will be at home to call me in the afternoon, except the Thursday and Friday, I will leave at half past five. Do it, do it without fail. Goodbye, man. I wait for you. Hugs, "writes Aleixandre.
It is also an example of the busy, but tidy, agenda that had the future Nobel Prize for Literature in 1977. "It was a catalyst of 27, joined painters, writers ... by their letters it is seen that they should be a happy evening and hedonists, "said author Elvira Lindo in the presentation of the volume. "Velintonia [por el nombre de la calle de la casa de Aleixandre] it is a country in which dark love has a place, in which men can love men. "The Civil War destroyed the group and almost housing." In Franco, Aleixandre was left alone with his memories. "
EL PAÍS columnist added of Visit all the skies that "shows a solid friendship, a love taken from those who receive the letters; Aleixandre wants the recipient to let go of his hair, as he does." Thus, at the end of October 1928 he says: "What a tormented life that he could not live! Yes, during youth, prolonging virginity is delicious [...]; but you have to know how to deliver it on time so it doesn't dry out like a spoiled flower " [...]. Aleixandre is ecstatic about the celebration of life: "I want to visit all the heavens, nothing of beauty can be foreign to me". "Long live the nakedness and the modest impudity of the burning bodies, ready for love."
For Víctor Fernández, "there is not in the generation of 27 an epistolary as extensive as this; they are written mostly in the twenties." However, as in any friendship there were also misgivings, this time because of a gossip. It follows from a letter that Prieto must have arrived that Federico García Lorca had spoken ill of him. To repair it, a brief card, dated October 10, 1931, written jointly by Aleixandre, Manuel Altolaguirre, García Lorca and Ernesto (a character that could not be identified). "I remember you many times. A very strong hug from Manolo"; "Dear Gregorio. Serve this notarial faith card of the love, loyalty and admiration I have for you. A very big hug from Federico"; "I hope you never give credit to bad language anymore. Gregorio, we all love you very much, and more than anyone else Vicente," his friend initiates. "They are like whatsaps today, "Fernandez compared.
The edition jumps from 1936 to 1947, a transit explainable by war, which pushed Prieto to settle those years in England. "In the fifties there is a ups and downs," Fernandez added. "In this case due to a misunderstanding. The reason is unknown, but Prieto had launched an important editorial activity outside Spain and perhaps a joint project was thwarted," he ventured. In any case, Aleixandre's bonhomy makes him take away the matter: "No indifference. I always remember you affectionately and say it constantly. We are friends since 1924!"
A disagreement that could not end such a deep friendship. "Aleixandre had been his sentimental advisor, Prieto is with whom he can talk about what he can't talk to anyone. He sends his poems ... but there was nothing between them ...", said Fernández, despite ardent passages: "By touching you I would experience the sympathetic, related vibration transmitted. Your white flesh, like the afternoon, would end pink [...] When we parted we would seem cracked [...].
The union, however, cools. There is proof of the congratulation by the Nobel and the last letter, of December 1981, is a beautiful project, but it remains on the way: a book by Prieto about Aleixandre and his work. The poet looks forward to it gratefully, "with the old memory of long friendship."
Churchill and Greta Garbo portraitist
Gregorio Prieto trained at the Academy of Fine Arts in Madrid. He met Albertí, a painter as well as a poet, and the rest of the generation of 27. During his stay in England, he stood out as a portraitist: Winston Churchill, Miguel de Unamuno, Federico García Lorca, José Ortega y Gasset, Ramón Gómez de la Serna, Antonio Machado, Alexander Fleming, Greta Garbo, Alfonso XIII or Bette Davis posed for him.