Verstappen was fastest in Turkey's first free practice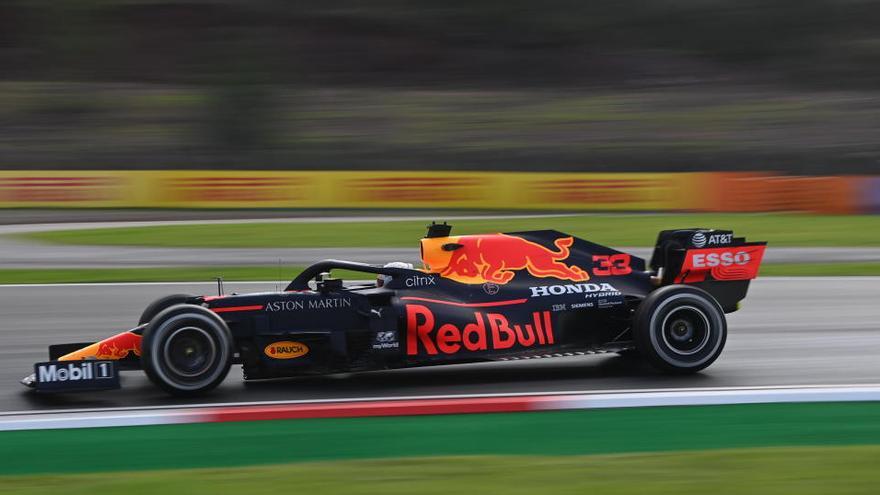 Dutch Max verstappen (Red bull) was the faster this Friday in the first free practice for him Turkish Grand Prix, the fourteenth of the World Cup Formula One, which takes place at the Istanbul Park circuit, on the outskirts of Istanbul, where the Spanish Carlos Sainz, with problems, signed the nineteenth time
In the best of his 29 laps, Verstappen covered, with a hard tire, the 5,340 meters of the track in one minute, 37 seconds and 77 thousandths, 241 less than his Thai counterpart Alex albon, in a session where not much was shot due to the bad condition of the tracktoo wet and slippery in some areas; and that as soon as he started he stopped for a few minutes, with a red flag, to fix the part in which the Monegasque Charles Leclerc (Ferrari) - third, to four tenths - had torn off one of the bollards.
The French Pierre Gasly (Alpha Tauri) marked the fourth time -at 466 thousandths-, and the German Sebastian Vettel (Ferrari), fifth - at half a second - in a session that it did not serve to draw just conclusions and in which the Mexican Sergio perez (Racing point) was registered twelfth in the times table. 'Checo' repeated the layout 22 times and, in his best lap, on a hard tire -as well as the three best times of the session-, the brave driver from Guadalajara stopped the clock at 1: 38.612, three and a half seconds behind Verstappen's time.
Sainz only did eleven laps in a session in which at first he seemed to have a problem with the engine -as he was told on the radio, when he was suggested to return "to stage 1" and enter the pits- and, with 25 minutes to go. to complete the hour and a half lost the power steering.
The talented Madrid driver, nineteenth in the timesheets, was eleven seconds behind his former Dutch teammate in an inconsequential session; in which english Lewis hamilton (Mercedes), outstanding leader of the World Cup and that this Sunday you can mathematically secure your seventh title -with which he would equal the historical record of German Michael Schumacher-, he hardly rolled.
In fact, the spectacular and eccentric Stevenage champion only set time in the final fifteen minutes. Hamilton did only twelve laps and was more than five seconds behind Verstappen's time. The second free training session will be held at three in the afternoon (one in Spanish peninsular time, 11:00 GMT).