Verstappen sticks out his chest before 'his' public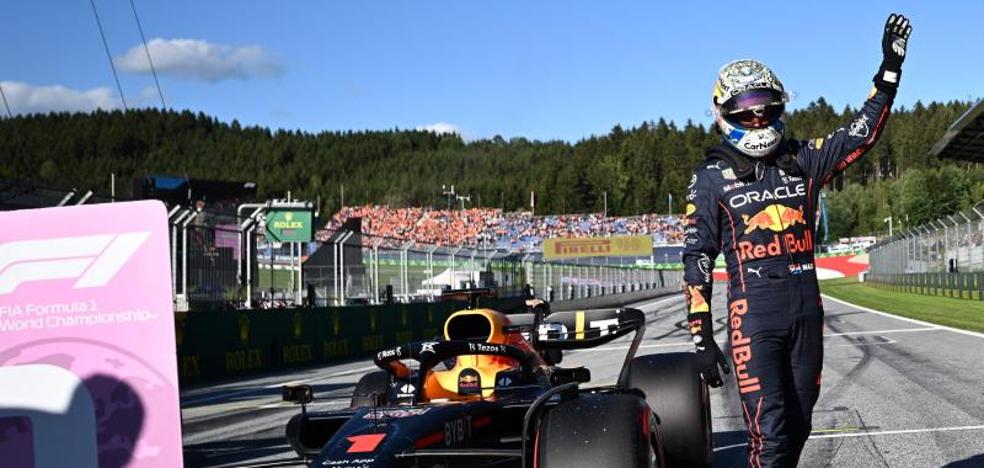 Austrian GP
The Dutchman took pole for today's sprint race ahead of Charles Leclerc and Carlos Sainz, with Alonso eighth
Of all those who were defeated at Silverstone, one of them was Max Verstappen. The first race of the year that ended without winning or finishing on the podium made him come home with a bad taste in his mouth that, at least for now, has gone away. The qualifying session for the Austrian GP, ​​which this weekend takes place under the sprint format, ended with him in front.
As always in this type of grand prix, on Fridays the usual classification is disputed, which decides the pole position for the short race on Saturday (in this case, 24 laps). Verstappen was the fastest ahead of Charles Leclerc and Carlos Sainz, both wanting to vindicate themselves (for different reasons) after what happened in Great Britain. The most repeated trio on Saturdays in 2022 once again showed that they are one step ahead in a session that had two great defeats: the Mercedes.
The classification had started with problems for everyone. The controversial limits of the track (something that would be as simple to solve as putting gravel and narrower shoulders) meant that many could not push the limit without seeing how the laps were eliminated. In fact, Sergio Pérez was investigated a posteriori precisely for not respecting the limits in Q2 and they took all the times from Q3. After seeing how many had their lap times taken away, Verstappen gritted his teeth at the end of Q3 to prevent Leclerc from taking the fastest time, as it seemed he was going to achieve. He only improved 28 thousandths, but it was enough. Sainz, although he was not even a tenth, fell to third place.
His laps were disputed on a 'superpole' with only 2:45 minutes to spare because it was disputed after a red flag, the second of which there was in Q3. In both cases, the protagonists were the pilots of the Silver Arrows. First, Lewis Hamilton went long and ended up embedded against the protections. Among the hubbub of the local public, many of them Dutch who neither forget nor forgive what happened in 2021, the seven-time champion retired notably hurt not so much physically as morally. The misfortunes for Mercedes did not end there: after the restart, George Russell spun in an area very close to that of his teammate and also crashed. These two red flags led to that 'sprint' finish of the classification, although by then some drivers were already clear that they were going to have a difficult time. Case of Fernando Alonso.
Alonso, with the broken car

The difficulty of the Red Bull Ring is notable both in that it is a short and very winding route, which makes each mistake penalize even more. An exit from the track on the high curbs, moreover, means leaving the car noticeably affected, either in its balance or because it can even break parts. This is what happened to Alonso.
The Spaniard set the ninth time in qualifying (he will start eighth due to the suspension of Sergio Pérez), after crossing Q1 with relative ease and Q2 with somewhat less. He did not go beyond that, and while his partner had a more than acceptable sixth time, he did not go beyond the penultimate of that round. He himself explained why: he had had the floor broken for more than half an hour.
"The car felt very competitive today and it was good to be back in Q3. However, I was on a broken floor after going wide on my first lap in Q3, so we lost some performance with the damage. I think before that damage was done we were in a position to get into the top five or six, which would have been great for the sprint. From ninth position, our objective will be to gain some positions, which I am sure we can achieve", analyzed Alonso, satisfied.
Today there will be two sessions, but only one will be training. The so-called 'FP2', which will really be a 'warm up', will be held a few hours before the sprint, that 24-lap short race invention that will distribute 8, 7, 6, 5, 4, 3, 2 and 1 point in reverse order from first to eighth. The result will serve to configure the grid for Sunday, which will be the real and usual race. There will be surprises?