Verona: «The kitchen on TV is not applicable in a family, but it enhances the taste for cooking»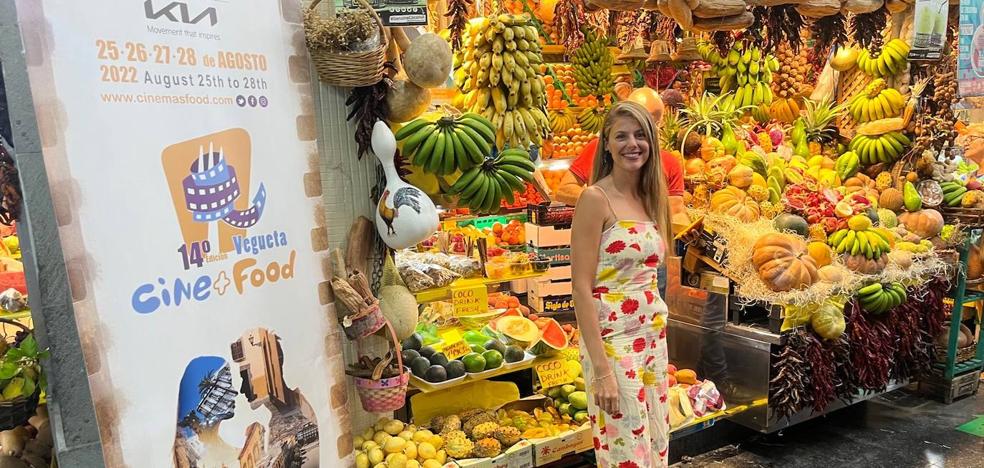 cinema+food
The winner of the sixth edition of Masterchef will perform a 'showcooking' with products purchased at the Vegueta Market
The 2022 edition of CINE+FOOD presented this Friday, at the Vegueta Market, the cuisine proposal of the
Masterchef winner Marta Veronaexpert in healthy dishes.
In addition, Verona, who is also a nutritionist, will hold this afternoon, in Plaza de Santa Ana, a
show cooking. To do this, he bought this morning, in the market, all the necessary products for his cooking show. Also, she talked about his new book: 'Don't eat like a zombie'.
The cook shared
three big keys so that healthy cooking is also affordable, in the face of criticism that links healthy food to expensive food. In the first place, he proposes "forgetting food" miracles, which are not within the reach of all pockets, such as quinoa.
In this sense, it makes
defense of local products, since they are not only cheap, but also contribute to supporting local businesses, such as legumes and lentils. "They are superfoods that are not flashy, but in which we must bet on traditional foods," he says.
Second, Verona put by the
«organization» as a key formula to save on food, dedicating one hour a week to making a shopping list, which must be - he added - "generic", where concepts such as oily fish, legumes and fruit are included. As a premise, Verona encourages going to the local market with "an open mind" and asking for seasonal and offer foods, which fall within the three proposed groups.
And, finally, the third key, the cook and nutritionist made a passionate defense of the markets and local commerce against large surfaces, because in local businesses we have the "trust" of their owners. «
Merchants advise realistically the richest and cheapest foods," he said. For her, the local market is a guarantee of food at good prices and healthy, in its maximum flavor splendor».
kitchen and television

Given the sophistication and spectacular nature of the cuisine on television programs such as TVE's Masterchef Spain, Verona acknowledges that the preparations shown in this type of content "is not applicable" to a kitchen on any floor. However, he defends that these programs bring "cooking closer to the viewer" in a very powerful way, feeds the taste for cooking and, above all, proposes "cooking as a creative and leisure game", which children also like.
Space dedicated to 'showcooking'

This 14th edition of Cine+Food focuses its entire 'food line' on the concept 'Gastronomy and Health', included in the
show cookingguest star chefs, the KM0 market organization of 'Gran Canaria Me Gusta', international cooking workshops, aroma and coffee classes, cocktail demonstrations, the famous cheaper 'C+F menus', the 'master classes Canarian wine tasting and the presentation of books related to the universe of healthy cooking.
For this, a space has been organized dedicated to the
show cookingevery day at 6:00 p.m., in Plaza Santa Ana. Marta Verona, winner of the sixth edition of Masterchef Spain, takes over with a spectacular display between stoves in the
show cookingon Friday, August 26, in Santa Ana. CINE+FOOD 2022 proposes to work this year with an awareness of food and healthy cooking and, therefore, begins the second day with the help of this cook, nutritionist and researcher in culinary nutrition from the Complutense University of Madrid.
During her participation in the event, the guest of CINE+FOOD will value Canarian gastronomy with a
menu of three passes with which you will demonstrate that eating, varied, rich and healthy is possible with the products of the land. In addition, while we learn to make the recipes, it will dynamically give us nutrition tips, because there is no better way to learn "than by doing".
Verona will teach today how to cook a mango gazpacho with prawn skewers, some grilled avocados stuffed with tuna tartare and, to finish, some glasses of banoffe cake with Canarian banana and coconut toffee and dates, spectacular completely healthy dishes.
As the culmination of her stay in Gran Canaria, we will be able to listen to Marta Verona, on August 26, at 7:00 p.m., in the courtyard of the emblematic Casa de Colón, presenting us her book 'Don't eat like a zombie' (HarperCollins Editorial), which collects 60 recipes that the author recommends to help us eat healthy without the need for diets, acquiring tools to make a good shopping list, choosing what foods to have in our fridge and teaching us some tricks to cook them.