Venezuela multiplies oil exports to Spain with Pedro Sánchez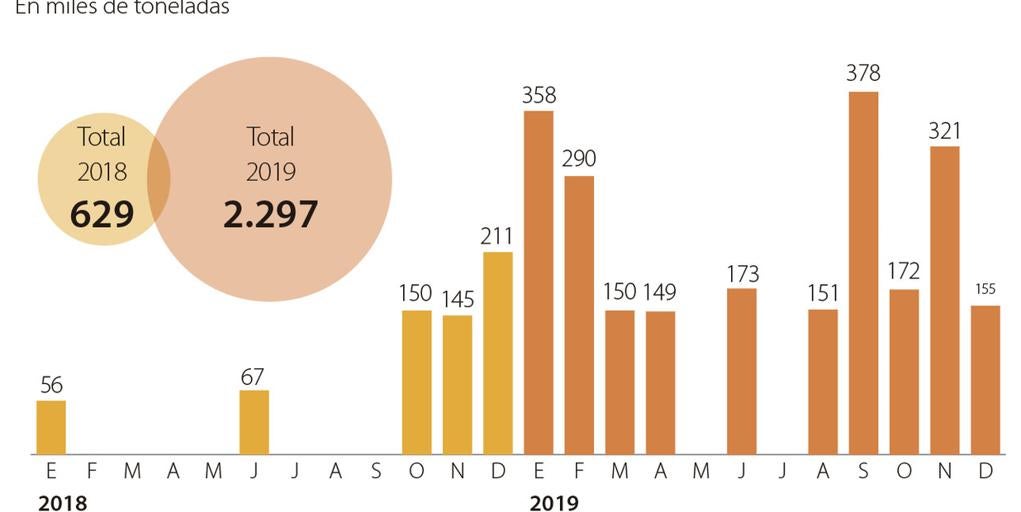 Madrid
Updated:
save

The arrival of the PSOE to La Moncloa in the summer of 2018, together with the Coalition Government that formed a few months ago with United We and the persistent support work of former President Rodriguez Zapatero to the regime of Nicolás Maduro in Venezuela have led to oil imports from that country have multiplied since then.
Petroleum imports from Venezuela began to be significant from October 2018 after they plummeted in 2016 and 2017. However, last year they totaled 2,297 million tons, according to Cores, an agency under the Ministry for Ecological Transition. Imports in 2019 have been the highest since 2015 (3,191 million) and represent a growth of 265% over those of 2018.
Almost all of the oil that arrives in Spain from Venezuela goes to Repsol to reduce the debt that the Bolivarian regime has with the Spanish oil company for the investments made in that country and that have lost much of their value due to the political and social situation in Venezuela. The payment of that debt is made in kind – through oil shipments – to avoid the sanctions of the Trump Administration and "with full respect for international sanctions regulations," according to Repsol.
Meanwhile, the oil company headed by Antonio Brufau continues to reduce its equity exposure in Venezuela, which at the end of the third quarter of 2019 amounted to 351 million euros, 10.7% less than what it had when the first semester ended and 23% less than at the end of 2018, when it was 456 million euros. On the 20th, the oil company will publish the results of the fourth quarter of 2019, at which time its heritage exposure will be known in that country at the end of the year.
Repsol has been present in Venezuela since 1991 and operates important oil and gas fields, such as Perla, Quiriquire, Mene Grande and Barua Motatán.
The crude that arrives in Spain from Venezuela represents 3.5% of the total of imports, which last year totaled 66,303 million tons, 1.9% less than in 2018, when the historical record of 67,586 million tons was reached.
Last year was Nigeria (with 16.9% of the total) the main origin of imported crude, followed by Mexico (14.2%) and Libya (12.8%). In 2019, the increases in imports from Venezuela (265.2%), the United States (97.6%) and Norway (41.9%) stand out, according to Cores.