Valles follows his own and UD is a competitive animal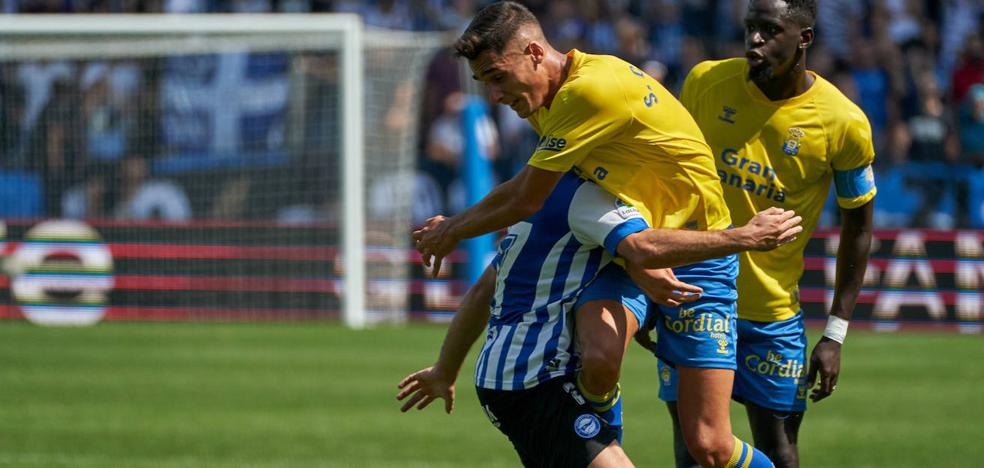 football - second division
Las Palmas came out alive from a field of substance and before an Alavés who pressed, but ran into another great performance by the Andalusian goalkeeper
The art of knowing how to compete. Muscle and calm to survive. UD got a valuable draw from Mendizorroza against a recently relegated Alavés team that is a candidate for promotion. He did so after starting off by falling down and getting up in another resilience exercise.
He doesn't know what it's like to lose García Pimienta's team this season and, in the regular League, there are already 15 games without biting the dust. Little joke.
The positive inertia of UD, which was only pulverized in the promotion playoff against Tenerife, continues to leave beats of optimism and encouragement for what is to come. The Gran Canaria team does not know the surrender in this campaign. Neither the sensitive casualties nor the setbacks are hurting. On the contrary,
the yellow ones grow with the blows. He falls to learn to get up. The lesson is clear.
Moments of good football, others more cloudy. Always in the party
with a competitive soul that once did not exist. Or, at least, there is no close memory of such a race to fight. Moleiro's dances, Enzo's criteria, Sergi Cardona's speed, Marc's poise and various magic tricks from Pejiño to remain undefeated. This is just getting started, but it's looking good.
The keys

Moleiro's dances, Enzo's criteria, Cardona's speed, Marc's poise and Pejiño's magic

sporadic appearances of Alberto Moleiro, always challenging the vertigo, they put spice in Mendizorroza. Alavés moved between fouls, aware of the lethality that Las Palmas had been offering. The game, from the beginning, was rocky and with some mud. There Loiodice and Mfulu were looking for the criterion. Pimienta bet on Marvin to cover the loss of Álvaro Jiménez and Sidnei slipped in for Coco. More kilometers on the tread and experience behind. In line of three and with two lanes, the yellows wanted the second foreign victory of the course.
In minute 22 Clemente wasted a resounding chance. Moleiro had left him alone with a touch of the head after a fantastic service from Enzo from above. But Óscar chose to loop the loop and decided not to shoot on goal. Bad business.
In the next Abdeafter seating Sidnei inside the area, beat Valles and
went up 1-0 on the marker. From indolence to calamity. He was rowing.
stunned the UD,
Valleys answered with a good hand to a Balboa missile from outside the area. In the rebound, Eric blocked Miguel de la Fuente's attempt well. He needed Las Palmas the rest to readjust pieces and clarify ideas. And, perhaps, Pejiño's entry to throw some sauce on the attack. Clemente almost equalized with a good shot from outside the area, which he touched on a defender and went for a corner.
After the intermission,
Pejiño input activated the offensive plot. In fact, after a ball hung by the end of Gatida, which saw the flight of Seri Cardona, the tie came to the scoreboard. The side, first, put it back, so that
Marc Cardona pushed it into the net in minute 53.
With the passing of the minutes, the game was moving towards the distribution of points.
Las Palmas chest of drawers, smoothly behind but also with little clarity in its stakes,
Pepper tied up with Fabio by Clemente when there were just over ten left to close the match.
Between the yellow touches, Alavés did not feel calm either. Restless and with open ends waiting for a counterattack, Luis García Plaza's men played with time. But the stopwatch did not have much left to execute towards any other place than the final draw. Over,
valleys He was still hero. The goal
denied Rober 2-1 in a real display of reflexes and with a stop. Another one, everything is said.
That's how it all closed. With
a UD that is no longer scared with anyone and that he keeps gearing up his racing machine. He does not know the defeat Las Palmas so far this season. And that has had two complicated starts, like La Rosaleda (0-4) and Mendizorroza. Now, already in theory with Jonathan Viera, he has to think about the next league duel, against Leganés (Friday, 8:00 p.m.).
1
Alaves
sivera; Arroyo, Sedlar, Maras, Duarte; Balboa (Benavídez, min.83), Salva Sevilla (Moya, min.74), Abde (Rober, min.74), Alkain (Guridi, min.62), Jason; Miguel (Abdallahi, min.83).
1
UD Las Palmas
valleys; Suárez (Lemos, min.56), Curbelo, Sidnei, Sergi Cardona; Mfulu, Loiodice, Moleiro (Coco, min.88), Clemente (Fabio, min.79), Marvin (Pejiño, m.46); Marc Cardona (Benito, min. 88).
Goals:
1-0, min.24: Abde. 1-1, min.54: Marc Cardona.

Referee:
Oliver de la Fuente Ramos (Castilian-Leonese College). He gave the locals and visitors Mfulu (m.43) and Suárez (min.49) a yellow card.

Incidents:
Match corresponding to the fourth day of the LaLiga SmartBank, played at the Mendizorroza stadium in Vitoria before 11,388 spectators, around a hundred from the visiting team.