Valeria only wants street – La Provincia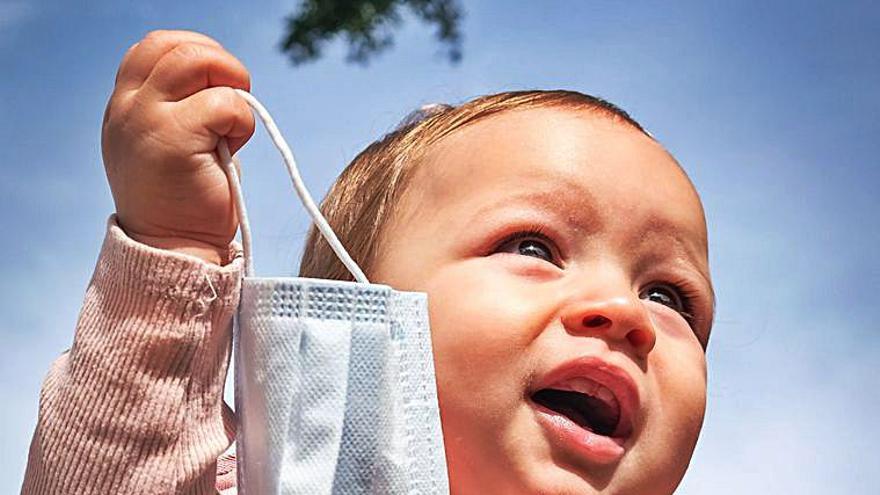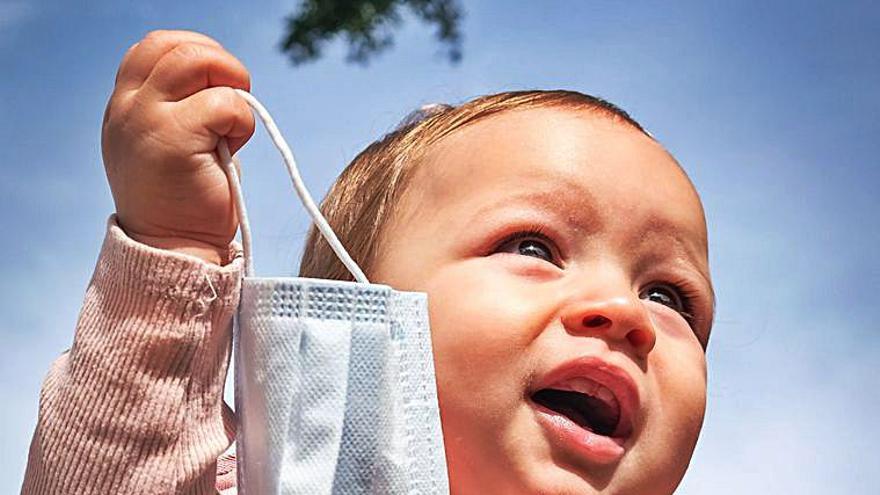 Little Valeria Benítez Sastre is still afraid to walk alone, but even so, she manages to grab the finger of one of her parents and lead them to the door of the house. A gesture that, as his entire family already knows, comes to mean that what he really wants is to go outside. "It is because he wants to be outside," says his mother, Covadonga Sastre Peña, amused, who remembers perfectly how it was the first time that her baby was able to walk beyond the walls of the house. "She looked surprised at everything that was around her, as if to say: where did this come from?", She tells of those not so distant days of de-escalation after almost two long hard months of confinement that, moreover, were the first of the life of Valeria. And the thing is that the girl was born in Gran Canaria just two hours after the state of alarm came into force in Spain, on this day like tomorrow, just a year ago.
On that March 15, 2020, Sastre Peña has conflicting feelings that have nothing to do with the happiness of having her daughter in her arms. "I entered the Maternal-Infant School on the 13th so that they caused me to give birth, but in the end it was the early morning of the 15th," explains the 26-year-old who, at first, was accompanied by her partner, Kioma Benítez Negrín; from his parents, Natalia Peña and Francisco José Sastre, and from his mother-in-law, Ana Rosa Benítez. Before giving birth to the little girl, the possibility of decreeing the confinement already flew over the environment, as well as the consequences that this measure could bring. "I was concerned about the issue of work and although I really wanted the girl to come, I felt that I was not going to do it at the best time."
For this new mother, the news of the state of alarm reached her amid the nerves and labor pains, added to the fear of the existence of a virus about which little was known at that time. "I was very scared because I knew that there were infected people admitted to the same hospital and I was so scared that I would not leave the room," she recalls. Given this, the role of the Maternal Professionals was crucial for calm to dominate. "The doctors and nurses reassured us all the time," he says about the work carried out by the staff of the Center's Obstetrics and Gynecology Service, who had to deal with the vicissitudes of an unknown situation, without the prevailing generalized nervousness taking over. of patients who, as in the case of Covadonga, were allowed to be accompanied by a person during delivery. A double effort on the part of the health workers thanks to which Valeria was born in perfect condition at two in the morning, becoming the first girl from Gran Canaria to reach a public hospital in full confinement in the world. A happy moment that, however, was moving away from how his parents had initially imagined it would be because of Covid-19.
"You look forward to the day of your delivery as something very beautiful, with your family, with balloons and flowers, and in the end it was only my partner and I because my parents and my mother-in-law, after seeing the girl, had to go home. because we were already confined, "says the Teldense, who was discharged the next day, without being aware of what he was going to find. "To begin with, we would go with my father in the car, scared in case they would stop us, because no more than two people could go and there were three of us, plus the girl," he recalls. However, what most caught the young woman's attention was seeing the empty road. "It was something shocking," says Covadonga.
That was just a preview of what was to come. The couple had decided to move to the house of Sastre's parents, because they were first timers and felt somewhat lost, but also because they did not have a job. "In that sense, it was very hard because we were and continue to be unemployed and my father was sent to an ERTE," he says. Not being able to go out also aggravated the burden and, in certain moments, the sadness for not being able to share with all the loved ones the growth of the little girl. "I have to say that my daughter's first month I really enjoyed it because I was totally devoted to her by not being able to go out, but my mother-in-law, for example, couldn't see her until they let us out and that was very sad."
A pain relieved by the mobile phone to which he remembers spending 24 hours glued. "We hung up a video call with one and another called us, and so on all day," he says. Distance wasn't the only tough thing they faced. "I had to go to the 15-day check-up, the vaccines and anything else from the pediatrician completely alone those months and for me it was somewhat difficult," explains the young woman, who adds with amusement that she was so afraid that the girl would be infected that he wore it completely covered. "Not a little leg was visible."
This panic did not go away when the de-escalation began in May. "When we started going out, we wore masks, although they were not mandatory, and we kept a safe distance. I didn't let anyone get close to the girl and only my mother-in-law took her, because the rest of the family left to go to work and we were very scared, "says Sastre. Little by little, she says that they relaxed, but her fear came true in September when, a week after Valeria had to go to the pediatrician because she was ill, the girl became ill again. "We don't know where or how, but he caught the virus and hit us. Thank God she only had a cough and we had it asymptomatic, so for that part we are happy that it did not go away, but when I found out, I spent two hours crying, "says the parent.
All that was behind us: the days of confinement in which the little girl could only get the sun through the window, which caused her several visits to the Maternal-Infant "because she turned yellow" due to jaundice, until to such an extent that his mother came to skip the island's mobility restrictions one day in search of any ray that would lower her bilirubin and avoid a hospital admission. They also left behind the 24 hours of video calls as the only way to see the girl grow up or the afternoons without being able to go to the park. Now Valeria "is an earthquake" who wants to discover the world through her blue eyes, oblivious to a pandemic in the face of which her parents still do not lower their guard as far as health security measures are concerned.
Hopefully, the little girl will not have to wear a mask or remember what it is like to live confined. Hopefully, she will be aware of the existence of Covid-19 by what reaches her through the news or from the memory of her relatives and will be able to tell as an anecdote that she was the first Gran Canaria to be born in the public health system that 15 March 2020, when everything came to a standstill in Spain. Her mother is still not very clear on how she will explain it to her when the time comes, what she does know is that she will be able to convey to her that not even the difficulties of a health crisis made her falter. "My midwife, who has helped us a lot through a WhatsApp group to several of us who gave birth in confinement, told us not to worry because the maternal instinct can handle everything. And that's how it has been, nothing has stopped his father or me. Valeria, who will briefly make her parents run after her, the virus does not stop her either.