Valentín, Erundino and Manu, from Los Lobos: "They make us pay taxes like rich people" | TV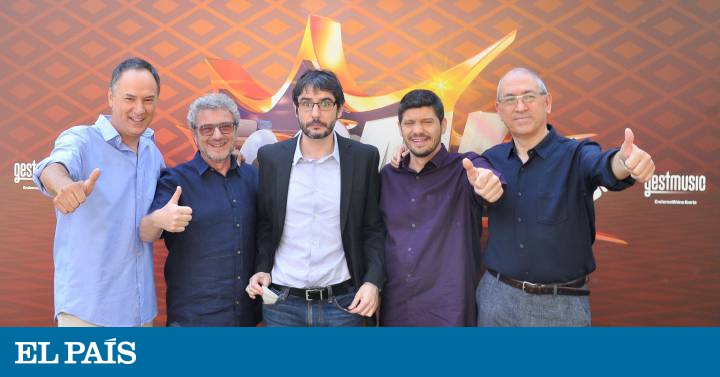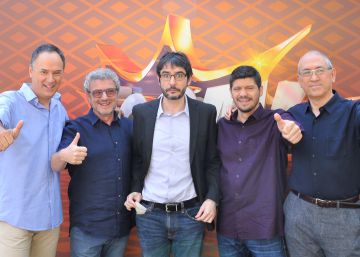 Monday night, the four members of Los Lobos became millionaires. After two uninterrupted years competing in Boom! the Antena 3 program, they took the biggest award ever given on Spanish television (and possibly in the world also, but that is still pending certification, say from Antena 3): 6,689,700 euros if you add the 4,130,000 of the accumulated pot plus the 2,559,700 that had added in more than two years of participation. However, they do not like being called rich. "Rich people are something else", summarizes Erundino Alonso.
Not that they say they are famous, although the program in which the team took the boat on Monday, in primetime, was followed by 4,272,000 viewers (28% share of screen): the most viewed issue of a contest in the last 15 years and historical record of the program. "That word (famous) denotes poverty of vocabulary, because it puts many people in the same bag, you can be known, popular, admired …", points out Alberto Sanfrutos.
"I have not fantasized about money, I have never thought about taking the boat because it did not exist for us", continues Erundino Alonso, member of Los Lobos along with Valentín Ferrero, Manuel Zapata, Alberto Sanfrutos and, until December 2018, José Pinto. Now, rather than fantasize, you must organize. An important part of the total, practically half, will go to the Treasury. For some Wolves, it is a high percentage. "This type of income, which are atypical and exceptional, should be recorded with a lower tax rate," opines Valentín Ferrero. "If every year you win what we have won this year, I understand it, but it will happen to us once in a lifetime." It does not seem bad for me to contribute, I even think it's a privilege to do so, to contribute to public services being able to cover for all, but I think the taxation with which it is taxed seems excessive, "adds Ferrero.
Erundino Alonso supports the words of his partner. "In fact, taxation has changed over the years, before it was much lower and took into account the occasionality of some income," says Alonso. "It's a matter of comparison, to be considered as if we were rich, those who really earn money have a thousand nooks and crannies to avoid, it's not well adjusted," Valentin adds. Of the same opinion is Manuel Zapata. "It seems perfect to pay, but something that is fair for one thing that I will not win every year," says Zapata.
Alberto Sanfrutos does not coincide with his teammates. "It seems perfect to me, what they take away from me, very well taken away, they will take away from me based on what I have won, I think it is much more bloody that in my salary as a teacher they took away almost 25% of me, if now I reach the maximum percentage of the scale and it's 48%, it's because I earned it, I've been an official all my life and now retired, and the money is taken out of there, "he argues.
To Erundino, what worried him was that the question that gave them the prize was an "ugly question". "And it was super nice, a geography question, such a beautiful subject." He was the one who gave the correct answer: the gulf of Botnia is the one located in the Baltic Sea between Sweden and Finland.
Still have not made up the idea of ​​how his new life after winning the boat, although Valentine is clear that he will not return to work and Alberto will continue to enjoy his life as a retiree. Erundino, forest engineer who works in the Community Board of Castilla La Mancha, has yet to rethink its future: "my work I love, but you spend many things in your head at this time." Manu remains unemployed and collaborating with occasional film critics. "But at least I have gained time and tranquility to see what I'm going to do with my life."
There have been mentions to José Pinto, the member who he died last february and whose relatives were among the first to congratulate Los Lobos for the prize. "When I called Olga, one of her sisters, to tell her, in the background her husband was heard saying 'it's just!', Recalls Erundino.
Although now they are television characters, they do not seem to be the result of signing up for another short-term contest. "I changed the life I had for being a contestant and I still have not returned to the routine, I'm very excited to see what my new life will be like," says Valentín. And with the money? "We know what it costs to earn it, so we will know how to spend it", states Alberto Sanfrutos.
A prize for the public treasury
Tom C. Avendaño
Of the few ways you can enrich yourself from one day to the next in Spain, winning a television contest is among the least practical. These awards are taxed as assets and are more taxed than winning the Lottery (20% in amounts over 20,000 euros, 40,000 from next year), receive the money the sale of a house (which is taxed with a fee of savings) or win a Cervantes or National prize.
Los Lobos will be charged 19% of the prize already at the entrance: that is, of each million, they will see 810,000 euros. The television, as payer, will be responsible for making that cut. From here the figures vary. They will have to face the percentage applied by each autonomous community in which they reside, which can be from 21% if it is Madrid, as Erundino, to 25.50% in the Valencian Community as Valentin. It also depends on the assets you have. But in the end, in the income statement of June 2020, Los Lobos will end up handing over half of what was received to the Treasury. For that million of which entered 810,000 euros will end with about 600,000 euros, in a calculation grosso modo In total, of the 6.6 million that the contest will give them after two years of programs, they will pay about 3.09 million. According to calculations by the Technical Union of the Ministry of Finance, the Treasury will keep 46.3% of the profits.
"This can be debated as much as you want, but the reason why some prizes are exempt and others is not that the former contribute more to the community, they are supposed to respond to tasks that contribute more to the community," explains Luis. Alamo, technical secretary of the Register of Economists and Tax Advisors.
With such a large and sudden income, Los Lobos enter the club of the largest declarants of IRPF, where only 0.05% of taxpayers are found. "The consideration is that there is an increase in patrimony, not a patrimonial variation. You do not lose a house or a car to receive that income ", explains Jose María Mollinedo, general secretary of the Technical Union of the Ministry of Finance. "Then to that income the scale of degree is applied, by which increases the taxation as the goods increase. Starting at 60,000 euros, it is the last stage and we are facing high taxation ".
(tagsToTranslate) valentine (t) erundino (t) manu (t) the wolves we (t) do (t) pay (t) tax (t) rich (t) delivery (t) boat (t) boom (t) have (t) be (t) issue (t) see (t) contest (t) Spain (t) last (t) 15 (t) year



Source link