Valencia does not stop an Atlético released either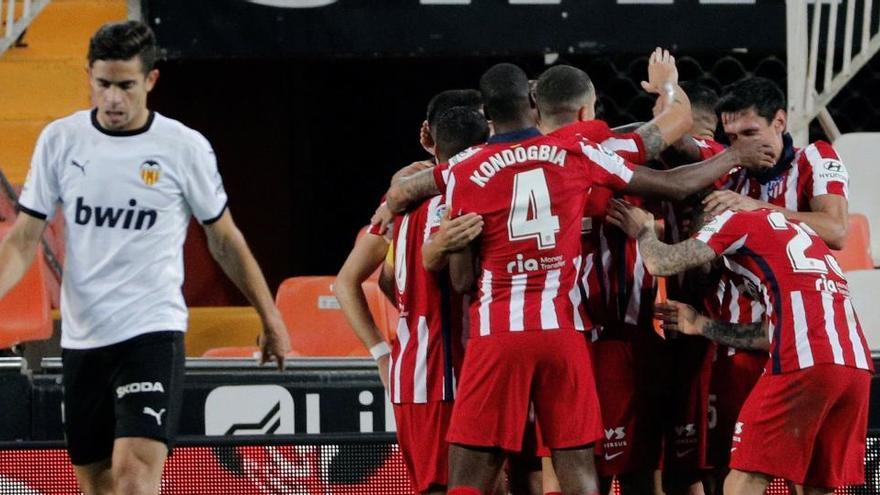 An own goal from Toni Lato ten minutes from the end gave victory to Atlético de Madrid in Valencia (0-1) in a match in which he led the initiative, controlled the game and he hardly gave the rival a choice.
The Valencia He was firmer in defense than in other games, but he lacked the ability to set the pace of the game and, especially, on arrival against the Atlético goal, in addition to having the misfortune of scoring at his own goal.
The Atlético de Madrid already in the first half, in which he was able to play close to Jaume Doménech's goal and prevent his rival from approaching Oblak's.
His control of the game allowed him to have some goal options, but almost always with long shots that the local goalkeeper successfully neutralized.
Faced with this football-control of Diego Simeone's team, Valencia tried to find their space based on long balls towards the wings, but almost never managed to generate attacks with a certain entity.
In that context, a couple of good shots from Lemar and a chance from Racic before the athletic goal were the most notorious situations facing the door.
Unlike what was seen in previous games, the defensive order was the main virtue in the first half of Javi Gracia's team, who conceded very little against a rival who accompanied his defensive strength with the will to seek the rival goal, although without success .
Joao Félix started for Lodi in the Madrid team after the break, but the match hardly changed: Visitor possession near the local goal, athletic inaccuracies in the last pass and little ability by Valencia to get close to Oblak's goal.
Despite this, Lemar had a clear goal option that Wass destroyed (m.53) just at the moment when Guillamón had to be substituted due to injury and saw a card that supposes him suspension.
With half an hour of play ahead, the team looking for the goal was Atlético de Madrid and the presence of Joao Félix was joined by Carrasco in a clear offensive bet by Simeone.
Valencia hardly had options to go out to the counterattack Against a rival who was superior and his arrivals at Oblak's goal were not only sporadic, but devoid of danger.
Kondogbia returned to Mestalla wearing the Atlético shirt to play the final twenty-five minutes of a match in which the Valencian goal was to maintain the level and try to surprise his rival in an isolated action.
In one of the many visiting attacks, It was the 0-1 marked by Lato in own goal after a Carrasco center that put the team that most sought the goal ahead on the scoreboard.
0 – Valencia: Jaume Doménech, Wass (Jeison, m.84), Gabriel Paulista, Hugo Guillamón (Mangala, m.57), Lato, Musah (Thierry, m.70), Carlos Soler, Racic, Guedes, Manu Vallejo (Gameiro, m. 70) and Maxi Gómez (Rubén Sobrino, m.70).
1 – Atlético de Madrid: Oblak, Trippier, Giménez, Savic, Hermoso, Llorente, Saúl (Carrasco, m.60), Coke, Lodi (Joao Félix, m.46), Correa (Vitolo, m.65) and Lemar (Kondogbia, m.65) .
Goal: 0-1, m.79: Lato, own goal
Referee: From Burgos Bengoetxea. He admonished Racic and Hugo Guillamón for Valencia, and Saúl, Correa, Koke, Joao Félix and Llorente for Atlético de Madrid.
Incidents: Match corresponding to the eleventh day of the League played at the Mestalla behind closed doors. Tribute was paid to Juan Cruz Sol, former Valencia player, who was also a team delegate and a member of its board of directors, who passed away on November 10, and Diego Maradona, who died last Wednesday.