Utrecht-Naples, with stopover in Venice | Culture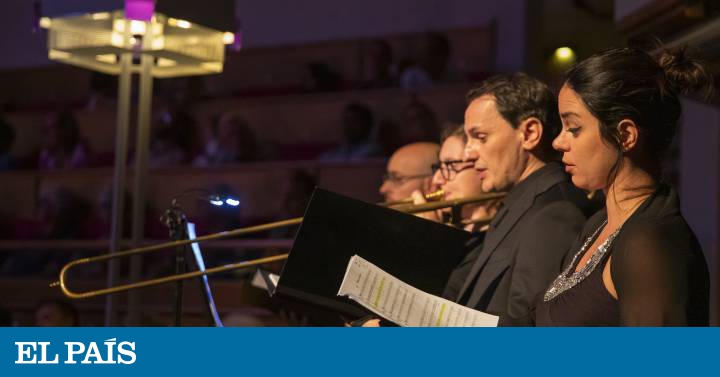 Once again, the Venice Film Festival and the Utrecht Ancient Music Festival coincide on the same dates. The first receives, of course, a media attention far superior to that raised by the second, because the money that moves the cinema is incomparable with that which keeps that authentic niche market that is the historically informed interpretation of medieval music, Renaissance and baroque. But it makes sense to compare one and the other because many music festivals forget that, even without prizes or juries in between, their film counterparts (and in Utrecht the most important in Holland is also celebrated: here it was released, for example, in 1968 Anna Magdalena Bach Chronicle, by Jean-Marie Straub and Danièle Huillet) start from the premise that they have to offer films new. Nobody would take the trouble to go to Venice, or to Cannes, or to San Sebastián, or to Berlin, to see the same films that have already been screened previously in the commercial rooms. But in Spain, for concentrating the comparison in the country that is closest to us, music festivals abound in which, although concentrated in time, the usual menu is offered with the usual performers.
Paradoxically, for 38 years, the Utrecht Festival of Ancient Music has frequently opted for the new, which in its case means both works and unknown performers. Utrecht has been so much a showcase where groups or musicians who wanted to make their voices heard in this small niche have been known, as a place that loves risk and experimentation: here there is always an audience eager to listen and value even the proposals more bold and the most recondite music. It is no accident either, of course, that this has happened in a country where several of the greatest pioneers of the historicist movement of ancient music have been born, worked and taught, who since the sixties of the last century has strongly advocated interpreting it as it should have been done at the time of his birth. To Gustav Leonhardt's funeral in Amsterdam in 2012 Two fellow fatigue members of those conquests attended: the flutist Frans Brüggen, who would die two years later, and cellist Anner Bylsma, who just left us just a month ago. Therefore, the time of the pioneers, who had to fight such fierce battles and bring down so many prejudices, has been closed. Successors are sought.
Who has best embodied that role in these early days of the Utrecht Festival has been the Italian Marco Mencoboni, formed precisely with Gustav Leonhardt: his way of playing the key last Sunday in a demanding program at Lutherse Kerk I gave it away. As his teacher, Mencoboni also likes to direct and on Wednesday he offered a demonstration of his abilities at the Vredenburg. Diego Ortiz is justly known for his Treatement of glosses, printed in Rome in 1553, but with a dedication to Pedro de Urriés dated December 10 in Naples, which is the city in which the Utrecht Festival concentrates almost all its looks this year. This is the first printed ornamentation manual for stringed string instruments and, as such, it is an invaluable source for approaching the interpretive practice of the time and an inescapable treaty for Violambathists. Less known is, however, that, as a chapel master of the viceroys of Naples, Ortiz was also to compose sacred music and several of his works are compiled in his Liber primus musices, published in Venice in 1565. This is the source that Mencoboni has used to offer a vespers service as it could have been interpreted in the adopted city of the Toledo composer in the mid-16th century.
The modern and fanciful Ortiz of Treatement of glosses contrasts with the austere and archaic polyphonist of these Vespers, which Mencoboni has decided to offer in what, with his characteristic good humor, he has defined as "surround sound", since he has chosen to take full advantage of the octagonal shape of the main hall of TivoliVredenburg (by Dutch architect Herman Hertzberger), which has remained unchanged since its inauguration in 1979, despite the fact that the building underwent radical transformation and expansion five years ago. The Italian placed his singers and instrumentalists not only on stage, but distributed high up in the hall, among the public, on all eight sides of the octagon, making them rotate in turn from one location to another. That is why the intonations in plain song of the antiphons reached us successively from different galleries. The psalms were interpreted by a vocal quartet, discreetly reinforced by two violas da gamba and a positive organ, from the center of the stage. And motets and verses in polyphony alternatim of the hymn Ave Maris Stella and the Magnificat they were approached in different ways: by singers located in the same place, or in several, or in all of them simultaneously, thereby generating a surround sound, shared but diverse depending on where each listener was sitting. The virtues that spatiality can bring to an interpretation is a pending subject for many interpreters and the experience lived on Wednesday afternoon at TivoliVredenburg should encourage more than one to experiment.
In the strictly musical, all the decisions of Mencoboni were correct, such as the use of the large organ, a bugle and four trombones in the motets. It is not easy to interpret polyphony with the singers separated from each other by several meters away and at different heights (the clarity of the diction suffered a lot from it), hence Mencoboni would flee from frills and opt for tempi very stable that will minimize the risks of incurring mismatches. Not everything was perfect in the interpretation (sometimes doubting voices or imprecise tuning in the trombones, except the great David Yacus, who taught his nth master lesson with the bass trombone, located next to the organ and the violone, supporting the whole contrapuntal framework), but it was exciting. Very exciting. Mencoboni graduated the tensions to perfection and knew how to accentuate them when the music became more dense and complex (in Benedicta is coelorum, in Alma redemptoris mater, in the last verse of Magnificat), radiating to everyone – listeners included – their happiness from the center of the stage, where they turned incessantly to both sides to be able to attend equally to their long circle of interpreters.
The result of the Mencoboni space bet was not only a full-fledged claim by Diego Ortiz polyphonist, but also an extraordinary response from the public, which followed the concert with unusual attention and whose loud applause made the Italians, and all together on stage, repeat the interpretation of Regina coelorum bird. Ancient music practically ignored and offered in a novel way: experiences like this confer its raison d'être to a festival. To be content with being a tailor's drawer of conservative proposals from others only leads to boredom and anguish.
Marco Mencoboni and his group Sing Lontano are already old acquaintances in Utrecht, but just after their concert, Wednesday night witnessed another of those moments that give meaning and greatness to a festival: the discovery of new performers. A young, newly founded and unknown group, therefore, for almost everyone, left the large crowd gathered at the Pieterskerk speechless. The name of the group and its director must be noted: Theatro dei Cervelli, Andrés Locatelli. The program they offered was anything but commercial and articulated around the axis formed by several motets, only (that is, pieces that do not appear in any other source) without author attribution within a larger Neapolitan manuscript destined for the Oratorio dei Girolamini around 1630.
It was enough to hear the first of these motets, Quam dilecta tabernacula sua, to verify that, hidden among the dozens of concerts of the festival, we were going to attend one of the best musical experiences of all these days. Four singers, as many instrumentalists (or five, because bass guitarist Marco Saccardin also occasionally plays the tiorba) and Locatelli himself (who also noted very excellent ways as a flute player in two of the pieces, The soft melody of Falconieri and Alma, dexa la terra from Guerrero), from several countries on three continents, made music with a concept unit, a knowledge of style, depth, balance and an absolutely unusual technical capacity, even more so in such young performers (except the most experienced Diana Fazzini and Marta Grazalino, violambista and harpist) and in a group in full shooting. Locatelli proposed a perfect sequence of works, alternating pieces with a cap, instrumental works and various combinations of voices and instruments, all crowned by Ego dilecto meo, from a text of Song of songs. The triumph was absolute, and when it is achieved before an audience that has come virgin of prejudices and expectations, and without resorting to tricks or concessions to easy applause such as those that abound so much in the world of ancient music, it is much more valuable and significant. Locatelli, who does not take the slightest prominence, seemed the first surprised and his face denoted happiness and astonishment in equal parts. At the insistence of the public, they repeated the interpretation of Benedicta et venerabilis, another of these motets that have come back to life here in Utrecht almost three centuries after being composed. Long live the festivals that bet on hidden repertoire and unknown performers.
The second big surprise of this central section of the festival has been the Swiss-Dutch violinist Eva Saladin, called without a doubt to be one of the great names of his instrument in the coming years. Very well accompanied by cellist Daniel Rosin and harpsichordist Johannes Keller (although the former would have done well to moderate the dynamics at various times), Saladin also opted not to depart from the Neapolitan path of the festival and offer music by violinist Gian Carlo Cailò ( settled in the city since 1683) and two of his disciples, Michele Mascitti and Giovanni Antonio Piani. Repertoire known only to the initiated, but enjoyable by everyone, especially if it is interpreted at the highest level.
In Mascitti's first Sonata, Saladin already showed enormous personality, splendid technique and a very attractive sound. But all this improved even substantially when, to play two works by Nicola Matteis alone, he decided to support the violin not on his shoulder, but much lower, almost in the middle of the torso, a position that has been seen sometimes used by violinists who they play Renaissance repertoire, but rarely those who address the much more demanding baroque repertoire. The Passaggio rotto It gave us a different, freer, richer sound. Saladin herself (who then resumed the usual placement on the shoulder), explained that she is experimenting and that, depending on each work, she opts for one or another position. The sources gather that Matteis himself supported the violin on his lower rib, but Saladin said that, without knowing what his physique was like, that should not serve as the basis for maximalist decisions.
The truth is that his way of playing, his musicality, his attitude on stage, his knowledge of style, his variety of resources, point to one of the great stars of his instrument. These days, a symposium on the baroque violin has been held here, and in one of the conferences, Mimi Mitchell, who knows something about the subject, chose precisely a photograph of Eva Saladin to symbolize the latest new generation of instrumentalists That it has already been made public that next year will be one of the resident artists of the festival means that his career has begun to take off in a meteoric way and this concert has been enough to understand why.
Like last yearMarc Lewon and his Ensemble Leones have returned to record their quality, this time with a program dedicated monographically to Adam de la Halle, one of the great names of music of the second half of the thirteenth century, and that began precisely with Le Roi de Secile, a chanson de geste directly connected to Naples. Three excellent singers (who played several immaculately in a cappella rondeaux) and two instrumentalists (piston, fídula and guitar own Lewon and flute Mara Winter) were enough to give life, without inventing anything, to a very well-planned succession of vocal pieces and stamps Instrumental When medieval music sounds without the cinemascope and the perfectly unnecessary sticks that other groups introduce with a shoehorn to give it a varnish of modernity and supposedly reinforce its affordability, it has an incomparable expressive force. Lewon and Winter also sang in three of the pieces, thus emulating medieval musicians. In case the long trip to the 13th century and the texts in French made one forget that Naples is the center of the festival, when leaving Pieterskerk and strolling through the streets of Utrecht towards the next concert, Chantal Mollet and Jasmijn de Wachter were playing in the carillon of the scaffold cathedral tower O sole mine Y Funiculì funiculà.
Tasto Solo's second concert was much less interesting than the solo one on Saturday by its director, Guillermo Pérez. The starting point was interesting (to inquire into the woman who was known in Naples in the fifteenth century as "Anna Inglese"), but the most interesting thing about the concert was not the singing of her namesake, the American Anne-Kathryn Olsen, but the instrumental part: the harp of Bérengère Sardin, the lute of Bor Zuljan and, above all, the organetto from Barcelona. It was more than significant than when voice and organetto they interpreted the same melody, it was systematically much more expressive and better phrased in the instrument, despite all its limitations, than in the human voice, although, fortunately for all, Olsen sang at a much higher level than he usually does in the Graindelavoix group, in which Bjorn Schmelzer always imposes an extreme deconstruction of music and interpretation. Without leaving the medieval arena, Katarina Livljanić again made a waste of strength and personality on Tuesday night Barlaam & Josaphat, a multimedia concert too similar in its approach to his last performance in Utrecht in 2016 with the Judita monodrama.
There have also been disappointments these days. Marco Beasley, idolized in Utrecht, gave a concert of soft and washed out Neapolitan songs. It keeps in a very good state its privileged voice and its easy and expressive falsetto, but he talked too much between song and song and tried his best before an audience of unconditional. On Wednesday the Neapolitan was also part of the vocal quartet of the concert offered by the Ensemble Daedalus, in this case excessively blissful and with very little musical substance in a program built without order or concert. He delighted the audience, which is sometimes seduced by the easiest, but in the context of great previous musical experiences, the evening did not go from being a fun with little or no real interest. Roberto Festa, the director of the group, was at all times on stage, but limited himself to presenting each block of works and touching bird claims on a couple of occasions.
The performance of the mezzo-soprano Ann Hallenberg and Stile Galante was also very disappointing, with the first emulating the famous Farinelli castrate. The director of the group, Stefano Aresi was also, curiously, the entire concert on stage, but set aside in the background and resigning to direct because, as he explained, at the time of Farinelli there were no directors. The very commendable historicity criterion did not seem, however, to apply to his choice of singer. Hallenberg did what he could to be faithful to the infinite and flashing colorations of the Italian singer, but not by voice (in which an awkward already appears strongly vibrato) or by technique can emulate the heroic and vertiginous pirouettes of Carlo Broschi. Aresi is a recognized theoretical expert in this repertoire, but his group sounded at all times as if he played with a mute, as inaudible and devoid of focus and definition as many of the notes that the Swedish mezzo-soprano passed on tiptoe. In a small space everything would have improved, no doubt, but in the large hall of TivoliVdendenburg, arias, sonatas and concerts sounded hollow and soulless.
But it is better to end a positive note, as has been the splendid concert offered on Wednesday at the Pieterskerk (which is not the best acoustics for this repertoire) of the American group Acronym. With a very well locked program built around sonatas and canzoni by Giovanni Valentini and his subsequent influence on Neapolitan composers, the group played with enormous self-confidence, with a display of color and an impeccable stylistic relevance, not at all easy musics whose interpretation highlighted each and every one of its members. Coming from so far away, and knowing the importance of touching – and succeeding – in Utrecht, their faces of satisfaction upon receiving the endless final applause said it all. A new winning bet of a festival that, although centered this year in Naples, often applies criteria more typical of the contemporary Venice Mostra.
(tagsToTranslate) utrecht-naples (t) scale (t) venice (t) hits (t) disappointment (t) music festival (t) old (t) old (t) Dutch city (t) (t) Dutch ( t) bet (t) risk (t) discovery (t) new (t) repertoire (t) value



Source link