"Until two months later we did not know what his niche was"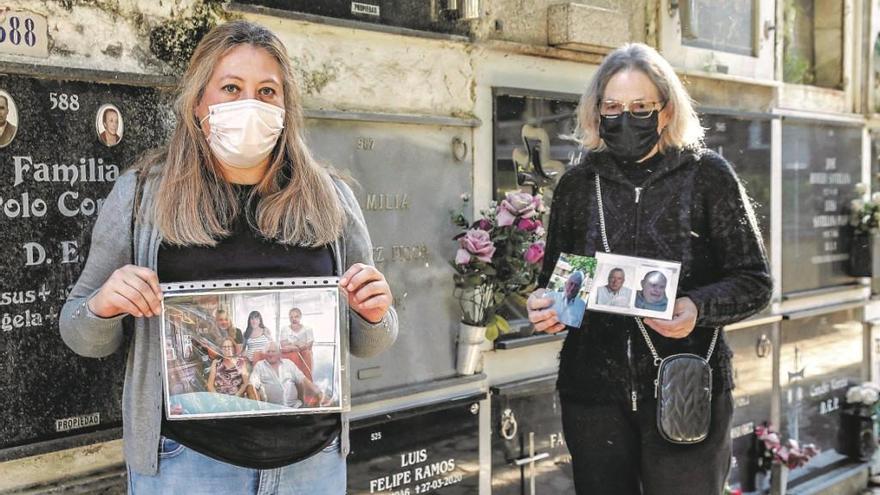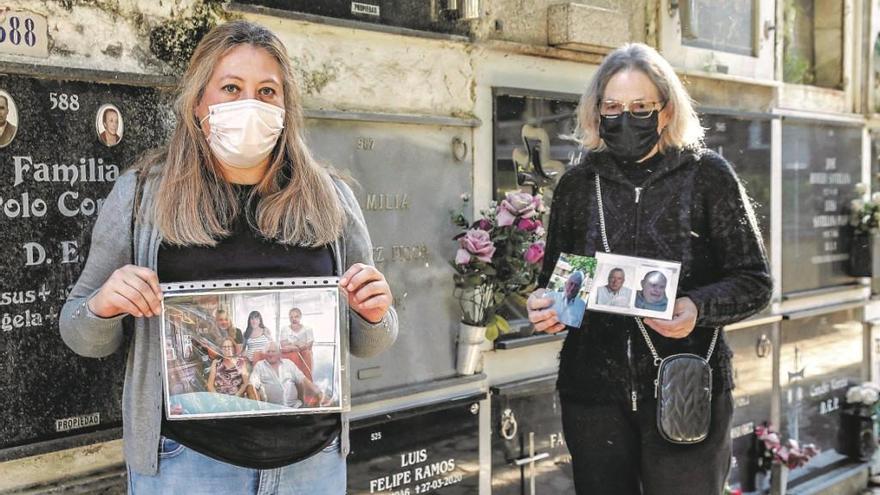 «We cannot avoid a feeling of guilt for not having been with him, for not accompanying him or firing him. We know it was not possible, but the sensation that remains in your body is very rare. Now, day yes, day no, they go to the cemetery to visit his grave, to which they always bring flowers. "We are comforted to be here for a while."
The testimony is from Manuela Felipe Vaquero, 44, a neighbor of Cáceres, and her mother Máxima Vaquero Patrón, 73. Both speak in front of the niche of who was father and husband.
The family suffered the harshest face of the virus: it took one of their own in the coldest way. Luis Felipe Ramos died of covid at the age of 74 at the San Pedro de Alcántara hospital. It happened on March 27, 2020, in the week with the highest income peak of the first wave. He had three daughters, nine grandchildren, and a great-grandson. "Now another is on the way," says Máxima, his widow.
When EL PERIÓDICO EXTREMADURA honored the lives of the pandemic extinguished after the first wave, Luis Felipe was one of the protagonists. Almost a year later, they remember those moments and still have a hard time believing it is true.
Just today marks a year since the first death from covid in Extremadura, a 59-year-old neighbor of Arroyo de la Luz. The families of those first victims did not have the right to mourn, to say goodbye. And the wound lingers.
One more example
The story of Manuela and Máxima is just one more example of what they had to live. The account of what happened is detailed by Manuela, the youngest of the daughters: "He was constipated and I called the doctor, who sent him some pills. That was on Monday. On Wednesday he began to be a little asphyxiated, but at no time did we think That it could be coronavirus because he had problems in the bronchi and it happened to him sometimes.That day we called the doctor, who came to our house and told us that he had to go to the hospital. An ambulance took him away and we never saw him again ".
"The day after he was admitted," Manuela continues, "they called us to bring him the insulin because my father was diabetic. We also gave them a mobile phone to be able to contact him. That was Thursday, that day they had already confirmed that he had covid. My mother was talking to him for a while. "The sanitary protocol did not allow any type of visits.
"And on Friday at five o'clock in the afternoon – Máxima intervenes – we also talked, and she asked us to bring her things so she could shave. When we said goodbye, I told him that I was calling him at nine o'clock at night, but he no longer took it from me ".
At midnight the hospital called to report the death. "And at that moment you don't react. I didn't even ask what it was like or how long it was wrong. ", expresses Manuela. "You are left wondering if they found him dead, if they put a respirator on him, because before there was not for everyone … "I think he fell asleep," says his widow.
The hospital told them that they should contact the funeral home. "They didn't give us their belongings, everything was scary and they didn't want to touch it. We didn't choose the box either, we couldn't enter the cemetery. We had to stay outside, behind the gate, watching the coffin come out," recalls her daughter. "They didn't want to show us "Maxima laments.
Strong security measures prevailed over everything else at the time.
"It was not until two months later that we did not know what his niche was. When the cemeteries were opened (it was at the end of May) my sister spent two hours looking for him. They had given us a number but it had been deleted and she could not find it. In the end, because of the references of the other headstones, he found it. Although well, you always have the question of whether it is your father who is in there", reflects Manuela.
In the Nuestra Señora de la Montaña de Cáceres cemetery, those who died by covid they were buried in yards 1 and 2.
"It was very hard not being able to say goodbye, not being able to be with him. My mother never left him alone." "He had been with him since he was 14 years old ", says Máxima.
At first they received psychological care, a service launched by the Ministry of Health and Social Services to help families. "The psychologist told me that what had happened to us that my father was fine and after a while he died had also happened to others."
"The nurse (an occupational therapist who treats her now for memory loss) tells me to stop mourning. But I will not do it until I feel ready, and I think that will never be," says Máxima.
A birthday photo
Luis Felipe Ramos had been a foreman in public works. "When the tribute was published in the newspaper, many people found out about his death," says his daughter.
Shortly before leaving, he had turned 74 years old. That day they took a family photo at home, it is that snapshot with which they go to the cemetery to participate in this report.
They also carry an image of Manuel Jesús Felipe Ramos, Luis's brother, 60 years old and with Down syndrome. He also died from covid. «She lived in Martorell, near Barcelona, ​​where another sister lived. We are still waiting to be able to bring him back because I want him to be here with his parents, "says Máxima.
Fourth wave?
With the emptiness that they drag, when asked about how aware citizens are, they respond almost in unison that they are the older ones are worse than the young. Manuela, who has a bar in La Madrila, also laments the punishment suffered by the hospitality industry, but acknowledges that there are many customers who do not comply. "It is that they come to the table and take off the mask. Fortunately, the police are already fining those who do it."
Mother and daughter trust that the worst part of the pandemic is overBut they speak of the fear of a fourth wave if preventive measures are not taken.
They, better than anyone, know what the consequences are.
Extremadura: a year later, 1,700 dead
On March 11, 2020, the red alarm went off in Extremadura, although at that time there was still no full awareness of what was to come. That day the region experienced its first death from covid: Claudia, a 59-year-old neighbor of the Arroyo de la Luz town of Cáceres. His age scared him because he was younger than the usual profile of coronavirus victims up to that point, but the fact that he suffered from a previous heart disease reassured somehow; it was confirmed that the virus attacked with certain criteria and control and protection mechanisms could be created (later the canons were broken).
That day of March 11 was marked by fire on the calendar; from then on everything got worse. After that came the closure of schools, the State of Alarm, the confinement … and infections multiplied (not all were detected) and deaths. A year later, the number of human losses reaches 1,713 in Extremadura.
A leisure trip
Claudia was infected on a leisure trip to Seville; a scheduled excursion to see the Cirque du Soleil.
The ambulance driver that took her from her town to the San Pedro de Alcántara de Cáceres hospital as well as the entire family of the victim had to remain in quarantine.
Fear and uncertainty began to rule life. Also the pain. Claudia's was the first closed-door funeral. Without kisses, without hugs, without the warmth of family, friends and neighbors. It was just the beginning.
Three waves
The first wave was primed in Extremadura with residences for the elderly, especially in the province of Cáceres. If in those first months of the pandemic there were 516 deaths from covid, almost all (90%) were in these centers; some had to be intervened by the SES.
In the second wave, 525 deaths were reported. And the third shock has already accumulated 672. In addition, January of this 2021 was the month with the highest mortality of the entire pandemic and where the maximum number of daily deaths was reached (31).
Yesterday there were no deaths to mourn, but the drip has been constant with more or less intensity.