'Universeando', a poetic celebration of the 30th anniversary of the ULPGC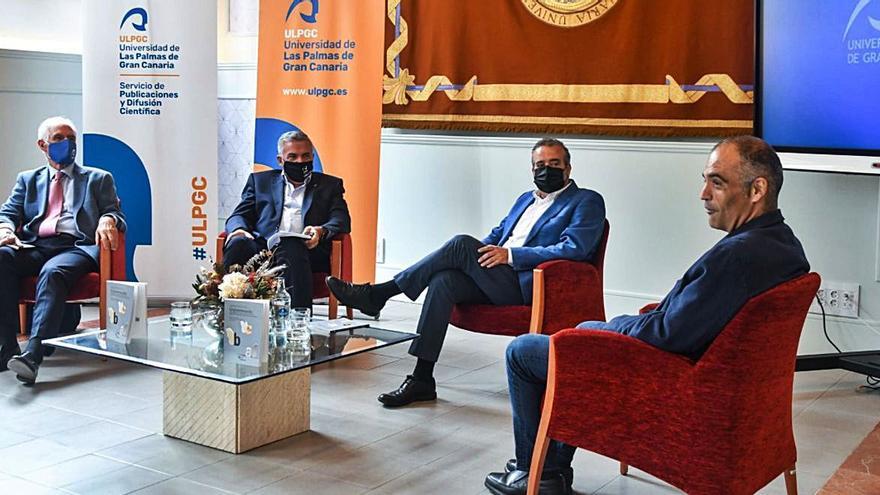 «The book is the transcription of an event that took place in June 2019 at the Pérez Galdós Theater to commemorate the 30th anniversary of the creation of the ULPGC. It consisted of an improvised poetry festival in which different groups from Latin America and from various places in the Canary Islands, Argentina, Uruguay, Venezuela, Puerto Rico, Mexico and Cuba participated. It was a song to the ULPGC », Maximiano Trapero, professor and emeritus professor at the University of Las Palmas, said yesterday about Universeando: A poetic celebration of the 30th anniversary of the University of Las Palmas de Gran Canaria, which was presented at the Institutional Headquarters of the ULPGC by the rector Lluís Serra, the former rector and prologue of the text, Rafael Robaina, Trapero himself and José Yeray Rodríguez, coordinators of the work.
According to Trapero, "educational work comes from training, creating people who are going to lead society, in short, singing to the university and the fact that the ULPGC is one of the few, if not the only one in Spain that has paid attention to the phenomenon of oral poetry and improvised oral poetry because those who participated there were improvising poets ». An act of these characteristics is carried out because there is a Faculty of Philology where Literature and Poetry are the object of study, but they tend to opt for writing. This book faithfully collects everything that happened at the Pérez Galdós Theater, «with an introductory study of mine saying what improvised poetry is, what role the Canaries plays within that world and within the university, with the reproduction of all the texts improvised. With the QR system the live and musical performance of the same is reproduced, with which those who consult the book will be able to hear what happened there.